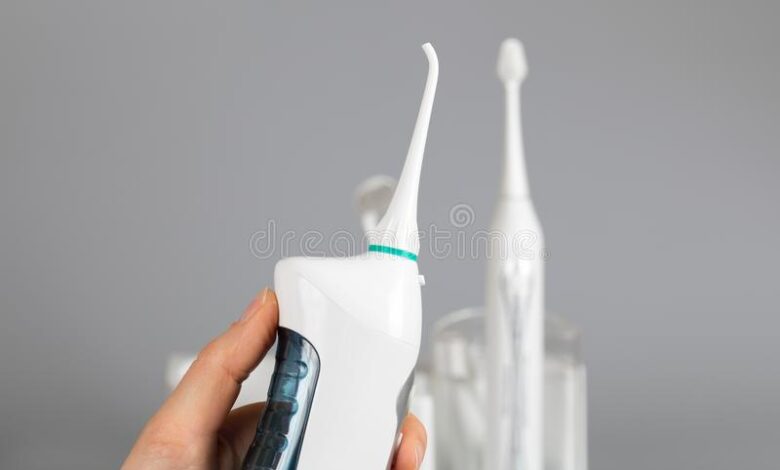 Going on a trip and want to maintain good oral hygiene? Want to avoid carrying around the bulky water flosser you have? The easiest solution is to buy a travel dental water flosser.
There are many portable, cordless, and rechargeable models on the market that are very easy to carry in your suitcase or in your backpack.
In this guide, we will help you choose the best portable dental water flosser in the industry.
But if you have a low budget then we also compare some best cheap water flosser for you.
Travel water flosser: Comparison of the best models
🏆 Our ranking 🏆
1- ORAL-B Aquacare 4 portable: Hydrodynamic cleaning and rechargeable battery
2- WATERPIK WP-450 portable water flosser: The small portable water flosser from the prestigious Waterpik brand
3- Xiaomi Mijia Water Flosser: The most powerful, outstanding value for money
4- PANASONIC EW-DJ10-A503 Wireless Water Flosser: One of the most popular among travelers
1- ORAL-B Aquacare Waterflosser with Oxyjet Technology
ORAL-B Aquacare 4 portable: Hydrodynamic cleaning and rechargeable battery
The ORAL-B Aquacare 4 cordless oral water flosser is one of the smallest from the prestigious American dental hygiene brand.
You can use it freely, as it does not require electrical outlets during an oral cleaning.
As you can see, this portable water flosser is highly recommended for travel, weekends, getaways, work use, etc.
It has a compact "all in 1" design with the reservoir integrated into the handle of the device, but easy to grip and handle.
It has two operating modes to adapt the cleaning intensity to your needs: regular (standard) and sensitive (effective even if you suffer from gums or sensitive teeth).
Apart from the above, it also offers two types of water jets: focused jet (to clean areas with more intensity) and rotary jet.
It incorporates Oxyjet technology, which produces an injection of microbubbles of purified air into the water jet. Thus, in addition to having a more significant descaling effect, it produces a soft and light massage on the soft tissues (gums).
The tank is quickly filled directly at the tap, thanks to a very accessible cap on the handle of the water flosser.
For greater control during use, it features a manually operated button with which the water flosser only expels water when pressed and stops when released… the control you can have with this model is total!
The ORAL-B Aquacare 4 portable oral water flosser is comfortable and very practical. It also removes food debris between dental appliances (threads and braces).
Pros
Easy-to-fill tank
 Gingival massage (gums)
 Rechargeable battery
 Suitable for orthodontic appliances and implants.
 Two types of spray
 Manual mode
 Mark
 Oxyjet microbubble technology
 Easy to carry
 Wireless
Cons
Its size is smaller and more compact than other portable irrigators.
2- Waterpik Ultra Cordless Plus Water Flosser WP450 1 ea
WATERPIK WP-450 portable water flosser: the small water flosser from the prestigious Waterpik brand
The Waterpik WP-450 Cordless Plus portable dental water flosser is one of the travel models of the famous firm specializing in oral health.
It is one of the lightest on the market (336 g), and, apart from traveling, it is ideal for stationary use in the bathroom, taking up little space.
It does not need cables because the tank is in the handle, and it does not need an electric cable because it has a rechargeable battery.
The reservoir is generous, with a volume of 207ml, and it is easy to fill by simply placing it under a tap.
It offers a water pressure of 5.2 bars (not the most powerful but more than enough), with a range of 45 seconds. The design is ergonomic for ease of use, with a non-slip handle and two adjustable pressure levels even when wet.
It comes with four kinds of special nozzles and one tongue cleaner.
With this 'waterpik flosser, you can precisely control the jet of water because the nozzle can rotate 360 ​​degrees.
Pros.
Mark
 Wireless
 Compact size perfect for traveling
 Very light
 ADA (American Dental Association) approved product
 Four special end caps as standard
 One tongue scraper
 Two pressure nozzles
 Easy-to-fill tank
 Suitable for implants and orthodontics
 360º end cap
 Available in multiple colors
Cons
3- TUREWELL Water Flossing Oral Irrigator, 600ML Dental Water Teeth Cleaner 10 Adjustable Pressure,
TUREWELL Water Flossing Oral Irrigator: The most powerful, excellent value for money
The XIAOMI Mijia ElectriTUREWELL Water Flossing Oral Irrigator, a portable dental water flosser, is the solution for anyone looking for a small but powerful and sophisticated water flosser at a very reasonable price.
It is one of the lightest of our selection, weighing only 300 grams and with really compact dimensions, with a height that reaches 20.7 cm (with the mouthpiece)… it is the smallest water flosser travel mouthpiece that we had the opportunity to analyze!
All of Xiaomi's R&D potential is found in the design and features of this advanced model, with innovations that you won't find in other more renowned and much more expensive brands.
To begin with, its miniaturized water pump allows an enormous maximum pressure: of 9.65 bars. It's the most potent portable model we've seen, but it also has a hydraulic stability system, so the stream of water is continuous and steady.
Pressurized water and high-frequency pulses remove plaque, tartar, and food debris with ease and reliability. It incorporates an intelligent automatic shutdown system to protect the circuit and pump failures. It also only turns off after 2 minutes of non-use.
Design:
Its design is very modern and minimalist, with high-resistance plastic materials (ABS) and approved by the American FDA. It is 100% waterproof (IPX7 grade) to facilitate washing, and the tank is removable.
Another of the strengths of this model is its large capacity battery (2200mAh) with speedy charging in 4 hours and an exceptional duration: of 45 days! It is by far the one with the most autonomy on the market.
Includes a protective and transport box with four special tips: 1 standard, 1 for orthodontics (ideal for implants, bridges, crowns, rings, etc.), one particular periodontal (gums), and one exceptional for tongue cleaning. It includes four unique operating modes, recommended even for bleeding or sensitive gums, to make cleaning more effective.
You can also check our reviews about the best water flosser.
Pros
Great battery life
 High-speed loading
 Four levels of water pressure
 Four special nozzles as standard and with case
 360 rotating nozzle
 Durable and FDA-approved materials
 Suitable for implants and sensitive gums
 Automatic shutdown
 100% washable (IPX7)
 Mark
 Price/quality ratio
 Cut
 Powerful
Cons
The manufacturer does not specify whether it can be used with mouthwash.
 Includes a sturdy box to store nozzles but no carrying case.
4- Panasonic Travel Oral Irrigator for Using with Mouthwash Ewdj10
PANASONIC EW-DJ10-A503 wireless water flosser: one of the most popular among travelers
The PANASONIC EW-DJ10-A503 wireless water flosser is the smallest and most economical from the prestigious Japanese electronics brand.
It is a small hydro oral hygiene device and fits in any handbag, backpack, suitcase, etc.
Its design has been studied to the maximum so that, when you transport it, you can retract it into its case, thanks to a sliding mechanism.
It is minimal but offers a powerful jet of water at a maximum pressure of 5.3 bar.
Its power is sufficient to remove debris, food, and bacteria harmful to dental and gum health where a toothbrush cannot reach: the interdental space and under the gum line. It has two operating intensities to adapt it to the sensitivity of your mouth: gentle mode (ideal if you suffer from gum disease or bleeding gums, for example) and normal mode (suitable for all and at any age).
With this oral water flosser, Panasonic has consciously designed it to be 100% portable and safe because the on/off button is protected and hidden in the reservoir housing when retracted.
Thanks to this detail, you can carry the water flosser in your luggage without worrying that it will accidentally activate and wet your things (water can remain in the circuit).
The water filler cap is easy to access and tightly sealed. To this end, the tank is part of the handle itself.
This particular model is powered by two regular alkaline batteries, which allow it to run for 20 minutes (this can have disadvantages or advantages: no need to look for an outlet while traveling, you buy batteries, and that's it).
It is very light, and it weighs only 210 grams!
Pros
Recognized brand
 Japanese technology and quality
 Very compact
 Two operating intensities
 Tank capacity
 Suitable for cleaning interdental spaces, gums, and periodontal pockets.
 Dishwasher safe
 Easy access tank
 Power button protected during transport
 Very lightweight
Cons
For some, the fact that it runs on batteries instead of a rechargeable battery can be a downside.
Is the reservoir of the oral irrigator mobile?
Most of these products have a removable tank for easier use and less complicated maintenance. But some still need this feature.
Is the cleaning hose replaceable?
It should be noted here that this part of your water flosser is susceptible. You must be very careful when using it because the possibility of replacing this equipment is almost nonexistent.
What is the battery life of the Water Flosser?
Depending on the models available, the capacities vary. But, for the most part, the average battery life is ten days from a full charge