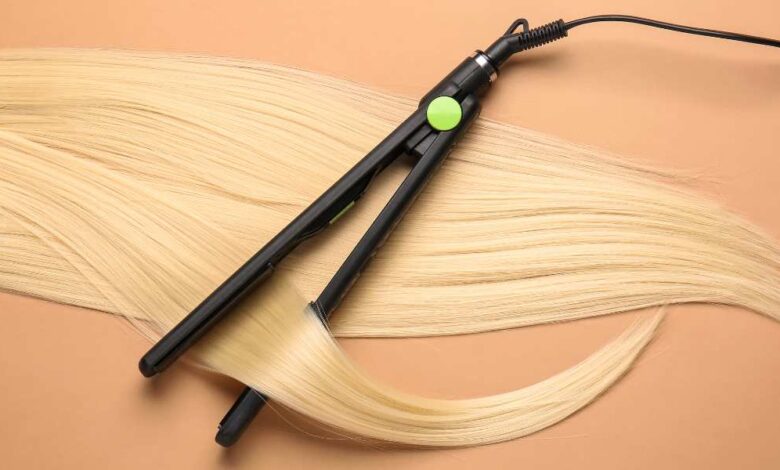 Many users have different opinions about the GHD Platinum+ hair straightener. The GHD brand is one of the first brands of high-end professional straighteners accessible to the general public.
In our opinion, the best GHD straightener within this brand is Platinum+. In this article, we will introduce you to the product and compare it to other models of this brand and other brands.
See also our different comparisons:  Opinion on Dyson Corrale straightener
GHD Platinum+ Hair Straightener Styler – 1″ Flat Iron, Professional Performance Hair Styler
Introducing the GHD styler Platinum+ Hair Straightener
The GHD Platinum+ is the brand's most modern, innovative, and professional model. But it is also the most expensive. This is why there is often a lot of hesitation about the usefulness of the investment.
To help you clear them up, in this article, we take a look at the features of this model, the best and worst of Platinum+:
Ultra-zone technology
This is the main novelty of this model. It is a sensor that covers the surface of the two plates to maintain a constant temperature of 185º.
We like this technology because it measures hair thickness, styling speed, and strand size in real time and automatically adjusts the temperature. It's much better than doing it manually because you ensure you don't apply too much heat.
And 185º is more than enough temperature to achieve optimal results without damaging your hair.
GHD Quality and Features
Of course, it also has all the other GHD "musts": ceramic plates (2.54 cm), long cord (2.7 m) and 360° swivel, universal voltage, fast heating (25 seconds), rounded edges for waves, plate protection, auto-off mode after 30 minutes and, of course, cool tip for burn-free hold.
Additional guarantee
It also has an additional one-year warranty compared to other models. A total of 3 years of warranty gives us a lot of confidence when making the investment, which indicates its great durability.
A hair straightener has it all, despite a high price, which in this case responds to the fact that we pay for both quality and brand. Therefore, although it is probably the best hair straightener on the market, below is a description of who will benefit the most from its use and who will notice its advantages the most.
Who is the GHD Platinum+ hair straightener for?
Color-Treated and Highlighted Hair: This model's precise temperature measurement is its greatest advantage, providing unparalleled protection against heat damage while delivering the desired style.
 Very curly or unruly hair, requiring frequent use of straighteners. Although all GHD straighteners are known for their long life, certain hair types require additional straightening in the following days. Such heavy use can end up damaging the hair. In this case, it is best to rely on these straighteners as they minimize the impact on your hair.
 Hair salon professionals seek the utmost precision, comfort, and durability from one of the tools they use most in their daily work while taking the utmost care of their client's hair.
You will find it in two colors: GHD Platinum+ and GHD Platinum+ White. In addition, throughout the year, the brand releases limited editions as part of specific campaigns with different designs. But it is more difficult to find a discount in these cases.
Pros
Ultra-zone predictive technology.
 Plate control axis.
 Inclined and polished plates.
 Versatile, it is suitable for waving and straightening.
 Heat-resistant plate protector.
Cons
This is the brand's most expensive model.
 Difficult to curl short hair.
 Does not include a thermal sleeve.
Where can I buy a GHD Styler Platinum+ hair straightener at the best price?
Nowadays, many salons distribute GHD products. However, these sites charge higher prices than online sites because they have a fixed cost structure that they have to pass on to the customer to maintain their profit margin, which makes an existing product more expensive. Very expensive.
G HD's website indicates the price of 265€ store. However, it is possible to find better prices on large merchant sites for two main reasons:
On the one hand, online distributors avoid the fixed costs associated with the existence of a physical store or a surface and allow them to reduce the price while maintaining their margin.
 On the other hand, if they are also powerful distributors, they place large orders, which allows them to negotiate a better price for large volumes.
Therefore, buying your GHD online is the best option to find the best price, but you should be careful and buy it only from trusted websites because the Internet is full of fakes and models. They are used that are sold as if they were new.
That's why we recommend online sites that are well known and that many buyers use in their daily online shopping so that it is easier to avoid possible fraud.
The site where we usually find them the cheapest is Amazon because it meets these two criteria. You can find this iron between 50 and 70 euros cheaper than in some stores, which is a significant saving, especially if you take advantage of sales periods, such as the beginning of summer, Black Friday, or the post-Christmas period. Also, they ship very quickly and have a good return policy.
You can also like: Cheap Hair Straighteners Cpmparison
GHD Platinum+ Styler – 1″ Flat Iron, Professional Performance Hair straightener
If you do it on this site, make sure you buy directly from Amazon and that the product has good reviews, as shown in the following image. This will prevent counterfeits and second-hand sales.
Once you have purchased your hair straighteners, remember to register them on the GHD website by entering the code on the tag attached to the cable. The brand will immediately confirm that the product is original.
Where to buy a GHD straightener?
Do you want to buy a straightener at a low and unbeatable price? For my part, I opted for an online purchase on the reference brand, namely Amazon.fr. It is the platform that wants to ensure that the devices marketed by it are authentic and original. Indeed, by ordering my device from Amazon.fr, I was not disappointed, not to mention that I took advantage of the fast delivery and a two-month money-back guarantee.
Which GHD straightener to choose?
When asked which GHD straightener to choose, it doesn't seem easy to choose one or the other given the reputation of the brand and the performance of the products, which are a reference in the field of hairdressing. These devices exist in several versions of each other depending on the type of hair.
The choice of Straightener according to the type of hair
Fine to normal hair: in this specific case, you can opt for the GHD Gold Classic straightener, which will meet all your needs. Its characteristics are as follows:
– Ceramic plates
– Universal voltage
– Ultra-thin, high-precision plates
– 185° auto thermoregulation
– Two-year warranty
Any hair: here, the GHD Gold Max straightener must be used, which remains the perfect model for thick, curly, or frizzy hair. Its main characteristics are:
– Wide, ultra-thin, high-precision plates
– 185° self-thermoregulation
– 2-year warranty
Fine and short hair: if your hair is short, the GHD Gold Max straightener with fine plates is the GHD straightener you need and whose main characteristics are as follows:
– Plates with lacquered coating and 3D contours
– Thin and high-precision plates
– 185° self-thermoregulation
– 2-year guarantee
I think you like this: GHD looper Comparison of the best models 2023, How do choose it?
Which Straightener for my curly hair?
Since I have curly hair, I opted for the GHD Gold Max straightener. It is characterized by its coating of ceramic plates that distribute the heat better. Thanks to the size of its ceramic plates, the heat is better distributed, and smoothing thick and curly hair is easier. This device has a heating temperature that can be adjusted automatically. This is why the Straightener will heat up to a high temperature in the face of curly or frizzy hair.
Read More: straightener For curly hair comparison
How to make curls with a GHD styler?
I wanted to make a small change to my hairstyle and change my look with a curly effect. My GHD straightener does the job well and in a very simple way. All you need is a little concentration for results that meet your expectations.
More concretely, I separated the different locks, favoring the smaller ones that were easier to work with. I then tightened the locks, one by one, with the GHD straightener starting from the root, and then I wrapped my hair around the Straightener.
For the creation of my curls, I point the Straightener downwards. Then I glide it to the root at 5 seconds per centimeter. Note that the thinner the strands treated, the closer the curls will be to each other.
Why buy a GHD straightener?
Want to buy a GHD straightener? You are right because this equipment includes many advantages that will ensure you are fully satisfied. However, since these advantages are so numerous that it would take several pages to describe them, I present to you the two main ones, which are:
Read More