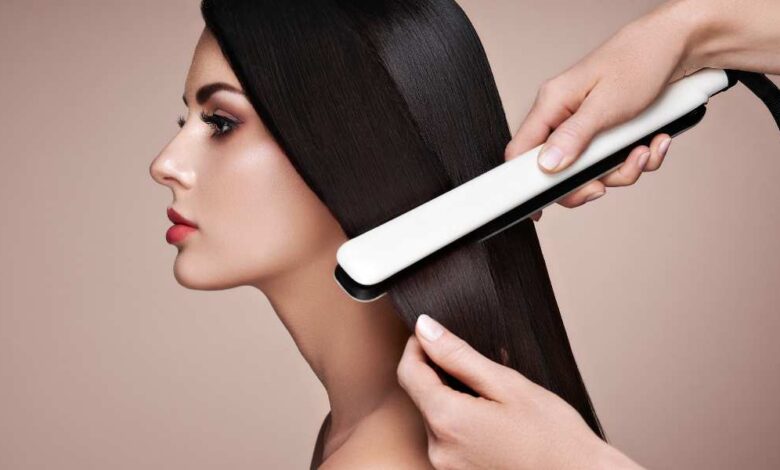 Corioliss hair straighteners are among the best-selling on the market. Within this brand, the best Corioliss model is the C3 (according to experts and users).
They are not as well known as GHD hair straighteners, but they are top-of-the-line. This article will introduce you to the brand's flagship model, the Corioliss C3.
Corioliss C3 Hair Straightener Flat Iron Professional for Hair Titanium Plates Control Temperature Women 
Presentation of the Corioliss C3
This is a high-end professional straightener. If your budget allows, we always recommend choosing a straightener whose plates are made of ceramic or solid titanium. Why? These materials have been scientifically proven to provide more shine, softness, and better heat conductivity without damaging your hair.
This is the case of the Corioliss C3, whose plates are among the few on the market to be made of polished solid titanium, a material even more resistant and durable than ceramic.
Another advantage is the reinforcement with antibacterial silver particles and negative ions to prevent the famous frizz effect (frizz caused by static electricity).
The plates also feature a cool tip, which means you can hold the plates at the end without burning your fingers, giving you more control over your styling. Of course, it has rounded edges (ideal for curls and waves), and its plates are tiltable, further improving the uniformity of smoothing and the even distribution of heat.
If the benefits listed above were insufficient, the temperature could be adjusted in 4 steps up to 235º. But be careful: don't overuse the heat if your hair can't stand it, or you'll burn it!
It also has a 30-minute auto shut-off mode and a heat protection cover for storage. In addition, there are many models so that you can choose the design that suits you best.
On to the downsides: as you'd expect with all these features, the price doesn't suit all budgets, although it's much more affordable than the GHD. Also, it is not equipped with a safety lock, which makes it uncomfortable when it comes to storing and transporting it.
I hope you like: The 6 best straightening brushes of 2023: Comparison
Pros
Solid titanium plates.
 Long cable (2.5 m) and 360º swivel.
 Adjustable temperature.
 Anti-thermal blanket.
Cons
High price.
 No security lock.
Corioliss C3 Hair Straightener Flat Iron Professional for Hair Titanium Plates 
Our Opinion on the Corioliss C3
Although its price may seem high, you can find the Corioliss C3 with great discounts on Amazon. On this site, the Corioliss C3 has over 200 reviews, and many of its users say it is one of the best straighteners they have tried.
We also liked it as much as other users, so much so that we included it in our ranking of the best hair straighteners.
A word of advice: avoid buying professional hair straighteners from lesser-known websites, as they are sometimes knock-offs or second-hand products. However, you will always get the best price on the Internet, usually, as we said, on Amazon.
Anyway, the only thing you have to do, once you have purchased it, is to confirm on the brand's website that the product is genuine by entering the guarantee code that you will find on the back of the box.
You can find even deeper discounts if you're not in a hurry and wait to buy your hair straighteners during sales periods – early summer, Black Friday, or after the Christmas holidays.
We hope you found this article useful. If so, please let us know in the comments below.
See our different comparison: Test and Reviews on Dyson Airwrap Volume, Shape styler for flat hair
Who is the Corioliss C3 straightener for?
The Corioliss C3 straightener is mainly aimed at rather capricious hair. If yours are thick and curly, your smoothing session will not exceed 15 minutes. A duration that can go from simple to double with another similar device from another brand. With this same hair type, you will only have to do light touch-ups the next day to keep the result of the day before.
This device will also make you happy if you have fine hair that is very sensitive to humidity. It will make you forget the erratic nature of your hair. In any case, after smoothing, they are not likely to swell once subjected to humidity.
Thick, fragile, wavy, or even curly hair holds no secrets for this device. This versatility has also earned him the accreditation of professionals in the sector.
Where to buy the Corioliss C3 straightener?
I found the Leopard Gold version of the Corioliss C3 straightener for under $100 on Amazon. I tested the black version and bought it much more expensive. This version is a little "bling-bling," but I love it!
Read More