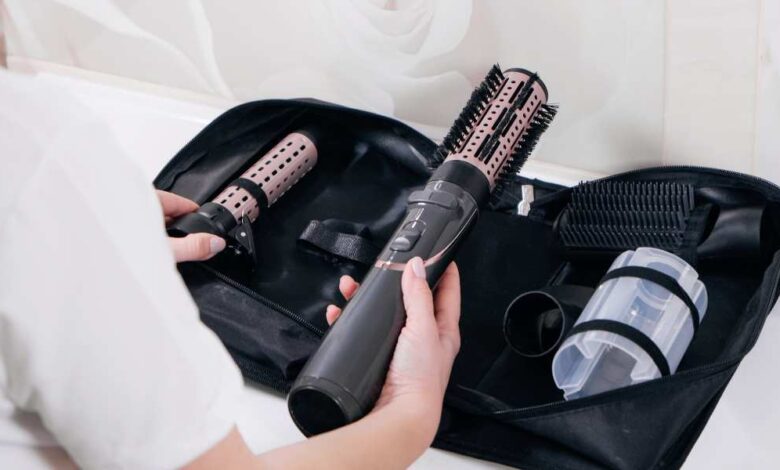 Are you looking for a Dyson Airwrap review, honest opinions, and a comparison with similar products? Are you undecided about buying the Dyson Airwrap due to its high price and looking for recommendations to help you make a decision? This article is for you.
See our different comparison: Test and Opinion: Dyson Corrale straightener
Dyson Airwrap Review And Honest Opinions
Dyson Airwrap Volume + Shape Styler – For Fine, Flat Hair
Introduction
This new product made a triumphant entry into the market; we've seen it used by fashion influencers on Instagram, YouTube, and in TV commercials. Shortly after we reviewed its hair dryer, the Dyson Supersonic, the brand announced its launch, and we thought, "A styler? Is it a curling iron? Or a hair dryer with a wave function? Or an iron that dries at the same time?
The answer is "yes to everything": the Dyson Airwrap curls, waves, straightens, and dries.
As with other Dyson products, the price makes us look at the product with some skepticism, as it is far superior to high-end hairdressing products. But there is no comparable product in terms of the multitude of features; it is an all-in-one device.
To find out if the game is worth the candle, Our Dyson Airwrap review will analyze this new styler's main features, advantages, and disadvantages.
Note: We want to remind you that the opinions expressed here are our honest assessments and that any of the brands mentioned does not sponsor these articles.
Advantages and disadvantages of the Dyson Airwrap Volume + shap
The Airwrap styler has a motor whose power (110,000 revolutions per minute) and technical characteristics allow it to create an effect that the brand has called "Coanda".
The "Coanda" effect is a phenomenon that generates a centripetal (i.e. inward) force that attracts the hair, causing it to curl or wrap around the styler as it sets and dries. Although the Dyson Airwrap offers many features, this effect particularly applies to curls and waves.
The brand offers three versions of the Airwrap, the difference being the number of attachments included. We look at the features of the "Complete" version, which is suitable for all hair types. The other two versions include attachments that work best for straight hair without volume (Airwrap Volume+Shape) or thick, frizzy hair (Airwrap Smooth+Control). According to our Dyson Airwrap review here are some advantages and disadvantages.
Advantages
FEATURE
As already mentioned, this tool simultaneously dries and styles hair, reducing the time it takes to finish your hairstyle, whether it's curls, waves, or smoothing. The most outstanding and differentiating advantage of this product is compared to others on the market.
It is advisable to remove excess water with the hair dryer or the pre-modeling tip before styling the hair.
PROTECTION
The styler incorporates a constant temperature control system that keeps the temperature below 150ºC, ensuring that the hair is not damaged during drying and styling.
This is one of the most important features because the health of your hair will thank you for it, and you will have softer and shinier hair. In addition, like other devices, the Airwrap includes buttons for adjusting the intensity of the airflow and the temperature (three positions each), as well as a fresh air button.
MANEUVERABILITY
It should also be noted that the Dyson Airwrap, thanks to its lightweight, is very comfortable to use. It's a good thing that it's so light. Your arms won't get tired, allowing a better styling result.
MULTIPLE ACCESSORIES
As we said, in addition to drying, the different heads allow you to use the device to straighten, wave, curl, and volumize hair.
It also includes a nozzle to remove excess water, brushes for smoothing (with or without volume), and nozzles for styling (in two different sizes): 30 and 40 mm, for smaller or larger curls large).
CASE
The Airwrap Complete comes in a very stylish and high-quality case.
It is very practical to have all the accessories (eight in total) neatly stored in one place. However, it is quite bulky and inconvenient for travel as it is too heavy overall and does not have a handle.
Disadvantages
HIGH PRICE
This is the main disadvantage because it costs almost 600 euros unless you find a special offer or promotion.
VERY SHORT HAIR
On the other hand, the device is not very practical for short hair.
For short hair, you can try Straightener for short hair: Comparison and Opinion Mini Straightener 2023
Dyson Airwrap Complete Styler for Multiple Hair Types and Styles, Fuchsia
Our review of the Dyson Airwrap Volume
Given its steep price tag, it's a worthwhile investment if you have particularly damaged or fragile hair and want to change your look frequently if you can afford it.
On the other hand, if you already have other tools that allow you to perform these functions (hair dryer, straightener, or curling iron), it may be an extra product unless time-saving for you is vital. If this isn't your case and you don't have short hair, the investment might be worth it, back to the menu. ↑
Dyson Airwrap FAQs
Is the Airwrap styler suitable for all hair types?
Yes, it can technically work on all hair types, from coarse to curly, frizzy, thick and fine hair, etc. I can't comment on the effectiveness of this device on very frizzy and curly hair, but I've heard several famous hairdressers say that the straightening brush can straighten natural curls in one or two passes. On the other hand, it is not ideal for very short hair.
How does the Dyson Airwrap work?
It uses what is called the Coanda effect. Thanks to its internal motor (remember that Dyson is famous for its powerful vacuum cleaners), it creates a whirlwind of air inside the hollow tube, powerful enough to draw your hair towards it. You need to place the end of your hair near the cylinder, and the device grabs and rolls it for you, so you don't have to worry about touching the hot device.
Is it easy to store?
The device comes with a storage case that helps organize and store all the accessories and the device, but the case itself is quite large. You'll need to ensure you have enough room under your vanity to style it, or you can try a more convenient storage option.
Can the Dyson Airwrap damage hair?
The Airwrap constantly measures the temperature, so it never overheats. It also has three built-in heat settings; I like to use high heat for damp hair and low heat for touching up dry hair. Compared to curling irons, which can reach over 400 degrees and cause significant heat damage, the Airwrap's heat control is a big plus.
Which is the best? The Dyson hair dryer or the Dyson Airwrap?
The Dyson Airwrap can 100% replace the Dyson hair dryer. The pre-styling drying attachment does 90% of what the Supersonic hair dryer can do. The only difference is that the Airwrap doesn't have different direct drying tips like the Supersonic. Still, since it does have brushes and other attachments, it's in another category (in a good way).
The right option for you will depend on your budget and hairstyle preferences. Do you already have a curling iron and straightener and need a really good hair dryer? Opt for the Dyson hair dryer. Are you starting from scratch, or do you want to get rid of all your other heated styling tools and get a unique product? Invest in Airwrap.
Please read my full Dyson Supersonic hair dryer review here.
Can you straighten your hair with the Dyson Airwrap styler?
While I've found the Airwrap great when used as a curling iron, it can take the frustration out of straightening and blow-drying hair. I usually have one hand on the brush and one hand on the hair dryer or straightener when I want to achieve a smooth, straight look, which can be tiring on the arms.
The Airwrap is less bulky than a straightener/dryer + brush combo, but if you want to achieve that super smooth and straight look, you might need a little hair oil or a straightening product to tone down the volume a bit that an air styling tool doesn't smooth as a hot ceramic tool does.
Which Dyson Airwrap should I buy?
Which kit is right for you depends on who will use the Airwrap, your hair type(s), and your budget.
The Full option is great if you are a hairstylist or plan to use the Airwrap in a house with multiple people and different hair types. If you are the only person using it, you can opt for the Smooth + Control option or the Volume + Shape styler and save a few bucks.
Read More