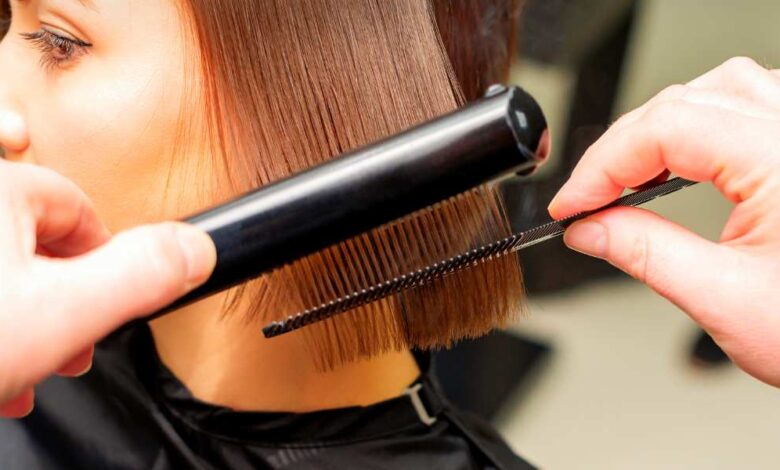 Short hair doesn't mean giving up the freedom to style it however you want, whether you want a straight or curly finish. In this article, we present the three best straighteners for short hair so that you can choose the right one for you.
For short hair, it is essential to ensure that the plates are narrower than on traditional models. Ideally, less than 1.5cm (2.5cm is the norm) so you can handle the hair well when styling. These straighteners are also called mini straighteners.
Best Straightener for short hair: Comparison
Ghd Mini Professional Styler
GHD Mini Styler: Perfect straightener for curling short hair
Although much more expensive, this model is far superior to other mini stylers for short hair. The GHD Mini Styler offers the quality of the GHD brand (one of the most prestigious on the market) but is adapted to the needs of people with short hair.
The width of its plates (1.27 cm) allows greater precision in styling short hair, both for straight hair and for waves and curls, thanks to its rounded edges. It is also beneficial for styling bangs on normal hair.
The plates are tiltable and ceramic, allowing you to glide smoothly and minimizing mess as much as possible. The temperature sensor (one per plate) keeps the temperature constant at 185ºC. This temperature is suitable to avoid damaging the hair and obtain the desired results.
Of course, you can travel anywhere thanks to its universal voltage, automatic shutdown after 30 minutes of inactivity, and swivel cord for easy handling. As we mentioned at the start, the only downside is the price: the brand's quality is undeniable, but it is still a high-end option and, therefore, only suitable for some budgets.
See our different comparison: The best steam straighteners of 2023: Comparison and Opinion
Pros
Ceramic plates.
 Constant temperature sensor (185ºC).
 Rounded edges for waves and curls.
 Plate protector included.
 Excellent quality and outstanding durability.
Cons
High price.
KISS Ceramic Tourmaline Flat Iron, 1/2″
KISS straightener: another good option
Only some hair straighteners with such narrow plates meet all the other requirements we ask of a good hair straightener. This is why this KISS brand has reached this position in our ranking, although it is pretty unknown.
Its plates are the narrowest of our selection (0.7 cm). This will make styling very short or short hair much more accessible, allowing you to reach the roots of the hair and style the bangs.
The plates are made of ceramic, an ideal material for evenly distributing heat and preventing burns. It also has five temperature settings, from 150ºC to 232ºC, so you can select the proper heat for your hair type.
You can travel with this straightener to any country thanks to its universal voltage, it is safe to use, as it has an automatic shut-off after 60 minutes of inactivity, and its swivel cord makes it easy to handle and precise during hair styling.
The tilting plates and rounded edges allow for greater styling versatility, from straightening to curls and waves.
The biggest drawback of this model is that the plates only have a ceramic-tourmaline coating; they are only partially made of ceramic-tourmaline and could wear out with use. The case material is also low quality (plastic).
Check Prices on Amazon
Pros
Price.
 Ideal for concise hair.
 Temperature controller (150-232ºC).
 Rounded edges for loops.
Cons
Ceramic-tourmaline coating, not 100% tourmaline.
 Improvable qualities.
 Housing is not included.
Kipozi Mini: A good inexpensive straightener for short hair
The Kipozi Mini is the most affordable straightener in our selection for short hair.
Although it is a little-known brand, it is one of the best sellers on Amazon. This particular straightener has over 1,000 reviews with an average rating of 4 out of 5. And Amazon is not a site where people are generous in their praise.
In addition to being an economical option, this iron meets the other essential requirement for short hair: its plates are pretty narrow (1.3 cm).
They are coated with titanium, a durable material that facilitates even temperature distribution. The biggest problem is that they are not made entirely of titanium, and with use, they could wear out and expose your hair to other internal materials (like aluminum) that are harsher on your hair.
However, this is a very cheap straightener; therefore, you should not expect the quality of a professional straightener; you will need more passes to get the desired results.
On the other hand, this model only has one temperature setting (200°C), which may be high for fine or damaged hair, but it will allow you to achieve the styling results you are looking for.
It also doesn't have floating plates or a swivel cord, so it will be harder to get the accuracy right and more uncomfortable to handle.
Pros
Price.
 Rounded edges for loops.
 Storage pouch (non-thermal).
Cons
Titanium coating (not full titanium).
 No automatic safety shutdown.
 Stability at high temperatures (200º).
 No rotating cable.
Which brand to choose for a straightener?
To help you find your way around, here is a list of the best brands that stand out, as well as our opinion :
GHD: the brand has established itself in the landscape of hair straighteners with a premium positioning that guarantees quality at all straightening points. However, to afford a GHD straightener, it is often necessary to provide a substantial budget.
 BaByliss: expert in hair care, the brand offers a wide range of models, from steam straighteners to curler straighteners and Wet & Dry ones. It's hard not to find your account! A varied range to satisfy all budgets.
 Remington is the brand that is talked about for its excellent quality/price ratio! Some of his models have become classics thanks to their superb performance. Just like BaByliss, many products are available for all hair types.
 L'Oréal Professionnel: with its SteamPod 3.0 steam straightener, the beauty firm has convinced with a smoothing worthy of a professional salon, even for the most unruly hair.
 Dyson: one model but a significant impact. Full of new technologies, the Corrale straightener has become a must-have that smooths and takes care of the hair. Unfortunately, it remains highly inaccessible due to its price.
How to straighten without damaging the hair?
It's a big question that bothers consumers. Fortunately, there are a few solutions to reduce breakage and keep hair shiny even after repeated straightening. Thus, applying a protective product such as a spray or serum before smoothing them is almost essential! Especially on fragile tips that tend to break. Add to that a mask several times a week to nourish them deeply.
You can also straighten your hair at a lower temperature to avoid damaging it. Be careful because this is effective for fine hair but less for curly hair, which requires a higher temperature. I prefer hair straighteners with long and wide plates that take care of larger surfaces.
What is the best straightener that does not damage the hair?
For hair that stays healthy despite straightening, the Dyson Corrale is our top pick. Why? Because its plates have been specially designed to protect the hair. Its price, however, can be off-putting. In this case, it is possible to turn to the Remington S8598. This smart straightener regulates the temperature according to the humidity of your hair. On the other hand, it diffuses keratin and almond oil in the hair for a sublimated result.
you can also check Test and Reviews: Dyson Airwrap Volume, Shape styler for flat hair
What is the best straightener for curly hair?
One of the best is the Kipozi straightener present in our comparison. It offers outstanding performance, all at an affordable price. Its large titanium plates are exactly what you need for hair of this nature.
What is the best straightener for curly hair?
L'Oréal 's SteamPod 2.0 remains a benchmark for curly hair. And the SteamPod 3.0 follows suit. With steam as the main ingredient! Among its virtues is smoother and disciplined hair with a long-lasting hold. For a more detailed review of the SteamPod, head to our versus SteamPod 3.0/Dyson Corrale.
What is the best straightener for curly hair?
Effective smoothing on curly hair without exceeding 200°? It's possible with the GHD Styler Gold! The dual-zone technology applies an even heat of 185° to the hair. And that's more than enough to get an excellent smooth result.
What is the best cheap hair straightener?
A low-cost iron is not necessarily synonymous with concessions, far from it. The Remington S8540 is proof of that. It nourishes the hair with care infused into its plates while making it smooth. Note that, in general, Remington straighteners are considered to have the best value for money. Consult our best cheap hair straightener ranking to find the one made for you!
How to make curls with a straightener?
It works much like a regular curler if you have a straightener designed for curling hair, preferably with curved plates. Take a strand from your root and wrap it around the device. Once done, lower the straightener to your ends and release. For more natural curls, run your hand through your hair to relax them and thus gain a nice effect! To discover the top curler straighteners, look at our ranking above.
What is the best straightener for short hair?
To straighten your short hair, we advise turning to small straightening irons. So-called "mini" or travel straighteners are ideal. For a high-end straightener, we recommend the GHD mini Styler Gold displayed at 200 €. The Remington S2880 On The Go is the best affordable straightener for short hair. Its price is 29 €.
Read More