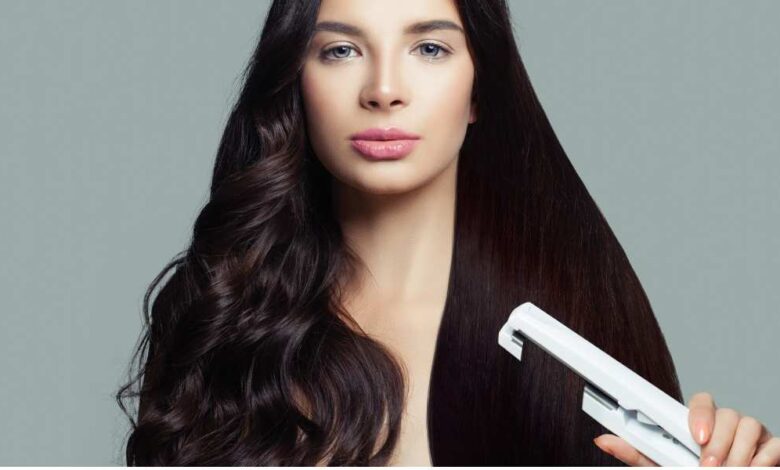 In this article, we will analyze the three best curly hair straighteners on the market (in our opinion). A hair straightener suitable for curly hair will be one of the best investments because it will allow you to get the desired results while taking care of your hair and keeping it healthy and shiny.
See also our different comparisons: Test and Opinion: GHD Styler Platinium plus Straightener
Straightener for curly hair: Comparison of the best models of the moment
KARMIN G3 Pro Professional Tourmaline Ceramic Hair Straightener / Styling Flat Iron / 460F / Straighten
KARMIN G3 Salon Pro: A perfect straightener for unruly hair
As you probably know, the Karmin brand has carved out a place among the most popular beauty products and has a strong presence in hair salons.
In the case of the G3 Salon Pro case, although its plates do not have a maximum width, it incorporates technology specially designed for thick and very curly hair.
This professional hair straightener has universal voltage, ultra-fast heating, and negative ions for frizz-free styling.
Its ceramic and tourmaline plates allow for even heat distribution, which helps seal the tips and add shine and softness. Although it is specially designed to straighten unruly hair, its rounded edges also allow for curls and waves without marking the hair.
Finally, there are versions in different colors, which allow you to have a more personalized straightener with a case and cushion that facilitate its protection and storage.
Pros
Ceramic/tourmaline plates.
 Adjustable temperature from 120º to 230º.
 Technology with negative ions and ultra-fast infrared heat.
 Three years warranty.
 Includes cover and heating pad.
Cons
High price (high end).
ROMANDO Plancha de Cabello Professional, Flat Iron for Black Women Hair,
ROMANDO: An inexpensive straightener for curly hair
This ROMANDO model is one of those we have found on the market and meets the requirements of our selection; it is specially designed to facilitate the styling of thick and coarse hair.
Its extra-wide plates (4.7 cm) are made of ceramic. It also incorporates technologies that ensure the care and health of the hair, such as the temperature sensor, the plates enriched with keratin, and the ionizer.
What we didn't like was that it doesn't offer an automatic temperature shut-off (safety first), and the plates don't float or tilt, which doesn't allow for such great precision as those that incorporate this technology.
If you have a tight budget, this model is undoubtedly a good option because its price is by far the lowest in this comparison.
People also ask for Our opinion on the GHD Styler Original straightener
Pros
Unitempt sensor for a more constant temperature ensures a better result and greater hair protection.
 Keratin and extra large plates (4.7 cm).
 Digital temperature control between 130- 220ºC. Fast heating.
 Very reasonable price.
Cons
No automatic shutdown.
 The plates do not tilt.
ghd Max and Mini Stylers – 1/2 inch Mini & 2 inch Max Professional Hair Straighteners
GHD Max Styler: A straightener for curly hair, but also to create waves
Indulge in subjectivity: we are big fans of this model.
A pioneer in the design of extra wide plates, this model from GDH is specially designed for curly, unruly, and voluminous hair.
The width of its plates (5cm) – double that of normal vessels (2.5cm) – is specially designed to minimize straightening time and straighten the most unruly hair. On the other hand, if you like big waves, the width of their plates also facilitates this result.
Otherwise, it has all the advantages of a GHD: ceramic plates, constant temperature protection, automatic shutdown after 30 minutes, and universal voltage…
If you finally opt for this option, take advantage of this article where we give you the keys to know where and when to buy a GHD to get the best price because this is their main disadvantage: they are high-end hair straighteners. Range and therefore quite expensive.
You may like Our opinion on the GHD gold max styler straightener.
Pros
Reclining ceramic plates.
 Maximum width (5 cm).
 Constant temperature sensor at 185ºC.
 Rounded edges for waves.
 Heat-resistant plate protector.
Cons
High price. The brand's quality is unquestionable, but it is still a high-end option and, therefore, only suitable for some budgets.
Can I adjust the temperature of my straightener as I want?
Sure! You are free to adjust the temperature of your straightener depending on the type of hair or the intensity of the desired straightening.
Do all straighteners turn off by themselves if you need to remember?
Most of the best straighteners are equipped with a technology that allows them to switch off after 60 minutes of inactivity.
Can I use my straightener on highlighted or colored hair?
Yes, your straightener can be used on highlighted or colored hair. It can also adapt to wigs or natural extensions.
How long does straightening take?
A good smoothing lasts at least 24 hours and can be kept for 2 to 3 days by making a few touch-ups.
Are hair straighteners effective in Brazilian straightening?
If you have already gone to the hairdresser for Brazilian smoothing, your straightener can be used for small touch-ups.
My hair straightener no longer works, can I return it?
To provide you with the best after-sales service, the major brands offer a guarantee of at least three years for their product.
How much does a steam straightener weigh?
The characteristics specific to each model of straightener are available on a descriptive sheet present with the product and in its description on the internet.
What is the difference between a classic straightener and a steam straightener?
The advantage of straightening with a steam iron is that it hydrates your hair and keeps it silky. The classic straightener requires some additional beauty care to achieve the same result.
How to set your hair straightener to the right temperature?
You can adjust the temperature of your device by pressing the + and – buttons.
Do I need to apply a heat protectant to my hair?
This is not necessary but highly recommended to keep hair healthy.
Read More