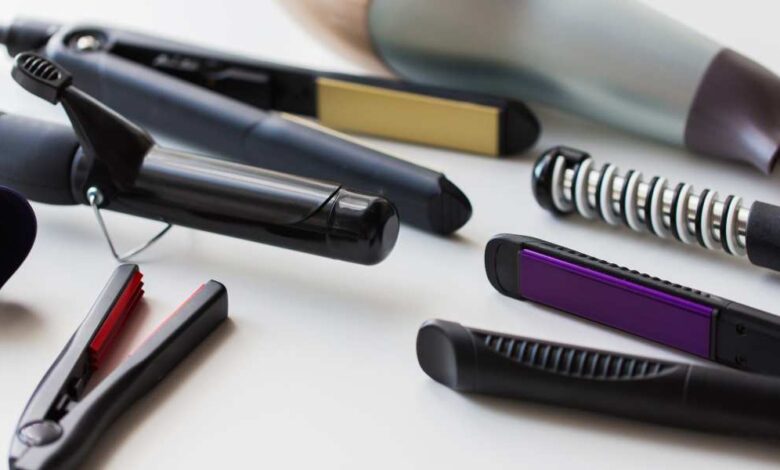 We know that one of the main aspects that we should demand from a professional hair straightener is that it provides protection and health to our hair. In this article, we present the best hair straighteners that do not damage your hair, especially useful if you are buying one and have dry, damaged, or colored hair.
See our different comparison: Test and Reviews: GHD Glide Straightening Brush
How to choose a professional hair straightener that does not damage your hair?
Before moving on to selecting the three best models, it is essential to review in a brief guide the fundamental elements that must be included in a straightener so that it protects your hair as much as possible.
100% ceramic or titanium plates
To protect the health of your hair, the material your plates are made of is essential. The best materials are titanium or ceramic. And ideally, if your budget allows, the leaves should be 100% titanium or ceramic.
Suppose the straightener you choose has only a light layer or coating of ceramic or titanium, but the inside is made of another material (e.g., aluminum). In that case, your hair may come in contact with these internal metals and be damaged during use.
We know this is one of the most expensive aspects of the product, but you also have to consider that the device's quality and lifespan will be much higher.
humidity sensor
Some models also incorporate humidity sensors that detect when your hair is too wet to straighten.
The cuticle (the outer part of your hair) burns more quickly when damp. This sensor is not an essential element, but it is true that sometimes in a rush, we do not put much effort into drying, and we can damage our hair if we use the straightener when our hair is still damp.
This is why a straightener equipped with a humidity sensor will let you know when your hair is dehydrated and ready to be straightened or curled.
Adjustable temperature
Another critical aspect is that the model you choose must allow you to adjust the temperature according to the characteristics of your hair. This result is obtained thanks to the sensors integrated into these straighteners, which constantly measure the temperature of the plates.
For excellent safety, it is advisable to equip them with a temperature indicator so that you know the amount of heat you are applying to your hair.
As stated in this post, too high a temperature can damage our hair. For this reason, we recommend that you always apply the minimum temperature that allows you to obtain the best results without carrying out too many passes.
After reviewing the essential elements that a straightener must have to avoid damaging your hair, below, you will find a selection of three straighteners that meet these requirements.
See our different article: Our opinion on the GHD Styler Original straightener
Comparison of the best straighteners that do not damage the hair
1- GHD Platinum+ Styler – 1″ Flat Iron, Professional Hair Straightener
GHD PLATINUM PLUS: Ideal for colored and fragile hair
The GHD Platinum Plus is the most respectful and attentive to the color of highlights and dyes, preventing damage and discoloration thanks to its temperature control technology and extreme care.
Its ultra-zone technology predicts and adapts to the needs of your hair. How does it work? Each of its plates incorporates an "infinite" sensor that controls the container's heat 250 times per second always to maintain them at 185º C regardless of the hair's thickness, the styling's speed, and the lock's size.
The other unique feature of this model is that it has a patented plate design that ensures perfect alignment of the plates to provide better control during styling and ensure ideal glide. Although it does not have a humidity sensor, it is a 100% recommendable styler with only one drawback: its high price, which will make you wonder if the investment is worth it.
On the other hand, these hair straighteners last a very long time (some users have had straighteners from this brand for more than ten years in perfect condition). So if you spread the cost over the years of the estimated term, it's easier to be convinced of the investment.
Pros
Ultra-zone predictive technology.
 Long rotating cable.
 The constant optimal temperature of 185º C.
 Versatile: smooth and loop (rounded edges).
Cons
Price.
 Does not include a humidity sensor.
2- Corioliss C3 Hair Straightener Flat Iron Professional for Hair Titanium Plates 
Corioliss C3: For perfect temperature control
The Corioliss C3 is part of what we consider to be high-end models. Its plates are one of the few made of polished solid titanium, which is even more robust and durable than ceramic.
It incorporates negative ion technology to prevent static electricity. This improvement in the frizziness of your hair will help you achieve a more professional result and reduce the number of passes, which is also a positive aspect of its protection and maintenance.
It also features tilting plates with an excellent tip (which allows you to hold them by the end without getting burned) and rounded edges, which are great for curls and waves.
As the benefits listed above needed more, it's temperature adjustable and comes with a heat-resistant storage pouch.
The main drawback, as it could not be otherwise with all these features, is that it is somewhat expensive.
Pros
Solid titanium plates.
 Adjustable temperature from 135° to 235° C.
 Anti-frizz technology with negative ions.
 Heat-resistant storage case.
Cons
Price.
 They do not have a security lock.
3- Braun ST300 Satin Hair 3 Style and Go Straightener
Braun Satin Hair: A cheap straightener that protects hair
Braun isn't the brand most people have in mind when it comes to straightening hair. But their Satin Hair model is one of the best around. Their 100% ceramic plates will leave your hair shiny and smooth and prevent damage thanks to their quality and even heat distribution.
It has everything you need from a professional straightener to create multiple looks: rounded edges, tilting plates, a cold tip, and a swivel cord.
As a bonus, it incorporates technology that allows you to set up three different profiles – ideal if you share with colleagues or family members. The straightener automatically adapts the temperature settings to your characteristics throughout the styling process, depending on your hair type, humidity at any given time, etc.
It is a straightener whose price is quite economical on the high end. On the other hand, it is a pity that the cord is not a little longer. It also doesn't come with a safety lock or a heat-resistant cover for storage.
Pros
100% ceramic plates.
 Programming according to the user's profile or hairstyle.
 Temperature and humidity sensor.
 Tilting plates and rounded edges.
 Cheap
Cons
No security lock.
 Short cable (2m).
How to use your hair straightener?
You should know that there are several strategies to get the most out of your straightener without damaging your hair! Some typical mistakes make our hair more fragile or increase the curly appearance, which is difficult to control. Let's see what suggestions we can make to get a great style while keeping our hair healthy!
You may like: Straightener for curly hair: Comparison of the best models of 2023
What products facilitate straightening?
Do you use a hair straightener daily and want to keep your hair strong and healthy? There are solutions specially designed to protect your hair from the pressures of daily straightening. These liquid or spray formulas should use before or after straightening. Let's take a look at the most common of them together!
How can I style my hair using a hair straightener?
It depends on the hair straightener model; they generally straighten all your hair and create modest waves depending on the angle, but others have a more precise design that allows you to achieve a wavy and curly style.
You may like: GHD looper: Comparison of the best models 2023, How to choose it?
Will using straightener damage my hair?
Straightening your hair doesn't damage it, but it puts it under significant stress. So you should use preventive treatments before and after styling it. For more information, see the ten steps to protect your hair before and after straightening with a flat iron.
What happens if I need to remember to turn my straightener on because I'm in a hurry?
After 30 or 60 minutes of inactivity, most hair straighteners have an automatic shut-off feature. If you'll often forget to turn on your straightener, look for a device with this feature.
To straighten my hair, what temperature should I use?
professional hair straightener
What is the difference between a traditional straightener and a steam straightener?
The steam straightener straightens the hair using steam, gentler on the hair cuticles. The only difference is that steam straighteners minimize frizz and leave hair softer. It is because they retain the proper amount of moisture. On the other hand, they contain a built-in reservoir that you need to replace with water regularly and are primarily intended for straight styling.
Should we prefer a small hair straightener to a straightener with larger blades?
Again, it depends on your needs. The small straightener is more controllable and more convenient to use, but if you have long hair, a broad plate straightener may be better. It allows you to process more hair at once and saves time. The only basic guideline is that wide plate straightener are not recommended for people with short hair; everything else is up to you.
Read More