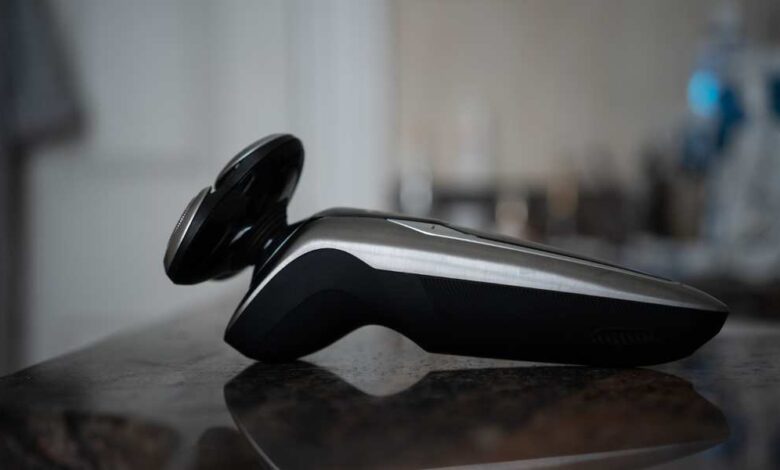 If you're wondering which is the best electric Philips shaver, you've come to the right place. We'll review the brand's best entry-level to high-end shavers from Philips below. We will mainly focus on facial electric razors, although we will include some models suitable for body shaving, among other things.
The electric Philips shaver: Comparison of the best models
Norelco Philips shaver: OneBlade Hybrid Electric Trimmer and Shaver,
Philips QP2520/90 OneBlade: The best-selling shaver on the market
The Philips QP2520/30 OneBlade is an ideal shaver for trimming, shaping, and shaving beards. It can get wet, so it's perfect for washing under the tap without removing your head.
This Philips is wireless, with an average battery life of around 45 minutes. However, one of the significant advantages of the OneBlade is that it can be used while charging. This razor includes the razor itself with a blade, three guide combs (1, 3, and 5 mm – for relatively short beards), and an additional blade.
The blades are disposable. You will have to change the edge every 3 or 4 months. This amounts to around 10 to 15 euros per new blade each time. Some users have been using them for up to 6 months. Depending on one's point of view, it is a disadvantage or an advantage: you indeed spend money every few months, but you also enjoy shaving with new blades without changing the whole machine.
It is not surprising that the result is similar to shaving with a razor without causing injury.
You can sometimes find it for sale with a travel case.
Pros
Ideal for sensitive skin.
 No tugging.
 Reasonable accuracy.
 Wet shave.
Cons
Not suitable for long beards.
 Limited battery life, although it is possible to use it while charging.
See also our different comparisons: on Braun shavers.
Philips Shaver 9000 series wet and dry electric shaver S9711 V-Track
Philips shaver 9000 s9711/41: The perfect electric Philips shaver on the market
The Philips 9000 Series s9711/41 is the best. It has an 8-position rotating shaving head, which allows you to get a very close shave without irritation.
If this is your first time using a rotary razor, we remind you to use it in a rotary fashion on your face and be careful when shaving curved areas. This will give you an excellent shaving experience. In the 9000 series, we have other more economical models, such as the Philips 9000 series S9031/12, which also gives an excellent result. The Philips 9000 Series s9711/41 is currently the best in the range, which is reflected in its price.
It has excellent autonomy and, in addition, it recharges quickly: in one hour of charge, you have more than a week of independence. If you add to the case it comes with, it's perfect if you want to travel with it. We also like that it comes with a beard-trimming comb head, which works great.
You can use it in the shower and clean it under the tap. The head seems flimsy, as it is made of plastic. However, it was okay for us.
If we had to look for another "but", we could say that for the price it costs, it would have been great if it had a base to store it. On the other hand, it has a travel case.
Pros
Perfect shave
 No irritation
 Ideal for the shower
 beard trimmer head
 Quick charge and travel case
Cons
High price
 The head seems fragile
Norelco Philips Shaver 7100, Rechargeable Wet & Dry Electric Shaver
Norelco Philips Shaver 7100: An Electric Philips shaver with a power adaptation sensor
The Norelco Philips Shaver 7100 is a Wet & Dry electric shaver. The razor can be used for dry shaving and in the shower, for example. The device can also be cleaned quickly and thoroughly under running water. The device is equipped with the so-called SteelPrecision system. It is a self-sharpening blade that captures more hair with each stroke.
The shaver is equipped with a Power-Adapt sensor. According to the manufacturer, it ensures an effortless and smooth shave. The shaver automatically adjusts the cutting power according to the density of the hair.
Also, the shaver has 360-degree shaving heads. This is supposed to provide excellent skin contact and a comfortable shave. Flexible, rotating shaving heads follow the contours of the user's skin. Also, the precision shaving heads are supposed to deliver a precise and close shave.
According to Philips, the shaving heads bring the hairs of the beard into the correct cutting position. The shaver also features a folding precision trimmer. A wireless cleaning station is included. Thanks to it, the shaver can be hygienically cleaned within a minute.
Pros
Automatically adjusts cutting power
 360° shaving head
 Folding Precision Trimmer
Cons
Price
Norelco Electric Philips Shaver 5110 Wet & Dry, 
Philips S5110/06: Electric shaver with a precision trimmer
With the Philips S5110/06 Series 5000, you'll get a close, fast shave thanks to flexible shaving heads, Super Lift & Cut technology, and innovative MultiPrecision blades that deliver a close shave along the contours of your face.
Operation and handling are very comfortable. The device promises a clean shave and an exact cut at low volume. The smooth shave result comes from the specially mounted shaving heads that move in five directions. This allows the dry razor to adapt very well to the contours of the face.
Changing razor blades can be a hassle. Thanks to the removable trimmer, you can shave your mustache or sideburns as you wish. Other benefits of this men's shaver include:
You may also like the comparison between the best body trimmer for men.
A travel safety indicator.
Cleaning indicator.
Low battery indicator.
A shaving head replacement reminder.
Product Features :
Shaving system: Rotary shaver
 Mode of operation: mains or battery operation (with lithium-ion)
 Application: Dry shaving
 Battery life/operating time: 40 minutes
 Charging time: 60 mins
 Item weight: 300 grams
 Features: cleaning indicator, charging indicator
 Model year: 2015
 Features: Cordless, ideal for trimming sideburns and whiskers.
 Accessories: protective cap, a precision cutter
Norelco Electric Philips Shaver 5110 Wet & Dry
Philips 5000 Series S5110/06: An entry-level Philips shaver
The Philips 5000 Series S5110/06 is a reasonably inexpensive model with excellent value for money for those on a budget. There is a noticeable difference with the high-end models, but it works well.
It is hushed, and the close shave is not bad, even if it takes a few strokes. We were surprised at how smooth it was on the skin, although we would have liked it to be a bit more robust.
We liked that it included a head for trimming and shaping beards and sideburns. It's something Philips usually does, and we appreciate it.
One of its main disadvantages is the battery life, which is around 40 minutes, and its power decreases considerably when the battery is low. Despite this, the good news is that it can be used with a cable. So you can still use it while charging it, and it will last many more years.
Another downside is that it doesn't come with a storage case. However, this is a "lesser evil".
Pros
Good value for money
 Candy
 It can be used while charging
 Includes beard trimmer head
Cons
You have to do several passes
 Not waterproof
 No base included
Philips Norelco Bodygroom Series 7000 Showerproof Body Trimmer & Shaver
Philips Serie 7000 BG7040/42: The best Philips multifunctional shaver
The Philips 7000 Series BG7040/42 is a body shaver specially designed for sensitive areas such as the genitals and armpits. The use in sensitive areas is spectacular.
Its primary use is body shaving, which it does very well, but you can also trim and shave your beard. This razor is very different from the others because it has two sides, one at each end of the handle: the first for shaving and the other for cutting body hair. Not having to change heads makes it very useful and convenient.
It's cordless and has 80 minutes of battery life, more than enough for a whole body and beard shave.
The battery can lose much of its performance after two years of use. This was already the case with the previous model. However, this one has a one-hour quick charge only.
Another new feature of this model is the 4D shaving head, which means you need fewer strokes than in previous models.
Pros
Very good for sensitive areas like genitals and armpits.
 Comfortable thanks to its two fixed heads
 Good autonomy
Cons
Not focused on face shaving
 No base included
 The case is not high quality
How to choose your Philips shaver?
Philips is an excellent brand of razors. There are two leaders today, Philips and Braun, so it's easy to go right if you buy a shaver from this brand.
What is your budget?
We didn't want to select only the most expensive models but those with good value for money. The first thing to know is that it is difficult to buy a good Philips shaver for less than 80 euros. Indeed, the best models are between 200 and 400 euros. Don't worry. We've included plenty of cheaper models in our review.
Which type of head do I need for my Philips shaver: rotary or foil?
There are two types of heads: rotary and screened.
Rotary heads generally have 3 or 4 blades that are cut by rotating in a circular motion. These are the most common models at Philips. They are recommended for thick hair and shaggy beards where hair grows uncontrollably in all directions. The downside is that they are less skin-friendly, as they sometimes irritate the face and cause tightness.
But don't worry, if you buy an excellent Philips shaver and opt for the mid-range and high-end models, like the ones in this review, you won't have a problem.
The heads with grids are arranged with blades superimposed on each other. They move horizontally to trim the beard. They shave closer and are less irritating. Again, it depends on the model and brand. Their main disadvantage is that they can be less durable.
Do you have sensitive skin?
A real technological revolution is underway in the world of shaving. They incorporate all kinds of elements to make the experience smooth in search of the best shave:
High-Frequency Vibrations: Premium razors produce up to 10,000 vibrations per minute to minimize irritation and make the shave as close as possible.
 Built-in heat: Some high-end shavers even heat the blades for a smoother shave, similar to the effect of a cool hot shower.
 Rounded blade shape and materials: In the beginning, razors were made of metal, with poorly finished blades and sometimes too sharp. Today, the quality of the edges is increasingly high, as evidenced by the rounded finish of the edges, which prevents pinching and friction.
Which Philips shaving heads do you need?
This item is specifically designed for face shaving, but here are some options.
If you already know that you will use it mainly to shave your face, forget about it. The head supplied as standard is ideal. If you want the machine to shave other parts of the face, like the nose and ears, you'll need an extra head.
For shaving sensitive areas, such as the genitals and armpits, look for a razor with a shaving head that prevents cuts. Otherwise, you risk causing skin irritation and minor injuries.
You will need at least the hair clipper head for body shaving (without going into the most sensitive areas) or head shaving.
What if you want to trim and cut your beard hair? In this case, you must be able to adapt removable clogs of different sizes. Check the size of the clogs so you can adjust them to the extent you want.
Philips shaver: Should it be waterproof?
For us, it is highly recommended.
The best time to shave is when you have just taken a shower or wet your face with hot water. This opens the pores of the skin and makes the experience much smoother. The fact that you can get your electric razor wet is a plus, but that should only be a limiting factor if you know you'll be using it in the shower or water.
Before buying a razor, check the technical specifications because while it is true that some razors can withstand a little humidity, they cannot be used in the shower, as such.
Important: check if the manufacturer indicates if it is a wet razor, a dry razor if you can use it in the shower, etc. No one can guarantee you won't damage it if it gets wet except the manufacturer.
Read More