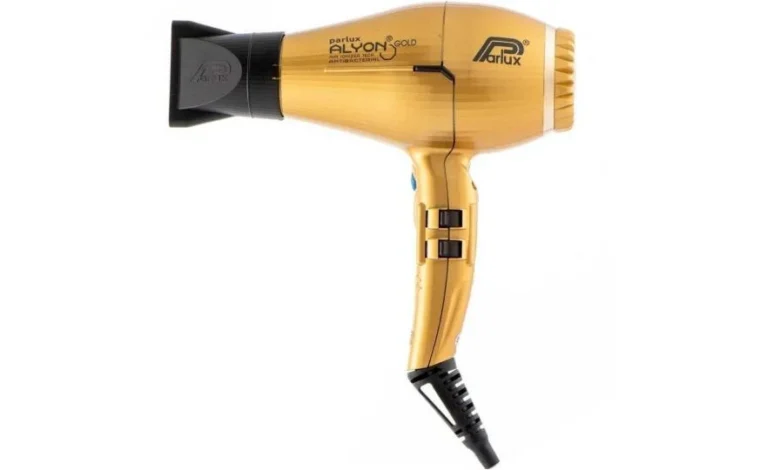 When we hear about Parlux hair dryers, we immediately associate them with high-quality, professional products, and we're not wrong.
Parlux offers a wide range of professional tools that stand out for their high performance and reliability. This modern and constantly evolving company has positioned itself as a leading brand worldwide and never ceases to amaze us with its constant innovations.
The market introduction of its latest model was a real revolution thanks to its incredible features and performance. We are talking about the Parlux Alyon hair dryer.
Parlux Alyon was born from the experience of more than 40 years of this company in the professional hair dryer sector, and, not without reason, it has become one of the best hair dryers, a reference model in the competitive world. Professional hairdressing.
We are going to present it to you in depth below!
Parlux Advance Light Black Ionic and Ceramic Hair Dryer and M Hair Designs Hot Blow Attachment Black 
Introducing the Parlux Alyon hair dryer
Let's start with the design of the Parlux Alyon because, although we may think it is the least important aspect, when this type of device is used frequently or professionally, features such as ergonomics, size and weight are relevant factors that should be considered.
Its design does not offer us significant changes. It reminds us of the Parlux 385 model, and its handle is very similar to that of its predecessor, the Parlux Advance, although with notable ergonomic improvements.
On the other hand, when it comes to size and weight, they managed to outdo themselves. Getting a light and very functional hair dryer that measures only 17 cm and weighs 465 grams is almost a feat.
This model comes in various colours to which the brand has accustomed us: yellow, pink, coral, turquoise, jade, bronze, matte graphite and matte black.
The Parlux Alyon K-Advanced Plus Motor
When talking about the technical characteristics of this model, we must highlight the power of its engine.
Until now, Parlux has incorporated a K-Advanced engine in its products, but it has been improved in the Alyon model. The result of this improvement is the K-Advanced Plus engine.
This new motor gives the product a longer life, incredible power, and high airflow, significantly higher than previous models and most of its competitors.
How much power and airflow does this new motor deliver?
The power of the Parlux Alyon's 2,250-watt motor is one aspect that not only sets it apart from its predecessors but also from most hair dryers in the same range.
You might be wondering if you need such a powerful hair dryer, especially if you have fine hair. Knowing that you can constantly adjust the power and temperature according to your hair type, my answer is that it is always good to go for a high-powered model that will guarantee the product's durability.
With such power, the noise it produces will be considerable. Well, nothing could be further from the truth. This model is much quieter than most other models.
As for its airflow, it is also not negligible: 84 cubic meters per hour. With this airflow, Parlux offers unprecedented drying speed.
The lifespan of the Parlux Alyon hair dryer
Regarding the durability of the Parlux Alyon, the brand claims it has a lifespan of 3,000 hours.
At first glance, this figure may seem irrelevant at first glance, but if you think about it, it equates to 125 days of uninterrupted use without failure.
Right, in my opinion!
Ionic technology "Air Ionizer Tech."
What is that?
The name needs to be clarified, but we will explain to you what this innovative and exclusive technology is that Parlux has incorporated into this model. Parlux applies ionic and ceramic technology to its hair dryers.
Ceramic technology ensures that heat is evenly and evenly emitted, while ionic technology eliminates unwanted frizz.
Thanks to the "Air Ionizer Tech" in this model, the emission of negative ions has been improved to obtain even more effective results.
PArlux Alyon Air Free System
"HAIR FREE SYSTEM" is a system patented by Parlux that consists of collecting the hair trapped in the hair dryer to facilitate cleaning.
This innovative system may seem like a slight improvement. Still, it is beneficial when the hair dryer is used intensively since it can be decisive in extending its useful life according to the parameters indicated by the brand.
Temperature and speed selector
Regarding temperature and speed, Parlux has kept what already works.
Their models, including this one, offer two speeds, two different temperatures, and a cool air button. The ability to choose between the different temperatures and the airflow speed makes this hair dryer easily adaptable and, therefore, suitable for all hair types.
The hair dryer is equipped with two nozzles that allow you to regulate the airflow depending on the type of results you want.
A point that does not play much in its favor is that it does not include a diffuser. Although the brand always allows us to buy different types of accessories separately.
Handling of the Parlux Alyon hair dryer
The Parlux Alyon hair dryer is very easy to use, especially for professional hairdressers who spend several hours a day handling this type of device.
You're unlikely to experience wrist or arm fatigue or strain during the drying process thanks to its small size, low weight, and improved ergonomic handle that provides extra comfort.
The user experience could be more robust and comparable to more extensive and heavier professional hair dryers. However, operating the temperature and speed buttons is uncomfortable or easy to activate or change.
Materials used in the manufacture of the Parlux Alyon
It is widespread to think that small, lightweight hair dryers are made up of poor-quality parts and that the motor could be more powerful and reliable. That's usually the case, but the exception proves the rule.
We all know that Parlux is characterized by the use of top-quality materials to manufacture its products. Likewise, they take care of minor details to offer products with high-quality standards with which they can satisfy the most demanding consumers.
In this hair dryer, we find a robust cable of three meters that allows excellent maneuverability during use, an anti-heating front body, respect for the environment by using raw materials and recyclable packaging and allowing ultra-fast drying with the considerable energy savings that this entails.
Negative aspects of the Parlux Alyon hair dryer
Undoubtedly, it is a high-quality product, but it also has some aspects that could be more satisfactory. We highlight:
The air nozzles tend to heat up.
 Only the diffuser is included with the midnight blue model.
 High power may be too much for great hair.
 It is necessary to ensure that the product is original since there are many brand fakes.
 Its price does not suit tight budgets.
 The temperature and speed buttons are neither comfortable nor easy to activate. In addition, they protrude from the handle's surface and are somewhat annoying.
Parlux Advance Light Black Ionic and Ceramic Hair Dryer and M Hair Designs Hot Blow Attachment Black
What makes the Parlux Alyon hair dryer different from its competitors?
GHD Helios 1875w Advanced Professional Hair Dryer
Parlux Alyon vs GHD Helios
Both products are in the same category because they use advanced technology.
Size and weight: The GHD Helios weighs 780 grams and measures 24.3 x 31.5 x 11.5 cm, while the Parlux Alyon weighs 465 grams and 20.5 x 22 x 9.5 cm. As you can see, there is a noticeable difference between the two products. Therefore, we have an indisputable winner: the Parlux Alyon.
 Ergonomics: In terms of ergonomics, the GHD Helios stands out more, as its slim, ergonomic handle makes it more comfortable to use and provides good weight balance.
 Power and Speed: This is where the Parlux wins, but only just. The GHD Helios has a 2200-watt motor, compared to 2250 watts for the Parlux Alyon, so the difference is barely significant.
 Temperature: The GHD Helios has three heat modes and a cold blast button, while our model is less versatile, offering two different temperatures plus the cold blast button.
 Motor: This is the most problematic technical detail of the GHD Helios because it is equipped with a direct current (DC) motor, the most basic that can be found on the market. On the other hand, the Parlux Alyon is equipped with the latest generation engine (K-advance Plus), which guarantees its power and durability.
 Technology: This is another of the most notable differences between the two models. Although both hair dryers are ionic, the Parlux Alyon combines ionic technology with ceramic technology. It is more effective in preventing frizz and achieving softer, silkier hair.
Conclusion:
Based on the above differences, these two products have a technical connection. Therefore, choosing one model or the other is a very personal decision. That must be made depending on the type of hair you have.
However, we consider the Parlux Alyon more suitable for curly or delicate hair. While on the other hand, the GHD Helios would be more effective for unruly, thick hair.
On the other hand, if we are dealing with one of the best hair dryers on the market. Then it is logical to think that the brand's quality and prestige are paid for.
If that isn't a downside, you'll be making a safe bet on the quality and efficiency this hair dryer offers.
Want to know more about the GHD Helios? You can see an article about them here.
Read More