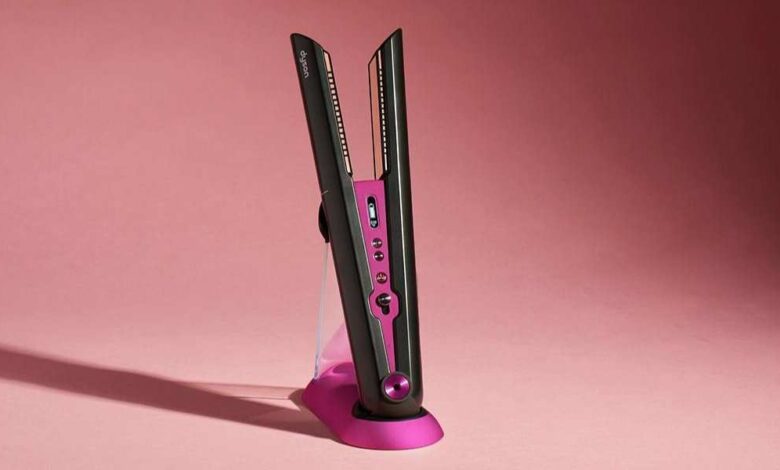 Dyson has already entered the haircare sector with the Dyson Supersonic hair dryer and the Dyson Supersonic hair dryer. Today, the family has grown with the launch of this innovative straightener.
And as with all the brand's products, the high price makes us look at this Dyson Corrale straightener with some suspicion, as it's almost twice as expensive as what we've considered the best straightener on the market so far, the GHD Platinum Plus. To determine if it is worth the expense, we will analyze the main features, pros, and cons of this Dyson Corrale hair straightener.
Dyson Corrale Hair Straightener Fuchsia, Pink
Introducing the Dyson Corrale straightener
Dyson Corrale pros and cons
Anyone looking at the technical specifications of the new Dyson Corrale hair straightener will be impressed. If it weren't so expensive, everyone would jump at the chance to buy it without hesitation. We review the best and worst of this iron according to OUR OPINION after using it:
 Advantages
Temperature control
It is a professional straightener that prioritizes hair care. It constantly monitors the heat (adjustable on three levels) to ensure that it never exceeds the selected temperature. This is very positive but common among high-end hair straighteners, so it is not a novelty.
New plate material
As a major innovation, the brand has created a manganese-copper alloy that provides more even heat distribution and promises 50% less damage than other straighteners. This alloy gives the plates great flexibility, which allows them to be adjusted millimeter by millimeter to each hair.
However, looking at the study data, this percentage refers to the comparison with low-end straighteners with fixed plates, not tilting or floating plates. Although this makes a difference compared to a high-end ceramic or solid titanium hair straightener with tilting plates, it does not seem to be such a significant innovation.
See our different comparison: The best hair straighteners that do not damage your hair
Versatile
The Dyson Corrale can straighten as well as curl and wave. If the straightening function is obvious, the brand needs to emphasize the curling function more in promoting this product. Still, after using it, we can confirm that it produces beautiful curls, like other rounded-edge straighteners at maximum temperature.
Wireless
It's a cordless Dyson straightener. This main feature distinguishes the Dyson Corrale from the GHD Platinum Plus. However, to make the purchase worthwhile, you must ensure that wireless use is essential for you. If you're using it cordless (which you should since you're paying nearly $500 for this product), you'll need 70 minutes beforehand to charge it fully, and it'll run for about 30 minutes at max.
If you want to straighten your hair and it's not too curly and wants to make waves in manageable hair, this will suffice. But if you have a lot of curly hair, you know that no matter how powerful the straightener you use, that time won't be enough to straighten all your hair.
Thermal sleeve
In the box, you will find the straightener with three other accessories: a thermal case to store it after use, a charging base, and the magnetic cord to plug it into the mains after use.
Design
Although this is a minor issue, many users place great importance on visual appearance.
Design is one of Dyson's strengths for all its products. Like the Supersonic and the Airwrap, the Corrale has a beautiful, sleek, and premium design, colors, packaging, and design. It is also available in 3 colors.
Disadvantages
Very high price
We won't repeat it anymore, but we couldn't help but place it among the cons: it costs more than twice as much as what we consider the best iron on the market, the GHD platinum. That's not to say you shouldn't buy it if it's iron for you – we're talking about a great product! It's just that the price of the Dyson Corrale iron is too high, and if you're on a tight budget, you have some pretty good alternatives.
Wireless
Although it's a cordless Dyson iron, it allows corded use, which is a good thing.
However, if that's your main use, it's not worth spending your money on this iron. Why? Because for wireless use, it will still need to be pre-charged. It's different from the rest of the hair straighteners you can use as soon as you plug it in.
If it discharges while you're using it or drained, you'll need to plug it in and wait a few minutes for it to charge before you can use it.
It uses power from the mains and the battery, making it less convenient to use than a regular hair straightener.
You may also like our review on GHD guild straightener brushes.
Heavier and less smooth glide
With a lithium battery inside, it is also heavier. We don't think this is a major handicap, but it's a good thing to keep in mind, as you can get tired if your hairstyles require you to hold your arms up for a long time.
We also found that it doesn't glide like other high-end straighteners when using it.
Potential Airplane Flight Issues
Lithium batteries like the Corrale's have some limitations regarding flying. Although Dyson has incorporated an airplane mode that disconnects the battery as required by regulations, it is recommended to check with the airline before traveling. It is forbidden in Japan to enter and leave the country with this iron.
Dyson Corrale Hair Straightener Fuchsia, Pink
Our review of the Dyson Corrale straightener
It is a hair straightener made for users with high purchasing power and who like to have the latest gadgets with the most exclusive design. There are more competitive options in terms of value for money.
In terms of performance, after using it, although it's a very good iron, the results, and innovations it offers are not worth the price.
ghd Platinum+ Styler – 1″ Flat Iron, Professional Performance Hair Styler
Dyson Corrale straightener or GHD Platinium +?
If you are looking for a straightener that is top in terms of results, our recommendation is the GHD Platinum Plus is still our favorite straightener.
What technology(ies) does the Platinum+ straightener contain?
If the Dyson Corrale is overflowing with technology, Platinum+ is no exception. Its predictive ultra-zone technology analyzes the nature of your hair to adapt heat diffusion over the lengths. It thus offers optimal heat control (250 times per second). The promise of Platinum+? A personalized smoothing that corresponds to each type of hair. The ghd straightener models offers only one temperature: the average temperature of 185°, which better protects the nature of the hair. It is a very efficient straightener, even if more classic than the Dyson Corrale.
Verdict: which straightener to buy between the Dyson Corrale and the ghd Platinum+?
Our choice, therefore, falls on the Dyson Corrale. Although its price may be a deal breaker ( €499.00 ) which is almost double the Platinum+, the straightener has almost everything good. Everything is there, from the quality of smoothing to the protection of the hair fiber through the comfort of use. The hair is slightly softer, and the straightening easily lasts a whole day or even longer. But the ghd straightener remains a must in its field and does not demerit far from it. If it is more classic than the Corrale, its intelligence and good performance allow it to stand out.
But if you straighten your hair regularly and your budget allows it, then we advise you to go for the Corral. A real gem of technology that will delight all hair types!
Hope you like this: Test and Opinion: Corioliss C3 straightener
What technology(ies) does the Corrale straightener contain?
Dyson does nothing like the others, and once again, the high-tech brand proves it with its straightener, which gives pride of place to innovations. Exit the classic ceramic plates. The manufacturer has equipped its straightener with flexible plates made of an alloy of manganese and copper. A great first! Plates that allow better heat distribution on the lengths and ends for better scalp protection. They surround the hair to gather them better and thus reduce the number of passages on each lock. Ideal for hair damaged by straightening sessions!
Read More