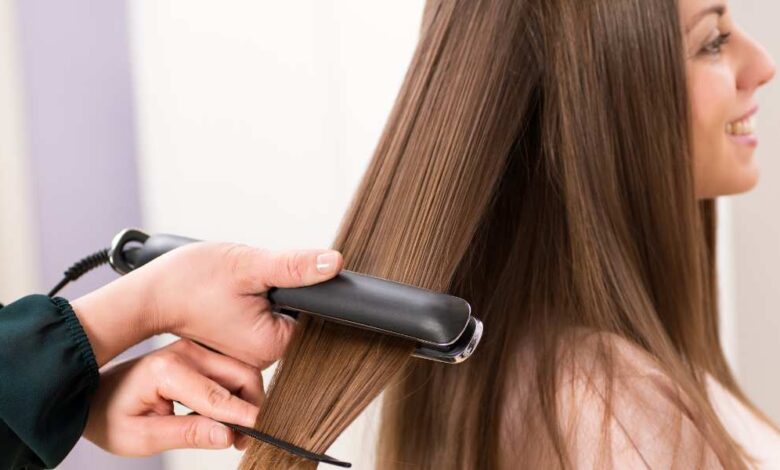 GHD straighteners have earned a reputation as top-of-line professional straighteners in terms of performance, durability, and excellence. In this article, we review their iconic model, the cheapest GHD hair straightener; discover our opinion and our review of the GHD Original Styler.
Also, we will compare it to the other later models that GHD launched in the market: the GHD Gold and the GHD Platinum Plus.
ghd Gold Styler – 1 inch Flat Iron, Hair Straightener, Ceramic Flat Iron
Introducing the GHD Styler Original Straightener
Despite its high price, it is the cheapest straightener from GHD.
This is the first model that GHD launched on the market in 2001; it is its most basic model, but thanks to it, the brand has made a name for itself and has used it as a base to develop all the others.
These are the most functional and sober straighteners: they have a standard plate width (2.54 cm) and include a temperature sensor.
The fundamental difference compared to the brand's other straighteners is that some have different width plates (the narrower GHD Mini and the wider GHD Max). In contrast, others of the same width (the Gold or the Platinum Plus) include other technologies, mainly related to thermal sensors.
Additionally, the Original Styler incorporates other notable features that the brand has used in later models.
We list them below in order of importance and tell you why they are (or are not) interesting:
First option:
Ceramic, along with titanium, is one of the best materials that can be included in the plates of our hair straighteners since they are the most resistant materials and distribute heat better.
The plates are made of ceramic, allowing a homogeneous distribution and a glide without pulling.
Unlike most hair straighteners on the market, GHD hair straighteners operate at a constant temperature of 185º. To guarantee this temperature, this model includes a sensor that ensures that it remains unchanged during styling.
This temperature is "optimal", according to the brand. While it is true that this is a temperature at which satisfactory results are obtained and which, as a general rule, should not be exceeded to avoid damaging the hair, some hair may need a lower temperature.
However, most hair will protect at this temperature, and, in general, this is a feature we appreciate about this brand.
Cold tip, rounded edges, and tilting plates
Second option:
If you want a straightener that allows you to create waves or curls, it must have rounded edges and a tip that allows you to hold the plates without burning your fingers for more precision. This is the case with the Original Styler.
In addition, its tilting plates make it possible to adapt the millimeter to the selected lock of hair, which allows you to adjust both the temperature distribution and the smoothness of the glide.
Fast heating and automatic shutdown
This feature is already quite familiar in almost all models on the market, but when GHD launched this Styler, it was not.
Third option
The Original Styler heats up in just 25 seconds, and, in case you forget to unplug it, it has an automatic safety shut-off after 30 minutes of inactivity.
This is a valuable feature that saves you time and energy.
2.7m long cord, 360° swivel
This is particularly useful for professional use, as it allows the straightener to be handled more comfortably for any styling.
Although cordless hair straighteners already exist, they have yet to be very advanced, and the batteries tend to have a short lifespan.
That's why it's better to continue opting for models like this, with a very long cord, which allows you to move around even if you need a plug.
So you don't have to worry when you travel. The voltage of GHD hair straighteners is universal so you can use them anywhere without problems.
On the other hand, like almost all products marketed in France, the Original Styler has a guarantee for two years. However, in our experience, even with intensive and daily use, these straighteners can last up to 10 years.
So far, these features we like the most in the Original Styler. However, there are also some aspects we don't like so much and that we reflect in this table with the "best" and "worst" of this GHD model.
You may like: The 3 best hair straighteners that do not damage your hair: Comparison 2023
Pros
Quality and features of the GHD brand.
 Functional and practical.
 The most affordable GHD model.
Cons
Without plate protector.
 Single temperature sensor.
ghd Gold Styler – 1 inch Flat Iron, Hair Straightener, Ceramic Flat Iron
Our opinion on the GHD Original Syler straightener
Although this model has been on the market for 20 years, it is still a highly recommended option. Although there are models today with more advanced technology, you get a quality and versatile product with this straightener.
We know quite a few users used to this model who, even after trying newer models, maintain their preference for the Original Styler.
Who is the GHD Original Styler for?
This is a very good option for healthy hair ( too unruly or too curly) that wants to use a quality straightener.
GHD Gold Styler – 1 inch Flat Iron, Hair Straightener, Ceramic Flat Iron
GHD Original Styler OR GHD Gold?
The GHD Gold is halfway between the Original and the Platinum Plus.
The main difference between the Gold and the Original is that it incorporates dual-zone technology: two new generation sensors that better control the temperature along the two plates and thus avoid damaging your hair.
It is a little more expensive than the Original, but it particularly recommends if you have unruly or damaged hair, as the dual sensor allows you to obtain a high level of protection while straightening your hair.
Therefore, it is also ideal for professional use.
We recommend the Gold if you need a powerful straightener that takes better care of your hair and offers the best value for money.
GHD Platinum+ Styler – 1″ Flat Iron, Professional Performance Hair Styler
GHD Original Styler OR GHD Platinum Plus?
The GHD Platinum+ is GHD's highest-end model to date.
Its main innovation compared to previous models is the ultra-zone temperature control technology, which predicts and adapts to the needs of your hair.
Its design incorporates an "infinite" sensor. That is, it covers the entire length and width of the two plates, and it works by checking 250 times per second the amount of hair, its thickness, and the speed of the hair. Movements.
In this way, it automatically adapts to the needs of your hair during the styling process without ever exceeding a temperature of 185°.
The optimal temperature control makes it particularly recommended for damaged or dyed hair, as it prevents color deterioration and guarantees the care of your hair.
The second unique benefit of the Platinum+ is its patented shaft design, which ensures perfect plate alignment for an even smoother glide.
We recommend this straightener if you want maximum attention for your hair (highlights, coloring, etc.).
It is undoubtedly the best GHD straightener, although it is also the most expensive. However, given its durability and features, if you are going to use it for professional purposes or very often, it will be a worthwhile investment in the long run.
See our different article: Our opinion on the GHD Gold Max Styler straightener
Is GHD Original better than Gold or Platinum+?
It should note from the outset that the GHD Gold and GHD Platinum+ straighteners are top-of-the-range straighteners. They are newer and have therefore benefited from more advanced technology. The hair is increasingly shiny, and the styling time is reduced from one model to another.
You should also know that the latest models take better care of the hair and offer better results, especially concerning curls and waves. On the other hand, the current price of the GHD Original Styler is very interesting, so if you are looking for a quality straightener or entry-level, go for it!
Who is the GHD Original Styler for?
Although the GHD original Styler is a versatile and "all public" straightener, I would recommend it more to teenagers or young women for several reasons:
Read More