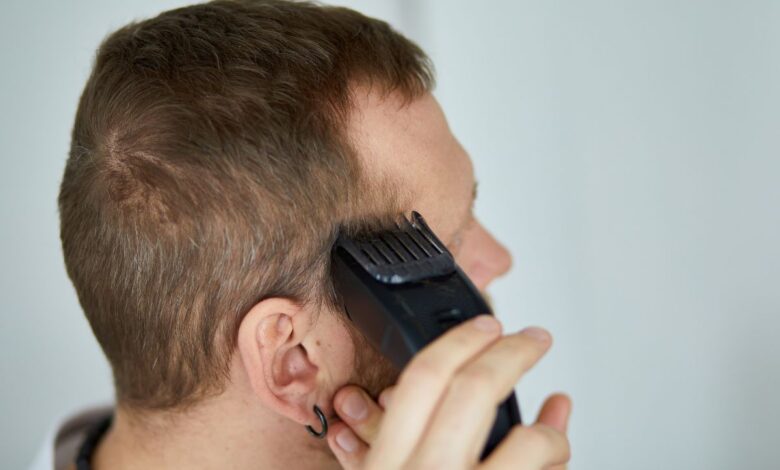 Shave head: Shaving your head with or without a trimmer has benefits, some of which you might not even have thought of:
You won't waste time combing your hair.
 This will save you money because you won't have to spend anything on hair products. You will also hold a good number of visits to the hairdresser.
 It will take no more than 10-15 minutes. And once you get a little practice, you won't even need to ask for ear or neck support, giving you more independence.
 Shaving your head will make you look younger if you have grey hair or incipient baldness.
 You will be less hot in summer.
In this article, we offer our guide to shaving well with your hair clipper to take advantage of all these benefits.
May you like Our body trimmers comparison
A step-by-step guide on how to shave your head with hair clippers
Now let's get to the point: what steps do you take to shave your head with a hair clipper and get the perfect result? Follow the leader :
Wash your hair. Many people skip this step, but it's not recommended. Why? When you pass the trimmer over your head, it is essential that the scalp is clean to avoid any irritation due to a lack of hygiene. It also reduces the effort the mower has to put in to do its job.
 Pay attention to your clothes. It is best not to wear a T-shirt. Hair often gets caught in the fibers and is difficult to remove, even when machine-washed.
 Cut your hair beforehand if it is long. It is best to use a pair of scissors. Don't worry about how you cut because the machine will even it out later. This protects the blades of the mower, prevents the device from being overstretched, and ultimately extends the mower's life.
 Stroke in the direction of hair growth. Use a small clog or no clog at all. Doing this will also avoid irritating the scalp and achieve a neater finish. Of course, you will usually need more than one pass to achieve an even finish.
 Follow a cutting diagram. I advise you to shave the top of your head, then go to the sides. Leave the neck area for last. Since you won't see the back of your head, ask someone to help you or use a mirror that allows you to see clearly.
 Rewash your head. Once you are done. This removes hairs that have become loose and caught between other hairs.
 Hydrate. Apply after shaving lotion or moisturizer to your scalp. This will prevent your skin from becoming red and irritated from direct contact with the razor blades.
You can also check: The hair clipper Comparison
How to shave your head if you are a woman?
Shaved heads are indeed more common in men than in women. However, you may also be interested in this haircut if you are a girl.
The shaving method is precisely the same as described above. However, if you have a long, lush mane, the pre-work with the scissors becomes even more critical.
I don't advise you to start working with your clipper without cutting your hair first, as this can strain the blades. In addition, you run the risk of experiencing painful tightness. Also, be sure to oil the mower before you get to work.
How to shave your sides if you are a man or a woman?
Shaving one or both sides of the head and leaving the top and back of the neck length is one of the hottest hairstyles lately. It's easier than it looks, but you'll have to pay attention to this:
Prepare your hair by washing it and then drying it, as we said before.
 Use a comb to draw the line where you want to shave your hair. Comb your hair in the opposite direction.
 If your hair is long, tie it back with a hair tie or clip. This will prevent it from getting in the way of your work.
 Insert the trimmer in the direction of hair growth and shave the head, trying not to step out of the line you marked.
 Do the same on the other side.
 Pay attention to the ears, as this is the most complex and delicate area. The key is to hold them with one hand and shave the outline with the other. You can ask someone else for help or use a mirror to ensure you're not making a mistake.
 Wash your head and make sure you haven't left any hair behind.
 Now is the time to cut the hair on the top and back of your head. To do this, use a suitable clog depending on the length you want.
 All you have to do is moisturize the shaved area.
You may like the best electric razor for men.
What should you consider to find the perfect hair clipper for shaving your head?
The first important aspect is power. Your clipper needs to be able to cut hair quickly and firmly in the same direction of growth, which is more challenging than against the grain. This is the main problem with most inexpensive devices.
It is also essential that the trimmer is equipped with combs corresponding to the lengths you want your hair to grow. If you've never shaved your hair before, it's best to try 3-4mm first and then try another pass if you think it's necessary.
There are other aspects to consider when choosing a good hair clipper for shaving your head, such as waterproofness, plug or battery operation, accessories
Read More
Hair clipper: Comparison of the best models of the moment
Best electric razor for men of 2023: Review and Comparison
Philips shaver: Comparison of the best models of 2023
Braun shaver for men: Comparison of the best models of 2023
Body trimmer for men Comparison and opinion on the best models of 2023 | Buying Guide