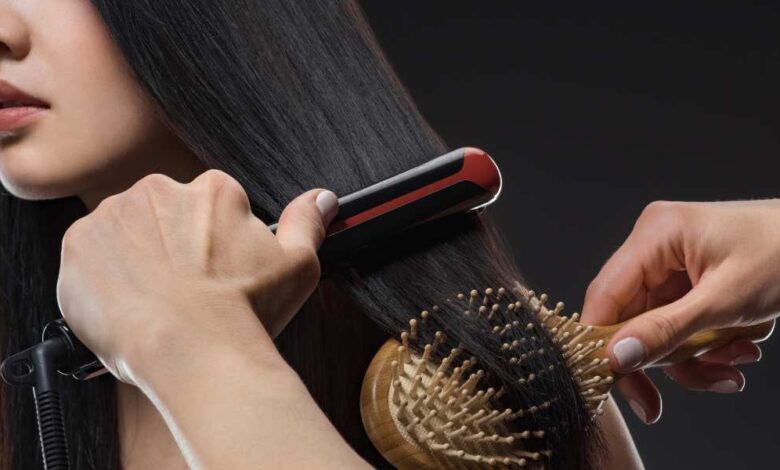 This is the article for you if you are looking for the best hair straighteners available at a good value. There are over a hundred different brands/models on the market, with a wide range of materials and a price range that varies from 20 to 250 euros.
Here is our ranking of the straighteners that will not damage your hair, according to their value for money, based on our experience and the opinions of hundreds of users.
The three best-selling hair straighteners of the week on Amazon
Straightener: Comparison of the best models
Magic Hair Curlers, Spiral Curls Styling Kit, 20 No Heat Hair Curlers, and 1 Styling Hook
GHD Original Styler: The cheapest straightener from GHD, a very good product
For us, the GHD Original Styler is one of the best hair straighteners in terms of price-performance ratio. The durability of styling and the shine and softness it leaves on the hair are its greatest assets.
If you are one of those people who use hair straighteners frequently, you like a lasting result. You have little time to change your style (straight, wavy, or curly), and, above all, if you can afford it, this straightener will not disappoint.
If you are hesitating between the different models of this brand, our article on the best GHD hair straighteners will help you choose the GHD that best suits your needs.
Many users agree that for the price at which they are sold, they regret that they do not come with a cover, but you can buy it separately.
However, despite this detail, GHD straighteners remain the most recognized hair straighteners on the market.
Pros
A few passes only for smoothing.
 Elegant design and limited editions.
 Long life (years).
Cons
High price.
 Non-adjustable temperature (optimized at 185º).
Braun ST780 Sensocare Satin Hair 7 Straightener, 220 Volts
The Braun Satin 7 SensoCare St780: A high-end straightener at a good price/quality ratio
Braun isn't usually the brand most people have in mind regarding hair straighteners, but Braun's Satin Hair is one of the best straighteners on the market.
Its 100% ceramic plates will leave your hair shiny and smooth and prevent damage to it, thanks to the quality and even distribution of heat.
This device offers everything you want from a professional straightener to create multiple looks: rounded edges, tilting plates, a cold tip, and a swivel cord.
And as an added competitive advantage, it has technology that allows you to set and store up to three different profiles, ideal if you share it with friends or family members or if you have a different hairstyle every day because the iron automatically adapts the temperature settings to your characteristics throughout the hairstyle according to your hair type, humidity at any given time, etc.
As for its main drawback, again, we find the price. It is also a pity that it is not equipped with a safety lock or a heat protection cover.
Pros
100% ceramic plates.
 Customizable programs.
 Humidity sensor and SENSOCARE technology.
Cons
High price.
 No security lock.
 No thermo-protective cover.
Corioliss C3 Hair Straightener Flat Iron Professional for Hair Titanium Plates Control Temperature Women 
Corioliss C3: The straightener with 100% titanium plates
The Corioliss C3 is also a top model.
Our main recommendation is always that, if your budget allows, the plates of your straighteners are made of 100% ceramic or titanium, as they provide more shine, softness, and better heat distribution.
This is the case with the Corioliss C3. Its plates are one of the few to be made of polished solid titanium, which is even stronger and more durable than ceramic.
In addition, they have a nanotechnology reinforcement of antibacterial silver particles and negative ions to prevent static electricity.
Of course, the plates are cold-tipped (which makes it easy to hold them without getting burned) and have rounded edges (ideal for curls). They are also tiltable, which improves smoothing uniformity and heat distribution.
As the benefits listed above weren't enough, this straightener features an adjustable temperature and thermal storage cover. It heats up quickly and has a 360º swivel cord.
The biggest downside, as it couldn't be otherwise with all these features, is the price. Also, it does not have a security lock.
Pros
Solid titanium plates.
 Rounded edges.
 Storage cover.
Cons
High price.
 No security lock.
ghd Gold Styler – 1-inch Flat Iron, Hair Straightener
GHD Gold: A very good professional straightener
The GHD brand is our favorite in the hair straightener industry.
Especially since it offers products that have proven themselves in terms of styling and results and optimal protection of our hair and longevity.
These hair straighteners last an average of 10 years. An important fact when it comes to making such an investment is. These are high-end hair straighteners, so the prices are higher.
Specifically, the GHD Gold straightener has been one of the best sellers in recent years. Why? It incorporates dual-zone technology: two new generation sensors that guarantee good temperature control to avoid damaging your hair.
It is more expensive than the GHD Original Styler (see position number 1 of this ranking), but its technology is superior.
Is the extra cost worth it? The GHD Gold is designed for unruly hair, offers great versatility for any hairstyle, and is intended for professional and frequent use. If so, we highly recommend it.
You can also like our opinion on Ghd gold max styler straightener
Pros
Suitable for all types of hairstyles.
 Dual-zone technology: the constant temperature at 180º.
 Leading brand and reference in the sector.
Cons
Price.
 A thermal blanket is not included.
KARMIN G3 Pro Professional Tourmaline Ceramic Hair Straightener / Styling Flat Iron / 460F / Straighten,
Karmin G3 Pro Salon: An inexpensive professional straightener
The Karmin G3 Pro Salon is a straightener with plates made of 100% ceramic alloy with tourmaline. This guarantees high durability and optimal care for your hair.
The plates glide smoothly, without pulling, and allow great versatility in different hairstyles, as they have a cool tip and rounded edges.
The temperature can be set from 120°C to 240°C and includes a thermo-protective pouch that protects against heat when you stop using it. It also has an auto shut-off feature to prevent accidents if you forget to unplug it.
Pros
100% ceramic and tourmaline plates.
 Great versatility in hairstyles.
 Thermal pouch included.
Cons
Lesser known brand.
 Price.
Philips – HPS930/00 – Plaques titane Pro – Fonction ionique 
Philips Pro HPS930/00: A cheap straightener with titanium plates (not 100% titanium)
The Philips Pro HPS930/00 is a mid-range hair straightener we love. It features a sleek, durable finish and is backed by a reputable brand.
Like the Kipozi, its plates are covered in titanium, which distributes heat very well and is super durable. This is why, although its plates are not made of 100% of this material, it is a very good option for tighter budgets.
It is consistent with the rest of the essential elements of any straightener. Still, it is no less remarkable: cold tip, floating plates, adjustable temperature, long cable, and ionic anti-frizz system.
Indeed, it does not come with a storage case, but it is an extra accessory.
The most uncomfortable point is the temperature adjustment dial, as it is easy to turn it while using the iron.
Pros
Adjustable temperature.
 Rounded edges and cold tip.
 Recognized brand and quality.
 Elegant black and gold design.
Cons
The coating is not 100% titanium.
 Cover not included.
Remington Haarglätter S8590 Keratin Therapy
Remington Keratin Therapy s8590: The best-selling cheap straightener
This Remington model is one of the best sellers of recent years. And it's no wonder.
In addition to a ceramic coating, the manufacturer added a keratin treatment, which gives the hair extra shine after use.
But beware, this is only a coating, so the material of these straighteners is NOT 100% ceramic. However, after many uses, we have not experienced or recorded any wear of the ceramic coating to date.
In addition to having a swivel cord, it has slightly rounded edges and an adjustable temperature of up to 230 degrees, which facilitates any styling.
It is also aesthetically very elegant and original thanks to its glossy beige finish.
The biggest drawback we see is that the top plate has a partition in the middle, which houses the thermo-protective sensor, which can cause the glide not to be as smooth as other models.
Still, this is an ideal straightener for coarse hair that needs a little touch-up after drying or for waving.
If you liked this model, we recommend you look at the article: Remington Keratin Therapy Pro s8590, where you will find an even more detailed analysis.
Pros
Tilting/floating plates with keratin finish.
 Security lock.
 Quality protective cover.
Cons
Ceramic coating (not 100% ceramic).
 Less smooth sliding.
 No automatic shutdown.
Remington S-7710 by Remmington
Remington Pro Ion S7710: A ceramic straightener available at a good price/quality ratio
The Remington Pro Ion S7710 is one of the market's best-selling and best-reviewed hair straighteners.
Why do we love this iron? It has (almost) everything we demand from a straightener: temperature control, fast heat-up, floating plates, rounded edges, plate lock, cool tip, ceramic coating, and auto shut-off.
And some nice extras are a memory function for styling settings, a storage pouch, and an ionic function. Several color editions are available.
What we find less compelling about the Remington Pro Ion S7710, as with most mid to entry-level hair straighteners, is that although it has a ceramic coating (in this case, alloy with tourmaline), the plates are not entirely made of this material.
However, as long as this coating remains intact, it is a straightener that gives very good results, leaving the hair shiny and protected if used at the right temperature.
Pros
Known brand and quality.
 Includes cover (non-chemoprotective, except in premium editions).
 Memory and ionic function.
Cons
The coating is not 100% ceramic.
How to choose your straightener according to your personal needs?
In our ranking, we have looked at the best hair straighteners in terms of value for money, but here are other models that are better suited to particular uses and needs.
Ghd Mini Professional Styler
The best hair straightener for travel
If you want a hair straightener that is small and handy but still gives you long-lasting results and good care, the best one is the GHD Mini Styler.
It will take a little longer to straighten or style your hair than a full-size straightener, but if you're looking for a smaller size and space-saving, this is the model for you.
The best cordless hair straightener
There are many situations where it would be great to have a hair straightener that works without the need for troublesome plugs or cords; for quick adjustments in the car, in the office, or outdoors. In this case, there are, in our opinion, two options that we like: the Babyliss 9000 and the GHD Unplugged.
The best straightener to avoid damaging your hair
One of the most common questions is: what is the best hair straightener that doesn't damage your hair?
Many people have damaged hair from dyes, highlights, and excessive use of heat tools on their hair.
In this case, we recommend investing in a good hair straightener. The straightener that offers the most care is the GHD Platinum Plus.
Its price is one of the highest on the market, but as we explain in this GHD Platinum Plus post, buying this straightener will allow you to regain healthy and shiny hair without giving up your favorite hairstyle.
It will last for years, giving you a quick return on your investment.
Ghd Mini Professional Styler
The best straightener for short hair and bangs
The GHD Mini Styler isn't just our favorite hair straightener for travel. It's also our favorite hair straightener to use for short hair. Thanks to the narrow width of its plate, it is ideal for styling short hair and bangs.
This makes it an ideal straightener for men, who tend to have shorter hair and may need it for curls or unruly hair.
Factors to consider when choosing a straightener
As you will have seen, there are many things to consider when choosing a hair straightener. Below is a detailed buying guide with the basics to consider. Before buying your hair straightener, review them to make sure it meets your needs:
Plate material and price
Prefer 100% ceramic, titanium, or ceramic/tourmaline. However, this tends to have the greatest influence on the price of plates: the higher the ceramic or titanium content of the plates, the higher the price.
Most models on the market have a ceramic or titanium coating, but their plates are not entirely of titanium.
If it wears down over time, your hair will come into contact with other metals (like aluminum), which can damage it. As a rule, models under 80 euros are not made of ceramic or solid titanium but are only covered with a coating.
For us, this is one of the most important features to determine the best hair straighteners on the market.
For more technical and detailed information about the materials of hair straighteners, we have discussed them in this post.
Adjustable temperature
A thermoregulator will allow you to adapt the straightener's temperature to your hair's characteristics. If the straightener is also equipped with a sensor, you will always know what temperature you are applying to your hair. Remember that too high a temperature can seriously damage your hair.
Some models also incorporate humidity sensors, which allow the straightener to adapt to this element; it even detects when your hair has too much water to use.
Rounded edges
This allows you to turn your straightener into a "2 in 1" model: in addition to straightening your hair, you can also wave it in a few simple steps, saving you space by eliminating the need for curling irons, curling irons, etc.
Anti-frizz ionic technology
Suppose your hair tends to frizz or is very dry. In that case, the anti-frizz ionic technology will make styling easier as it reduces static electricity in your hair and leaves it even smoother and shinier.
Cold tip
Some straighteners have a special material or embossment on the top end that allows you to hold it for a few seconds without getting burned. This is especially useful if you want to apply extra pressure or more complex styling.
Tilting/floating plates
This system ensures that when you pass the plates over a section of hair, the position and pressure on the hair are even, and the heat is applied evenly throughout the hair. This is essential to avoid having to go over the same section several times and to avoid burning and damaging the hair.
A long swivel cord is an often overlooked detail that can dramatically improve your style and save you time and effort. Ideally, ensure your straightener's cord is at least 6 feet long, and the iron can rotate 360°. You will particularly appreciate it if the grip is far away and, above all, if you want to make waves or curls.
One caveat: when you're done using your straightener, never wrap the cord around it while it's still hot, as you could burn the rubber and render your straightener unusable.
Plate width
Again, this must be taken into account depending on the characteristics of your hair. Like this 5 cm model, wide plates will be ideal if you have thick or curly hair. The plates of medium thickness, between 2 and 2.5 cm, are suitable for normal or fine hair and for medium to long hair. These are the most common and the most suitable for making waves.
Finally, thin plates such as the GHD Miny Styler are ideal if you want to curl short hair or if you like to have perfectly straight bangs.
Automatic safety shutdown
How often have you wondered if you left the oven or hob on when you left the house? The same can happen with hair straighteners. However, in recent years, some models have incorporated this automatic shut-off technology which allows the straighteners to be turned off after a certain period without being used.
Depending on the model, this duration can be fixed (usually between 30 and 90 minutes) or adaptable according to the duration you have pre-selected. This is very useful if you leave your straighteners on without realizing it, as it will prevent damage to them by overheating or damage to the surface on which they rest.
Security lock
Many straighteners are not equipped with a safety lock, and this is a particularly useful detail, not only to reduce the storage space they take up but, above all, to prevent the plates from being damaged in the event of a fall. or rubbing against something during storage or transportation.
You now have the main keys to what we understand to be a good buying guide for choosing the most suitable straighteners for your use and hair type.
Read More