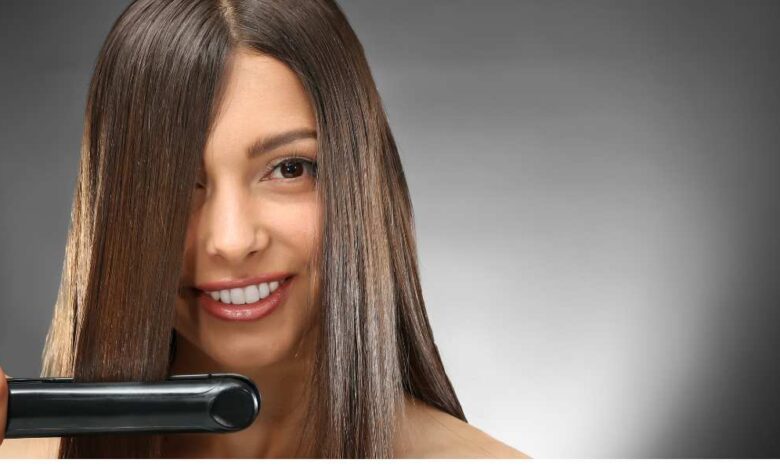 GHD hair straightener models were among the first professional hair straighteners to enter French homes. They had acquired a very good reputation because they were distributed only in hairdressing salons, which gave them an aura of professionalism and high quality. But, among all the models the brand has released over the years, which are the best GHD straighteners today?
Although the price is not affordable for everyone, the result compared to other straighteners is still remarkable.
In this article, we'll take you through the features and differences of each, as well as our review and "ideal user" for each GHD straightener model.
See our other comparison: Test and Reviews: GHD Glide Straightening Brush
GHD Hair Straightener: Comparison of the best models
GHD Platinum+ Styler – 1″ Flat Iron, Professional Performance Hair Styler,
🏆GHD PLATINUM PLUS🏆: The best GHD straightener, ideal for pros
Here is the brand's heavy artillery: the brand's top-of-the-range model, the GHD Platinum Plus. The most respectful and attentive to the color of highlights and dyes. It prevents damage and discoloration with its temperature control technology and extreme care.
This is the best GHD platinum straightener on the market.
The main novelty is the ultra-zone technology which predicts and adapts to the needs of your hair.
How does it work? Its two plates incorporate a sensor that covers the entire surface and controls 250 times per second the hair's thickness and the lock's size to adapt to your hair's needs without exceeding 185º.
Another exclusive novelty of this model is its handle's patented design, which guarantees perfect alignment of the plates to provide better control during styling and ensure ideal glide.
A 100% recommendable straightener with only one drawback: its high price will make you wonder if the investment is worth it.
On the other hand, these straighteners last a very long time. So if you spread the cost over the years of the estimated term, it's easier to be convinced of the investment.
Pros
Versatile, it is suitable for all types of hairstyles.
 Plate protector included.
 Ultra-zone predictive technology.
Cons
Price (the most expensive GHD).
 Difficulty waving short hair.
Ghd Original Styler – 1-inch Flat Iron, Classic Original IV Hair Straightener with New and Improved Technology
GHD ORIGINAL STYLER: The cheapest straightener
As its name suggests, this is the original GHD hair straightener, the first of the brand that made it famous and whose advantages are carried over to all subsequent models.
Their main appeal is that they are the cheapest model.
Otherwise, they are the most functional and the soberest: the width of the plates is standard (2.54 cm), and they include a thermal sensor. They are a great choice for healthy hair (undyed or overly unruly) who want to use a quality straightener to keep their hair well-groomed.
We recommend users who have used this model before and are happy with its performance think only once and start over with the Original. When they try the brand's more innovative models (and for almost twice the price), these users are a bit disappointed to find that their "regular" model did the same job for less.
Pros
We have proven durability and quality.
 Versatility (smoothing and waving).
 The cheapest GHD straightener.
Cons
Not as secure as Platinum+ or Gold (only one temperature sensor).
 No plate protector included.
GHD Max and Mini Stylers – 1/2 inch Mini & 2 inch Max Professional Hair Straighteners
GHD MINI STYLER: The perfect straightener for short hair
The Mini Styler has all the advantages that characterize GHD straighteners, but, in addition, it is suitable for a particular audience: people with short hair.
The narrower plate width (1.27 cm) allows for greater versatility on short hair.
If all you want to do is straighten your hair, a standard plate width (between 2 and 2.5 cm) will also work for short hair, but if you're going to make a wave or mark a curl (in this post, we explain how to do it), it will be mission impossible if you don't have a styler like this.
They are also great for unruly styling bangs and achieving smaller curls on normal hair.
Their small size also makes them ideal for travel; although straightening long hair takes longer with this model, it will take up less space in your suitcase.
Pros
Ideal for short hair and bangs.
 The optimal size for travel.
 Plate protector included.
Cons
It takes a long time and needs more strokes on long hair.
 Difficult to create wide waves.
GHD Gold Styler – 1 inch Flat Iron, Hair Straightener, Ceramic Flat Iron,
GHD GOLD: The powerful GHD hair straightener at a good price/quality ratio
The GHD Gold model has been among the best-selling models in recent years.
It incorporates bi-zone technology: two new generation sensors used to control the temperature equally on both plates. This sensor does not cover the entire surface of the leaves (so it does not give you the millimeter control of the Platinum+), but it guarantees adequate control to avoid damaging your hair.
They are also more affordable than Platinum+. These straighteners are designed for unruly hair, offer great versatility for any hairstyle, and are intended for professional and frequent use.
If you are very concerned about maintaining your hair color or highlights, we recommend choosing the following model (Platinum+); if you need more time, this option is for you.
You may also like: Our opinion on the GHD Gold Max Styler straightener
Pros
Versatile, it is suitable for all types of hairstyles.
 Plate protector included.
 Dual-zone technology (two sensors).
Cons
High price.
 Difficulty waving short hair.
 The sensors are not "infinite" like on the Platinum+.
GHD Max and Mini Stylers – 1/2 inch Mini & 2 inch Max Professional Hair Straighteners
GHD MAX STYLER: The best GHD straightener for curly/frizzy hair
The GHD Max Styler is specially designed for people with long, curly, unruly, and voluminous hair who want to reduce straightening time. The width of the plate of 5 cm (double that of the usual models) allows you to reduce the number of passes per section, considerably reducing the smoothing time.
Also, if you like big waves on long hair, this plate width will make it much easier for you to achieve that result.
To point out a few cons: it takes up more space, doesn't create fine curls, and is not the most versatile straightener for creating curls.
Pros
Ideal for straightening curly hair.
 Reduces smoothing time.
 Plate protector included.
Cons
Price.
 Not very versatile for curls.
Why are GHD hair straightener models popular?
The five best GHD straighteners on the market have some EXTRA BENEFITS common to all models that you must know because they are a difference and a competitive advantage compared to other brands on the market:
Ceramic plates: a material that, as we explained in this post, is very resistant, allows a super smooth glide and brings a lot of shine to your hair. In addition, the ceramic enables an even distribution of heat.
 185º Temperature Optimization Technology:  This technology, exclusive to the brand, avoids damaging your hair while shaping it to your liking without needing many passes.
 Tilting Plates: This is essential to ensure precise styling and even heat distribution.
 All models also feature universal voltage, fast heat-up time (between 25 and 30 seconds), rounded edges, cool tip, auto shut-off mode after 30 minutes of non-use, and a long professional 360° swivel cord.
 2 year warranty (except Platinum+, which is 3 years).
 Limited builds: These are versions in different colors or allow customization of the most popular models, normally Platinum+ or Gold. But the only difference is aesthetic; the characteristics are the same. These special editions include Take Control Now, Neo Mint, and Moon Silver. However, they usually have a higher price than the standard black edition.
Among the main DISADVANTAGES of GHD hair straighteners, we highlight the following:
Price: We've mentioned it several times throughout this post, but it's the biggest handicap of this brand: all their models are above 100 euros.
 Thermal cover: As it is a top-of-the-range product, it does not have a protective thermal cover (because it is almost risk-free). For around 20 euros, you can buy this model separately, but it would be appreciated if it was included by default.
See our different article: Our opinion on the GHD Original straightener
Which GHD hair straightener to choose according to your needs? Our opinion
If we were put to the test and had to choose just one model, we'd opt for the GHD Platinum+. It may not be the one that offers the fastest styling, but it is the one that maximizes the care of our hair, which is especially important for colored and damaged hair.
But let's be clear: you need to have a big budget to buy this model. If this differs from your case, Gold and Original can be excellent options. The Gold has two temperature sensors (one more than the Original), and although they are not flawless, they ensure that the hair is well cared for during styling.
On the other hand, the Original is a model that has won over legions of followers (including us). And many of them, despite having tried newer models, still prefer the classic ones since it is true that they may require fewer passes.
For hair with special needs: If you have short hair, the GHD Mini will be your straightener. On the other hand, we recommend the Max if you have long, curly hair and your main goal is to straighten it; it will save you a lot of time when styling.
In short, it takes a lot of work to buy a GHD. With these tips in mind, we're sure you won't regret your choice.
I hope you like this: Test and Opinion: Dyson Corrale straightener, Dyson Corrale, Or GHD straightener?
The best price for GHD straighteners: where and when to buy them?
As we said, the biggest handicap when buying a GHD, regardless of model, is usually the price. That's why many websites try to deceive us by offering models supposed to be of this brand at very attractive prices. Still, it would be best if you were not too confident: they are usually second-hand models or bad imitations.
So if you're considering buying a GHD, it's best to assume that even the most understated model is unlikely to cost less than $100. See the specials on Amazon here:
How can you be sure that you are buying a genuine GHD?
Go to known and trusted websites or physical stores (Amazon, Boulanger, etc.).
 Always avoid buying second-hand items.
 If in doubt, always check on the GHD website that the brand authorizes the seller/website.
Read More