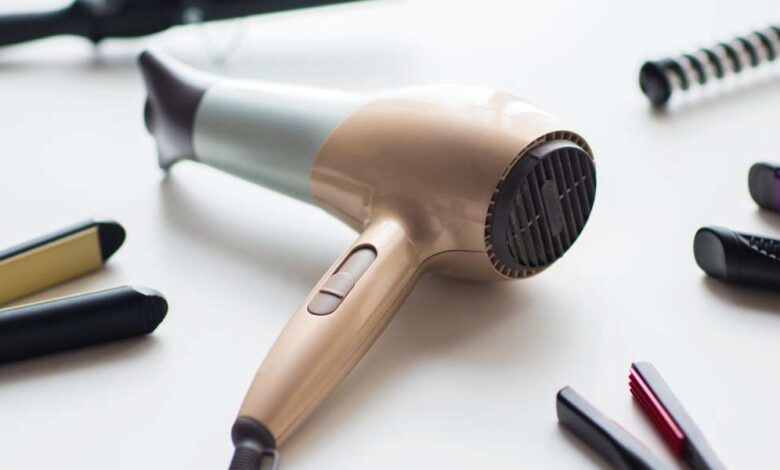 GHD helios professional hair dryer: GHD never ceases to amaze us!
This renowned brand of professional hair care tools has once again managed to take it a step further with the market launch of the GHD Helios, one of the best hair dryers on the market.
Although GHD is known worldwide for its hair straighteners, in 2011, it launched the GHD Air, its first hair dryer. The success of this new product has been meteoric: it is still at the top of sales in the home and professional sectors.
If you're curious about what's so special about the GHD Helios or want to know all the features of the GHD Helios in-depth, please check them out below.
GHD Helios 1875w Advanced Professional Hair Dryer
What does the GHD Helios promise?
It took almost a decade for GHD to launch a new hair dryer with innovative technology and design features, resulting in an even lighter, faster, and quieter model capable of delivering ultra-powerful drying. And more precise styling than its predecessor.
Indeed, the promises of Helios are many. Let's see what is true!
Design
Undeniably, the GHD hair dryer has a beautiful and elegant aesthetic that immediately catches the eye.
With this model, GHD follows in the footsteps of one of its main competitors (Parlux Alyon) and incorporates different combinations of colors and finishes: black and silver; white and rose gold; burgundy and gold; blue and black, and mint green and silver.
Like the GHD Air, it features an ergonomic grip designed to be used comfortably by both left-handed and right-handed users. At this point, it's worth noting that the GHD Helios has a slightly slimmer grip that makes it even more comfortable to hold, and its weight is well-balanced.
Weight and height
Although the GHD Helios weighs slightly more than the GHD Air, its dimensions of 32 x 24.8 x 10.9 cm and its weight of 517 grams do not make it the lightest hair dryer on the market, although it's alright.
Depending on the intended use, this can be a minor or significant inconvenience. This should be fine for home use, as the drying speed allows the dryer to be handled quickly. On the other hand, it can be restrictive for professionals who have to use this type of device for several hours a day.
Engine
Let's talk about the motor of the Helios because, although the brand claims that it incorporates a durable, brushless professional motor with 2200 watts of power that provides incredible airflow at 120 km/h, it is a little disconcerting that this motor is direct current (DC).
Most professional hair dryers, including its predecessor, use an alternating current (AC) motor because it provides better performance and longer life.
So why does the GHD Helios use a motor that, in principle, offers inferior performance? Well, there is an explanation, and it's called "Aeroprecis Technology".
This innovative technology results from an aerodynamic interior design and a unique streamlined nozzle. The result is a highly concentrated, fully balanced airflow that distributes heat evenly and reduces turbulence.
Let me explain briefly (and in less technical terms) what this means: Aeroprecis technology allows for much more precise and efficient style control.
It should also be noted that this hair dryer incorporates acoustic technology that reduces the noise level, making the styling experience more pleasant.
Ionic technology
The GHD Helios features advanced ionic technology that reduces frizz and prevents flyaways for a flawless finish with 30% more shine.
That's all well and good, but considering that all professional hair dryers incorporate this technology. Some brands even combine it with ceramic or tourmaline technology. On the hand, GHD Helios doesn't offer anything new.
Temperature and speed controls
Here too, there is no change compared to the previous model. The system is identical:
Three temperature settings (high, medium, and cold).
 Three speeds and corresponding speed settings
 Hard air button to set the style and seal the cuticles
These controls are placed on the back and front of the ergonomic handle.
The truth is that this layout was a big hit in GHD Air, so they didn't want to change something that worked and set them apart from most of their competitors.
Ease of use
When I talked about the weight and ergonomics of the Helios. I already gave enough hints about the maneuverability of this hair dryer. Comparing it to its main competitor, the Parlux Alyon. Its maneuverability could be more precisely the best optimized.
Despite this, it is true that it is well-balanced and that its three-meter cable allows excellent freedom of movement. However, it still lacks that extra lightness that makes a hair dryer easy and comfortable to handle.
It is also worth pointing out that, despite its price, the diffuser is not included. However, as usual in this type of professional hair dryer, it can be purchased separately.
Sustainability
In this regard, the prestige of the brand is already a guarantee of the product's durability. The quality of the materials used in its manufacture and the high power of its motor make this hair dryer have a good life.
Negative aspects of the GHD Helios
Despite its improvements over the GHD Air, the GHD Helios could be better. Here are its main negatives.
High price.
 Its weight is still a bit high.
 No diffuser or case is included.
 There are no drastic differences from its predecessor.
GHD Helios 1875w Advanced Professional Hair Dryer
Conclusions on the GHD Helios
I can't deny that the GHD Helios is a great hair dryer, but I think it's an upgraded version of the GHD Air, so you have to wonder if those upgrades justify the price.
If we take into account, on the one hand, the fact that the GHD Air already offers excellent quality and functionality. On the other hand, there are hair dryers in the same range that incorporate points. My conclusion is that the GHD Helios (despite its great promise) did not achieve the desired impact.
Read More