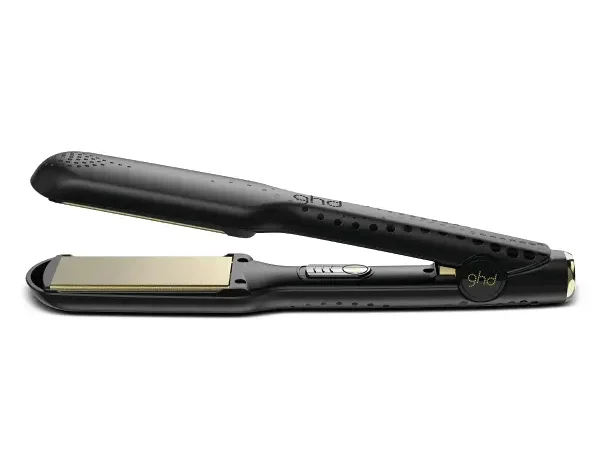 We have already analyzed what we consider the five best GHD hair straighteners, but in this article, we will go into more detail on one model in particular, the GDH Gold Max: one of the best-selling models of the GHD brand.
GHD Gold Styler – 1 inch Flat Iron, Hair Straightener, Ceramic Flat Iron
Introducing the GHD Gold Max Styler Straightener
It is a high-end straightener that, as the name suggests, is a hybrid that takes the best from the GHD Gold and GHD Max.
See our different comparisons: Test and Opinion: GHD Styler Platinium + Straightener
GHD Gold Max vs. GHD Max
Unlike the GHD Max, the GHD Gold Max incorporates the dual temperature sensor, which it borrows from the Gold model: it is particularly useful for better thermal control to protect your hair from the heat, as it ensures that its two plates are permanently maintained at 180º.
On the other hand, unlike the GHD Gold, the Gold Max has wider plates, which "copy" the Max Styler model. Regular hair straighteners are about 2.5 cm, while this model is 5 cm, allowing you to style a larger section of hair more easily. In short, it will save you a lot of time.
GHD Gold Max: technical details and features
Like the rest of the brand's models, the GHD Gold Max has two ceramic plates that evenly distribute the heat. In this case, as we have pointed out, thanks to its double sensor, this control is done on both plates.
While the GHD Original or GHD Max only has one sensor, this model has two, allowing us to maximize temperature control.
On the other hand, along with titanium, ceramic is one of the best materials a hair straightener can incorporate, as it provides good glide on the hair.
As we mentioned above, the most important differential feature of this GDH model is the width of its plates, which, with their 5 cm, allow you to straighten large amounts of hair in fewer passes and, therefore, in less time.
On the other hand, we also appreciate that this model has a lighter design, which facilitates handling, allowing us to handle the straightener serenely during styling.
In addition, unlike other cheaper straightener models of the brand, it includes a plate protector, which facilitates storage and protects your straightener so that it lasts longer, like the first day.
It also has other features common to all other GHD models, but no less remarkable:
Fast heating: it only takes 30 seconds to reach the right temperature. In the case of GHD, this temperature is unique and constant at 185°C, an optimal temperature that allows obtaining results without damaging the hair.
 Rounded edges: will allow you to create curls and waves with a natural finish.
 Universal voltage: especially useful if you take it on a trip.
 Sleep function: automatically turns off after 30 minutes of inactivity.
 Long cord: for easy styling and good handling.
GHD Gold Styler – 1 inch Flat Iron, Hair Straightener, Ceramic Flat Iron
Our opinion on the GHD Gold Max Styler straightener
This straightener is recommended for people with thick, curly, and long hair.
We recommend it above all for its smoothing function (and not for waves). Why? Because if, as we have said, its rounded edges allow for creating waves without any problem, its wider plates only allow for creating large waves, and therefore we see a more limited use in this aspect.
Regarding the comparison between this model and the Max Styler, we recommend this dual-sensor model for people who want to optimize the care of their hair:
Either because they have abused them very much with dyes, wicks, the sun, or abrasive products
 Or because they want to prevent the damage caused by the intensive use of this type of hairdressing tools that apply a significant source of direct heat (hair dryers, curling irons, straighteners).
You may like: straighteners for curly hair comparison
Pros
Short smoothing time (wide plates).
 Excellent constant temperature control at 185º.
 Ideal for curly, thick, and long hair.
Cons
High price.
 Not very useful for short hair and for creating curls.
WHAT ARE GHD HAIR STRAIGHTENERS WORTH?
Known for its latest generation hair appliances, Ghd highlights straightening irons combining optimal performance and practicality. To meet all women's expectations, Ghd offers products with multiple characteristics. Thus, Ghd articles adapt easily to all hair types and all uses. Opting for a Gdh guild straightener is undeniably a pledge of confidence. Indeed, the brand has created its notoriety directly with the greatest hairdressing professionals. Today renowned throughout the world, it supplies high-end salons and private individuals.
Why should you buy it?
The GHD Gold Classic Styler straightener is ideal for those who want to get professional brushing without complicating their lives. Its ceramic plates and ultra-fast adjustable heating offer optimal straightening and leave hair soft and shiny.
Why should you buy this straightener?
Equipped with the latest hair technologies, the GHD Gold Styler hair straightener is the ideal gadget for professional-quality straightening. With the GHD Gold Styler hair straightener, hair is undeniably smoother, supple, and brighter! The ultra-design design of the device also makes it possible to carry it with you in style.
Read More