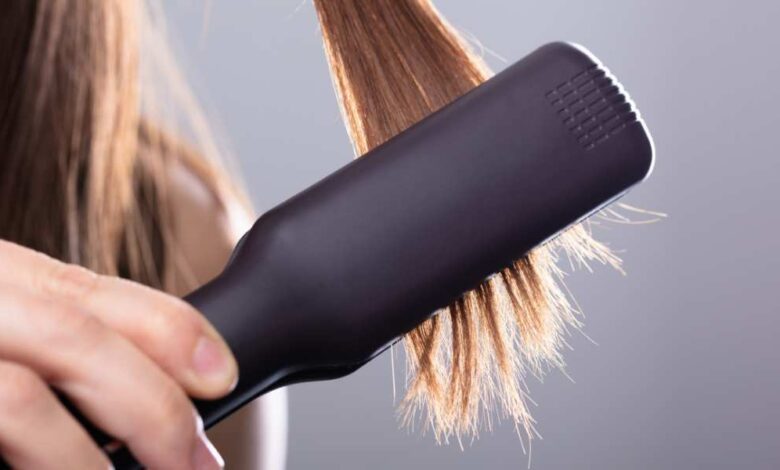 There is an intermediate product between the brush and the straightener; many are still unaware of it: the electric straightening brushes. There are several brands, functions, and models in the market. In this article, you will find everything about the most popular electric straightening brush, the GHD Glide: opinion, analysis, and comparison with other models. All the info is below!
See our different comparisons on GHD straightener models.
ghd Glide & Rise Hot Brushes, Professional Hair Smoothing
Introducing the GHD Glide Straightening Brush
For those unfamiliar with this type of tool, let's start by explaining what it is. The GHD Glide is a straightening brush (plug-in) that generates heat and releases it through its bristles so that, while detangling your hair, you obtain a smoothing effect.
After testing it for several weeks, we give you our honest opinion on the GHD Glide and its pros and cons.
Pros: What are the main benefits and features of the GHD Glide?
High-quality material
Its mechanism is very simple: the brush base and the pins you slide through your hair are made of "pearlized" ceramic. When you turn on the tool, this ceramic heats up, allowing you to give your hairstyle a longer-lasting shape.
The "pearl" effect, as the brand calls it, adds an extra touch of shine to the hair. What is important in this case is that the base is 100% ceramic, which we also recommend for hair straighteners.
Why is it important that it be ceramic? This material is a very good conductor of heat. It distributes it evenly, preventing it from reaching high temperatures and damaging your hair.
Respectful of the health of your hair
As usual with all GHD styling products, this tool's temperature reaches 185º. According to the brand's studies, which we have been able to verify in our experience, this is the "optimal" temperature to obtain results while guaranteeing hair care.
People also ask for the best hair straightener comparison that does not damage hair.
Anti-frizz effect
One of the additional features that help achieve a quality finish is the built-in ionic technology. This eliminates or significantly reduces the level of frizz and static electricity in the hair.
Speed ​​and ease of use
This system is quite quick to use, especially when using a comb + hair dryer or a straightener as a straightening method.
It is not as complex to use as straighteners; the best straightening brush is as easy as any hairbrush. In this case, you must plug it in and glide its bristles over your hair to watch it straighten.
Therefore, it is particularly suitable for people who need more skills or time. It is an ideal tool for daily use to prepare your hair in 5-10 minutes, with a beautiful and natural result.
Other Positives
Just like other GHD tools, the GHD Glide straightening brush has an extra long cord (2.7 meters), making it easy to handle and giving you freedom of movement.
It also has an automatic sleep mode after 60 minutes of inactivity for safety if the product has not been switched off or unplugged after use.
See our test and reviews: GHD platinum style straightener
CONS: What we like least about this GHD GLIDE straightening brush
In this section, we highlight what we like least about this tool, especially when compared to using a quality straightener:
A more natural finish but less polished and professional
Although this product achieves its goal and noticeably smoothes the hair, it does not perform a polished effect as other styling tools, such as straighteners, do. This product may not be for you if you are looking for a "plank" effect.
Obviously, the higher the difficulty level (unruly or curly hair), the lower the level of efficiency we should expect or demand.
Less versatile
Unlike straighteners, the straightening brush is much more limited in its use for defining curls or waves.
Although with this tool, we can give an effect of volume and movement (large waves) to the strands, depending on the twists of the wrist and the way we layer the hair on the brush, the exact shape and ergonomics of the product do not make it particularly useful for creating curls.
It is also not a product that can be used to dry the hair, and it is important to remove any moisture from the hair before using it.
High price
Although it is a tool with fewer applications and versatility, its price is very similar to that of the best hair straighteners on the market. It is in a range similar to that of GHD straighteners (depending on the model), which are also among the most expensive on the market.
ghd Glide & Rise Hot Brushes, Professional Hair Smoothing & Volumizing Ceramic Hair Styling Tools
Our opinion: is the GHD Glide straightening brush worth it?
If your case is one of those, we will describe the "ideal user" of this product, i.e., little time available, curly or wavy hair but easy to manage, looking for a result healthy and natural, little "skill" or practice in using the straightener. If you don't need a tool to make curls or waves, the investment may be worth it, sadness.
The GHD Glide is an interesting straightening brush if you are fearless in investing in a high-end product. If you are a user with other needs, here are some alternative products that might be more suitable for you.
May you also like: Our opinion on the GHD Gold Max Styler straightener
MEGAWISE Pro Ceramic Ionic Hair Straightener Brush for Home Salon | MCH Fast 20s Heating Tech with Auto-Off Safety 
Comparison with other products: some alternatives to the GHD Glide
There are two categories of people for whom this product may not be fully suitable:
Those who see that this product can be useful in their case but who, for budgetary reasons, cannot afford it.
 Those whose hair characteristics or needs for versatility/functionality make this product insufficient or unsuitable.
For the first group of people, we can point out a few options that mimic this model, and although not as high quality as the GHD, they are good alternatives:
We recommend, for example, the Power Straight model from Rowenta CF5820F0, which also has a ceramic coating, ionic technology, and a three-level temperature regulator (beware of the upper level, which may be too high for fine hair or damaged by dye or wicks). And for a price one-third lower than the GHD Glide!
For the second group, there may be several reasons why the Glide is not for you:
If you're looking for a straightening brush specifically designed for styling waves and volume, the GHD RISE brush is your best bet.
Conair Instant Heat Styling Brush, one 1/4-Inch
If you're on a budget and looking for the ultimate in the hair dryer, straightener, and styler versatility, the product you're looking for is the Dyson Airwrap – an all-in-one product with innovative (but very expensive).
If you don't want to give up the occasional curls, we recommend opting for a straightener. The Conair Original or the Platinum+ are two options that we like.
So what exactly is the GHD Glide brush?
The GHD Glide brush is a straightening and straightening device shaped like a classic hairbrush. This brush heats up to 185ºC, the optimum temperature to avoid "burning" your hair, and has short and long bristles.
The promise of the brush?
This straightening tool aims to quickly and harmoniously straighten your hair while giving it natural movement and vitality. Promise kept!
When I tested the GHD Glide brush, I voluntarily tried it right after my sport. Let me tell you that my hair was not "fresh."
Although I found the GHD brush to be slightly heavier than a regular brush, its results were impressive. For her, my frizz was child's play! I didn't need more.
Also, I wanted to try "bulging" the front part of my hair at one point, and it worked! The result was stunning.
A word of advice: brush your hair normally before using the GHD Glide touch. Why? Even though this straightening brush has bristles, they are not suitable for combating knots.
And yes! Although excellent, it is not a magic brush.
Can the GHD straightening brush replace your normal straighteners?
In short, no. Because it is a brush and not a straightener, placing your hair between two evenly heated plates and pulling on it is completely different from brushing (or brushing) your hair with a wild brush.
So who is the GHD Glide brush for?
Although versatile, the GHD Glide brush will not allow you to form large curls or waves, as is possible with a normal straightener. You also won't get "chopstick" hair.
That said, if you want to tame your "jump out of bed" hair, get rid of the clunky side you get after tying your hair up, or give your blow-dry a facelift, this is the device you'll want to have.
Therefore, this brush is aimed at people who want a less aggressive styling device that disciplines the hair with this natural side and those who wish to end frizz!
Finally, the GHD Glide brush is suitable for all hair types.
I hope you like: GHD Looper: Comparison of the best models 2023, How to choose it?
Does the GHD Glide straightening brush have a universal voltage?
Yes! It has a universal voltage. So yes, it is perfect if you travel a lot. No matter where you are, your hair will be styled to the top! What peace, huh?
What exactly does this brush do on your hair?
You will have understood. I hope I am talking to someone else about a classic straightener. This is a straightening and styling brush. It will eliminate hair imperfections such as frizz, lack of discipline, and the "bad hair" side.
If you went to the hairdresser the day before and still want to enjoy the "out of a pro salon" effect, the GHD Glide brush will rework your hairstyle and prolong your hairstyle.
Read More