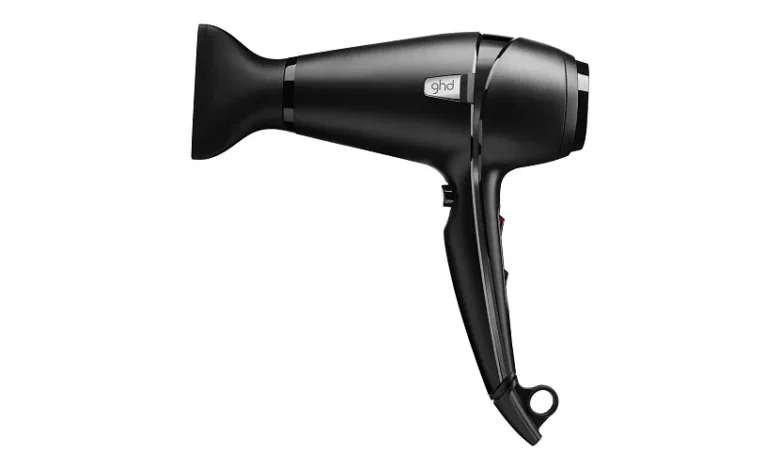 If you are looking for a hair dryer for your daily beauty and hair care routine that allows you to optimize your time while giving you excellent results, the GHD Air hair dryer can become your great ally.
Not only will you get quick drying, but you will also notice that your hair is less frizzy, shinier, and softer.
To begin with (in case you need to become more familiar with the GHD brand), we are dealing with one of the leading companies in the international market, which gives us some confidence.
And although this model was born in 2011, it is still today one of the best-selling professional hair dryers on the market, which speaks volumes in its favor. Let's see together what the GHD Air is worth.
Different formats for the same product
I will start by telling you about the brand's two offers for purchasing this powerful hair dryer.
ghd Air 1600w Professional Hair Dryer, Powerful Professional Strength Blow Dryer
GHD Air hair dryer
This is the basic version, which includes only one nozzle for fast and efficient drying.
ghd Air 1600w Professional Hair Dryer, Powerful Professional Strength Blow Dryer
GHD Air Hair Dryer Kit
This version includes the hair dryer with accessories: a nozzle, two clips, a ceramic brush, a diffuser, and a cover. It is the ideal choice if you want to dry your hair without damaging it but also style it and give it a perfect finish.
The hair dryer is the same in both formats. Now all you have to do is figure out which one, based on your own needs, would be the best buy.
Now that I've brought you up to speed with this bit of detail let's get straight to the essential features of the GHD Air hair dryer.
The GHD Air in video
Design of the GHD Air
It is undeniable that at first glance, GHD hair dryers attract attention because all models have a design that is characterized by the elegance of its lines.
The design of the GHD Air offers us a stylized body in black with silver details. It should be noted that the temperature and speed selectors are positioned at the rear so that they can be used comfortably by right-handed people. And lefties.
Weight and height
This model is not very light since it measures 19.7 x 8.3 x 22.9 centimeters and weighs 590 grams.
Let's face it. It's a bit heavy! (compared to other high-end models ).
Despite this, its weight for home use is fine since the drying speed manages to counterbalance this disadvantage. On the other hand, if it is intended for professional use, its continued usage may cause discomfort in the wrists and arms.
Powerful
The GHD Air offers 2100 watts of power thanks to its AC motor. This is the type of motor that most professional hair dryers use for better performance, longer life, and energy savings.
It should also be considered that the number of Watts influences the heat that this type of device emits. Although the 2100 watts of the GHD Air are not the highest power currently found on the market, they are more than enough to obtain a speedy drying.
Another point to highlight in the GHD Air hair dryer is its ability to regulate its energy. This translates directly into a reduction in electricity consumption, which is something to be congratulated on!
Airflow
The GHD Air combines its powerful motor with a patented air filter to optimize airflow, which means results (according to GHD) are twice as fast as any other professional model in the same range.
Of course, this value is tough to measure, and therefore we can think that these are only promises of the brand itself. However, by consulting users' opinions, the degree of satisfaction is very high.
Given its power, it is common to think that the GHD Air produces a loud noise. But nothing could be further from the truth. This model is surprisingly much quieter than other models in the same range.
Speed ​​and temperature control
The GHD Air offers three different temperature settings (hot, medium, and cold), three speeds, and a cool air button. As I pointed out earlier, these switches are positioned on the back and front of its handle.
On the back are two buttons, one to control ignition and temperature and the other to select speed. This layout allows you to (conveniently and quickly) choose the ideal heat and air speed setting for each hair type. At the front is the cold air button which is very useful for finishing styling and sealing the cuticles.
One downside of the GHD Air is that it only has one nozzle to regulate the airflow and doesn't have a diffuser. Many users complain that the nozzle can be challenging to adapt to the body of the hair dryer. I have yet to have this problem, although I use the diffuser sparingly.
However, GHD offers the option of purchasing these accessories separately.
Ionic technology
The GHD Air incorporates ionic technology that prevents frizz and helps to make hair silky and shiny.
Although all professional hair dryers use this technology, the most recent models often combine it with other systems, such as ceramic ( Parlux Advance Light), to obtain even more effective results.
Handling
The weight of the GHD Air hair dryer (590 grams) can be a disadvantage in maneuverability. Mainly when used frequently or for professional use.
However, this disadvantage is relatively solved by the balance provided by its high ergonomic characteristics.
On the other hand, its robust three-meter cable allows excellent freedom of movement.
This cable length may be perfect for professional use. It may be too long for home use and end up tangling your feet. However, this is the standard length for professional hair dryers, so there is little choice.
If you find this GHD model a bit cumbersome, the brand's latest is the GHD helios. It may be a good option for you as it is significantly lighter.
Cleaning
To ensure the proper functioning and durability of your GHD Air hair dryer, you must clean the rear grill.
This grille is a GHD-patented metal air intake filter that you will need to unscrew from time to time and clean with a dry cloth to remove any lint or dirt that may be lodged there.
Sustainability
Investing in a medium/high-end professional hair dryer like the GHD Air guarantees the product's durability because, as you would expect from a company of this prestige, the materials used to manufacture it are of the highest quality.
Negative aspects of the GHD Air hair dryer
Throughout the review, I have already highlighted the main negative points of the GHD Air hair dryer, so that you can keep them in mind, I will show you its disadvantages in this section:
Weight
 No diffuser included
 Quite tricky to open the rear filter to clean it
 High price
ghd Air 1600w Professional Hair Dryer, Powerful Professional Strength
Conclusion on the GHD Air
The fact that we are reviewing a product from a world-famous brand of professional hair-drying products is already a great guarantee that we are dealing with a high-quality hair dryer. However, it is natural that you want to know the different options that exist in the market to choose the article that best suits your needs.
I recommend assessing your needs. If you only use this type of appliance occasionally, you'll hardly get the most out of a hair dryer with these features. A wide variety of inexpensive hair dryers on the market will suit your needs ( see here ).
However, the answer changes if you use the hair dryer daily. In this situation, it is advisable to invest in power and reliability. Ideally, it would help if you opted for a model that guarantees durability and maximum care for your hair, and the GHD Air will more than meet both of these objectives.
Undeniably, it is an excellent hair dryer, and it shows in its quality. Let's face it, also in the price!
Read More