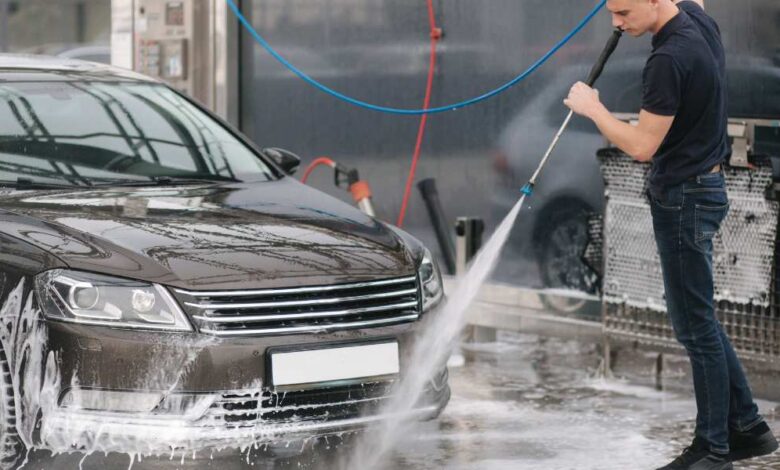 Battery-powered cordless pressure washers are one of the most versatile solutions in pressure washers: they can be used anytime and anywhere, inside and outside the house.
Forget about cables and water connections because these pressure washers are equipped with large-capacity electric batteries and can draw water from external sources (there are also battery-powered pressure washers with an integrated water tank ).
Whether you want to buy a battery-powered pressure washer and you are looking for mobility or portability (for washing the bike, camping, etc.), with the following guide, we will show you the best battery-powered pressure washers on the market.
See also: The best cheap pressure washers: Comparison and buying guide.
A cordless pressure washer with battery: Comparison of the best models
🏆 Our ranking 🏆
1- AQUA2GO GD86 Pro: With integrated water tank
2- GREENWORKS TOOLS GDC40: A powerful cordless cleaner
3- WORX 20V WG630E: A lightweight model
4- BOSCH Fontus: Innovative and efficient
5- HEALNAT KHB5: A high-pressure cleaner with a battery from HEALNAT
1- AQUA2GO GD86 Pro: A high-pressure cleaner with an integrated water tank (20 L)
The Aqua2go GD86 Pro portable pressure washer with water tank is the best-selling model from the Dutch manufacturer of rechargeable mobile cleaners. It is a unique medium-pressure cleaning equipment widely used to clean dirt and mud from bicycles, but it has many more applications.
This works without water or electricity (although it has a connection pipe to the water network). It has a tank of at least 20 liters of water. But the best thing is its original lithium-ion battery, which also works as a removable LED torch and has a built-in USB charging port (it can also be used as a mobile phone charger if needed). In addition, the battery can be charged with the 12 V cable connector in the cigarette lighter of a car, motorhome, etc.
With a full tank, it is heavy. But it is easy to transport thanks to the retractable handle and the two integrated wheels. You can transport it like a cart effortlessly. The battery offers a considerable autonomy of 30 minutes on a full charge (2 hours).
Its pump allows a range of pressures between 3 and 10 bars, regulating the pressure of the water jet. The list of accessories (optional) is long: long brush, nozzle with a detergent tank, hand shower, brush with a detergent tank, water suction pipe from a tank, etc.
The Aqua2go GD86 Pro battery-powered mobile cleaner is a very autonomous and original cleaning machine option, ideal for cycling enthusiasts or very useful, for example, in a campsite.
pros
Adjustable pressure.
 Possibility of washing with detergent.
 Possibility of connection to the water network.
 Possibility of drawing water from a tank.
 Foldable carry handle.
 2 transport wheels.
 Compartment to store sprayer and hose.
 Battery life.
 Water tank capacity.
 Removable battery with USB charging port (can be used as a power bank).
 Charging cable with car connection.
cons
The pressure it generates is the lowest of the comparison.
2- Greenworks 1600 PSI 1.2 GPM Pressure Washer (Upright Hand-Carry)
The Greenworks Water Tank cordless pressure washer is the China-based technology company's portable machine specializing in battery-operated equipment. A cleaner is different from the others because it incorporates a battery with much higher performance and power.
It has a lithium-ion battery of… 40 V ! !! which supplies a pump with a maximum pressure of 70 bars. With these characteristics, it can spray water with a flow rate of up to 300 L/h.
Everything is integrated with the same device, including the battery, the motor (650 W) and the pump in horizontal size. It looks more like a bucket of water with a handle or a water tank than anything else, but it is versatile and practical.
It includes a high-pressure hose 6 meters long (enough to clean comfortably without stopping to move the machine) and a gun with a spray lance. The water tank has a large capacity of 20 litres and is easy to fill. As for autonomy, the battery incorporates LEDs to know the charge level at any time. It is 3 times more powerful and durable than a conventional battery. The bucket can be removed for easy filling without carrying the whole machine.
Its powerful flow and pressure are sufficient (according to the manufacturer) to clean. It can eliminate mould on roofs, patios and facades. It is also ideal for washing cars, boats, motorcycles, garden furniture and even barbecues or grills.
The battery-powered mobile cleaner from Greenworks Tools is versatile because you can also do without the tank and connect it to a house's water supply. In short, power and design at a reasonable price.
pros
Special nozzle with a tank for washing with detergent.
 Possibility of connection to the water network.
 Carrying handle.
 Water filter.
 Hose length.
 Design.
 Powerful
 Removable battery with charge indicator lights.
 Built-in tank capacity.
 Removable bucket.
cons
No wheels!
3- WORX 20V WG630.2 Cordless Pressure Washer, High Flow Brushless Hydroshot
The WORX Hydroshot WG630E battery-powered pressure washer has revolutionized the concept of pressure washers. The model of the German brand incorporates a battery in a minimal body. This is an entirely portable machine that is easy to take anywhere outside your home or garden. In addition to requiring no electrical outlet, it can suck water through a special hose that you can place in a rainwater tank, pool, pond, or just a bucket.
If desired, it can also be connected to an irrigation hose or a garden water supply (tap), but the unique feature of this cleaning device is that it is 2 in 1: as high pressure and for irrigation. It incorporates a 20 V and 2000 mAh lithium battery, which charges in just 1 hour, offering a considerable maximum pressure of 22 Bars and a maximum flow of 120 litres per hour.
It is ideal for periodic cleaning and with no intense dirt on the glass of the house's windows, garden furniture, tools, a bicycle, a car, boats, motorcycles, caravans, etc. This is comfortable to carry and use with one hand, weighing only 1.65 kg. In addition, the pressure is adjustable in intensity, and you can select different types of spray. The accessories are numerous in the Worx catalogue, but this new model includes a battery, a quick charger, a short lance, a lance extension, a self-suction hose, and a carrying bag.
The WORX Hydroshot battery-powered pressure washer is lightweight, reliable, and super versatile (at home and away).
pros
Gun pressure regulation.
 Selection of the type of spray on the nozzle.
 Portable.
 Connection to the domestic water network or the possibility of self-supply from alternative sources (river, pond, reservoir, bucket, etc.).
 Carry bag included.
 German quality.
 Little.
 Very light.
 Value for money.
 2 in 1: watering and cleaning.
 Fast charger (reduced charging time).
cons
Many exciting accessories need to be included. They are sold separately.
4- Sun Joe SPX3000 2030 Max PSI 1.76 GPM 14.5-Amp Electric High-Pressure Washer
The Sun Joe cleaner is the battery-powered solution of the famous German brand. It is a machine of more conventional design (mobile but not portable) whose capacities and freedom of action are superior to those of its competitors.
Not only does it not need an electrical connection to operate, but it also does not need a water connection nor suction from external sources, but it incorporates a water tank. Internal water tank with a capacity of 15 litres.
As if that were not enough, another strong point of this cleaner is the capacity and the autonomy of the battery of 14.5-Amp/1800-watt: a running time of 60 minutes.
It is possible to adjust the pressure of the water jet and to select the type of nozzle: flat jet at 15° (more precise cleaning of small surfaces), flat jet at 50° (ideal for large surfaces) and shower jet (for cleaning more delicate surfaces).
Its telescopic aluminum handle and two large-diameter rubber-covered wheels make it a straightforward machine to move outside the house. It is also helpful and easy to use outside the home as a mobile cleaner. To facilitate its transport, it has a convenient lower handle to lift it and load/unload it in the car's trunk.
Automatic System:
It has an automatic start and stop system (when the gun is triggered) or an automatic stop after 5 minutes of non-use or running out of water to save the load as much as possible. Drums. Another remarkable thing is that it allows washing with hot water (adding it to the tank at a maximum of 50ºC), which other machines do not allow.
Cleaning accessories include a gun, a high-pressure hose, a special brush (ideal for bicycles, cars, or house windows), and a battery charger. Its use is recommended for occasional cleaning in small or medium household cleaning tasks and light dirt: from washing a car, the trash, a barbecue, and garden furniture, to the most delicate.
The Sun Joe Fontus battery-powered cleaner with water tank is a formidable mobile machine with the most excellent autonomy on the market and the guarantee of the German industrial giant.
pros
15-litre water tank.
 Water filter.
 Possibility of using hot water (50ºC).
 Storage of all the elements in a compartment of the machine.
 Wheels, telescopic handle and lower carrying handle.
 Robust.
 Pressure regulation and 3 jet types.
 Prestigious brand.
 Quality.
 Performance.
 Great battery life.
cons
Lower pressure than other models.
5- Cordless Pressure Washer Battery Powered Car Washer
The HEALNAT Battery Set portable pressure washer is the smallest and lightest model from the most prestigious brand in the sector. With a weight of only 2.9 kg, it is the one that offers the most significant pressure washing capacity: 24 bars and a brutal flow rate of 200 litres/hour.
You will find all the know-how of HEALNAT(the inventor of the high-pressure cleaner) in this small portable high-pressure cleaner: quality materials and careful manufacturing. The battery, 18 V and 2500 mAh is made up of lithium-ion cells, with a much longer life than a conventional battery. In addition, it incorporates an LCD screen where you will be informed at all times of the remaining charging time, the level of charge and the remaining autonomy (in minutes).
It includes 5 types of nozzles (integrated with the lance), with different types of jets, including a special one for irrigation. The flat fan-shaped nozzle is ideal for carefully cleaning delicate surfaces or elements. The rotating nozzle projects a powerful spiral jet that eliminates the most stubborn and encrusted dirt.
You can connect to a classic A3/4″ water inlet (tap) but use an accessory hose to draw water from other sources (a water tank, a bucket, …). In other words, the HEALNAT KBH 5 is manoeuvrable without needing a plug or a water connection nearby.
Pressure washer recommended for:
This cordless pressure washer is recommended for the occasional cleaning of stairs, patio or terrace floors, outdoor furniture, gardens, bicycles, cars, and doghouses. For better protection of the pump, the water intake incorporates a filter with particles so that no impurities enter the machine. It comes with the lance and a set of 5 nozzles, a battery, a charger, a hose connector and a filter. Other exciting accessories include a brush for cleaning floors and a special nozzle for washing hard-to-reach places.
In summary, the HEALNAT KHB 5 battery kit is the most potent battery-powered pressure washer. It is capable of cleaning the most stubborn dirt with its rotating jet and with information at any time of the remaining autonomy time.
pros
Possibility of self-priming.
 Battery with an LCD information display.
 Five types of nozzle.
 Light.
 Water filter.
 Removable battery.
 Mark.
 Quality.
 Powerful.
cons
The power of this machine has a price: its autonomy is very short. Only suitable for cleaning small areas.
How does a cordless pressure washer with a battery work?
A battery-powered cordless pressure washer is a machine that cleans with pressurized water (usually low or medium pressure) and has an electric motor powered by a rechargeable battery, which may or may not be removable.
They are cleaners that allow great freedom of work, since they do not depend on an electrical outlet, and many models, in addition, do not need a tap, since they have their water tank or can draw water (with a hose or tube) from external sources. The battery powers the electric motor, which drives the pump and pressurizes the water. When the water is pressurized inside the pump, it comes out at high pressure with a powerful flow through the gun/spray lance (because the water cannot be compressed and can only find its way outside the closed circuit).
In general, portable battery-powered cleaners are intended for use inside and outside the home and for occasionally cleaning small areas. For example, they are widely used for cleaning mountain bikes of dirt, dust, and mud.
Read More