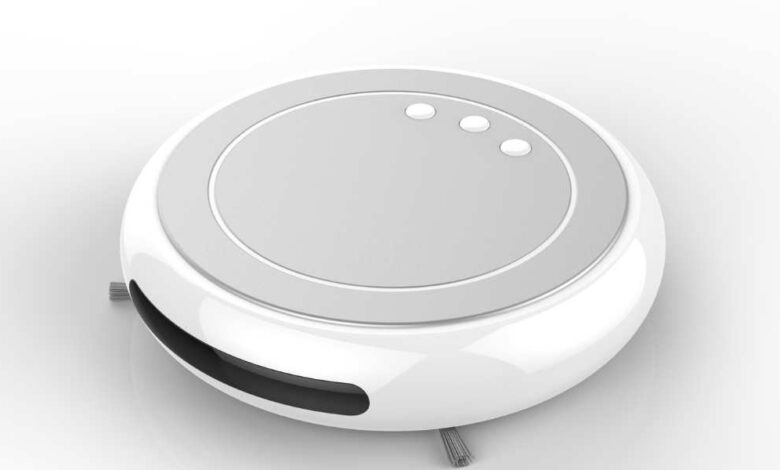 With a cleaning robot, you will save a lot of time cleaning your house. Not to mention that by using this device, you will avoid unnecessary risky situations.
In this article, I will review the best window-cleaning robots that have best met my expectations for this type of cleaning. You will find below a buying guide to help you choose your device.
What you need to consider before buying a window-cleaning robot
Most robots work with cable power and a backup battery to prevent them from falling to the ground. The minimum autonomy of these should be at least 30 minutes. The working speed determines how quickly the robot finishes cleaning, but also the price! A good surface/time ratio is one m²/4 min. The average power of a window cleaning machine is between 70 and 80 watts. Below this limit, you compromise its effectiveness.
1- HUTT W66 Window Cleaner Robot with Automatic Water Spray,
HUTT W66: The best window-cleaning robot of all those reviewed
With this HUTT window cleaning robot, you don't have to spray a cleaning agent on the mops – it does it all by itself! A 150 ml tank is more than enough to clean surfaces of 70-80 m².
Do you have no more water? No problem: the robot informs you of these details and more, thanks to its voice prompt.
But it's the more performance-related functions that come in handy. As soon as I turned it on, I was amazed at its suction ability. With its 2,600 Pa, you always feel like it could stay on.
In addition, it moves very quickly on its two plastic rails, which, on the other hand, sometimes leaves traces on the glass if there is too much humidity. Water is automatically sprayed from the eight nozzles at the top, and the microfiber mop takes care of drying wherever it goes.
The marks it sometimes leaves behind are visible in the light and require another dry wipe if you're looking for perfection. Because it recognizes the dirty window, it knows what pressure to apply.
For what it costs, it might come with a few pre-designed cleaning programs or an app, But HUTT has yet to invest much in that aspect. You can use it on different surfaces (glass, ceramic, marble, tiles), and the results are always good.
Laser sensor that recognizes the condition of surfaces and materials while avoiding obstacles and designing the most efficient routes.
 Thanks to its safety measures and space management, it can be safely used on frameless glass.
 Dimensions 23 x 23 x 8 cm and weight 15 kg.
Pros
Built-in 150ml water tank
 Intelligent surface recognition
 Good suction
 Reaches edges and corners better
 Storage case
Cons
Only 20 min battery backup
 Excessive humidity at times
 No special cleaning program
2- CHOVERY CL.2 Window Cleaner Robot with Ultrasonic Auto Water Spray
CHOVERY Robot: A very versatile window-cleaning robot with four cleaning modes
In terms of price/performance, it is one of the most exciting window-cleaning robots. The Conga window cleaning robot has at least two of the most practical features from a functional point of view: it offers four pre-programmed cleaning modes, and you can control its functions from an app.
How does it clean? Aside from the fact that it's a window cleaning robot with a circular design and therefore doesn't quite reach into corners, the rest of the work goes by with flying colors.
If the windows were filthy, they might require a second pass. However, if smudges remain, you will usually end up wiping them off with a dry cloth first. The same goes for the corners. No window-cleaning robot is perfect in this regard.
It has a good 80 watts of power, eliminates streaks left by raindrops, and works even on slightly inclined surfaces. Good for a cleaning device that costs around 200 euros.
I have found it particularly handy in two situations: firstly, cleaning bathroom tiles removes dirt very easily! Next, on windows that are hard to reach. As you can control all functions remotely, it is effortless to use.
Mops are another matter. The cleaning mops of the other models tested are of better quality.
This can slow down the cleaning process, which is already a chore if you constantly switch windows and reposition all the cables. It is best used on large windows, where it responds best with its 1m²/4min speed.
You can still use the remote to cycle through some complicated areas. I liked it because it serves a primary purpose: it goes where I can't.
Includes 30-minute battery backup.
 Not recommended on glass less than 3mm thick.
 iTech Win 4.0 Intelligent Navigation System: Detects frames and optimizes the cleaning route.
 AutoStop system: stops automatically when cleaning is complete.
 It cannot be used on windows with frame joints at an angle of more than 45°.
 Dimensions 29 x 14 x 11.5 cm and weight 950 grams.
Pros
Four automatic cleaning programs
 Control via app or remote control
 Easy to use
 1.5+4m power cable
Cons
Doesn't clean corners
 Noisy
3- Gladwell, Gecko Robot Window Cleaner,
Gladwell: A very light window-cleaning robot
Two rotating brooms are responsible for cleaning the windows in this Ikohs model. The Wipebot is an automatic window cleaning robot capable of cleaning at a speed of 1 m²/4 min using zigzag movements.
Since it's circular, we have the usual problem: it needs to reach corners better. However, he works diligently and obtains good results.
On windows and shower screens, it works well. On tiles, 2,400 Pa of suction is not enough.
Control is via a small remote control with simple commands.
It is light (just over 1 kg) and easy to move. It operates at 90 watts, which puts it above average. Although it can be used on smaller surfaces than the other robots on this list, it's especially handy on large windows as it takes a while to get all the wires in place.
The cleaning is not impeccable, and you can sometimes see the marks left by the circular mops against the light. If the glass is foul, with traces of dirt or drops of moisture, do not expect great results.
Nevertheless, it makes window cleaning much easier, especially if you are looking for a machine to clean inaccessible windows. Its microfiber cloths are washable and reusable.
30-minute battery backup.
 TechMAP navigation system to follow the route.
 ProSafe Clean safety system: the robot moves back if it detects a risk of falling.
 Dimensions 29.1 x 14.4 x 8.2 cm and weight 1.1 kg.
Pros
30 min battery backup
 6m safety cable
 Light and powerful
 Suitable for frameless surfaces
Cons
Noisy
 It doesn't reach corners
 Low-quality materials
4- YYlight Smart Window Cleaning Robot Vacuum,
YYlight: One of the most efficient window-cleaning robots on the market
5-step cleaning: moisten, wipe, descale, scrape, and dry. With this model of window cleaning robot, we exceed the 200 euro mark, but every penny invested is justified.
Just press a button, and you're done. In addition to the traditional N or Z movements, it has a Loop mode which passes up to 10 times on the same point. You can define a cleaning area or control the movement with the remote control.
Sometimes you have to insist. If the glass is foul, it will not be cleaned in one pass, and the rubber tracks it uses to move forward will leave marks. The robot cleans, but it does not perform miracles.
Are you short on time and don't want to leave the robot unattended? This model includes a handy time-saving mode that completes the job in half the time. Expect different results, but at least you'll have looked through your windows a facelift.
You can let it run on its own with no problem. It has four security systems with an uninterrupted power supply and an anti-fall control algorithm, which makes it one of the most intelligent robots in this comparison!
To ensure everything is working correctly, you need to calibrate the suction before starting. It takes a little longer but guarantees better results. And since it has a convenient handle, you won't have too much trouble moving it around. The WinDroid 980 Connected is a very similar model, with the advantage that it comes with a handy app from which you can control all of its functions.
This window cleaner includes a 30-minute battery backup.
 iTech WinSquare system to reach edges and corners.
 ExtraPower suction pump to ensure a better grip.
 Dimensions 25 x 27 x 9 cm and weight 2.05 kg.
Pros
Five automatic cleaning modes
 Edge and corner cleaning
 5-step cleaning
Cons
Noisy
 Short cable
 Only valid on large windows
 Expensive replacement of mops
5- CHOVERY Window Cleaner Robot, Smart Glass Cleaning Robotic
CHOVERY CL-1: An inexpensive window-cleaning robot
For the price, I was expecting a little. However, the Chovery CL-1 is better than I imagined.
The cleaning results are more than decent, although admittedly, you won't be able to get into the corners. However, it is a versatile device that can be used on glass from 3mm thick and other smooth, continuous surfaces, with some limitations.
A trick to make the glass perfect? Although it is not a robot designed to vacuum dust, you can first pass it on the glass with the dry mops. This will remove most dirt. Then go back over the glass with the slightly damp cloths. In both cases, you can use the automatic function (3 cleaning modes) or control the device using the remote control. You need to over-wet the mops with the sprayer to get a better result. In my experience, too much moisture will eventually leave a mark on both round mops, even if it's only visible in the light.
Because of this protocol, I only recommend it for best results if you have large windows to clean. If you constantly have to switch windows, it will take too long.
Multi-level MEMS protection system that intelligently avoids obstacles.
 The 5m extension cord is long enough to complete window cleaning.
 The cleaning pads are made of washable microfiber and are durable.
 Dimensions 30 x 15 x 12 cm and weight 2.41 kilograms.
Pros
Autonomy of 30 minutes in the event of a power failure
 Good adhesion
 Effective on large windows
 5m power cable
Cons
A bit pricey for the materials used
 Doesn't reach corners
 Noise
 No app commands included
6- Mamibot W120-T Window Cleaning Robot Vacuum with iGLASSBOT APP/Remote Control,
Mamibot W120-T: A good window-cleaning robot for window corners
Quieter and lighter than most models in its class – and very fast too! This window cleaning machine can clean one m² in 2.5 minutes. But I probably liked the most that its design allows it to reach corners better than the circular models (I'm a little fanatic about these details…).
In this model, the circular mops have been replaced by two interchangeable square mops, one for dry cleaning and the other for wet cleaning, with a minimum working surface of 45 x 45 cm. With no extra inches of material in the corners of the robot, it fits almost perfectly into right angles.
A significant limitation is that you must be sure to use this window cleaning machine on framed surfaces because if you are careless, you will find it on the floor. It does not recognize the limits of the surface it is cleaning unless it encounters an "obstacle".
The frame must be at least 8 mm deep. Otherwise, the robot will go a bit crazy where it wants to go.
It includes two cleaning modes: moving the robot in N or Z. You can select them from the app or the remote or have the device adapt its movements to the landscape it's in.
As long as you don't use it on porous surfaces, the results it delivers are acceptable for a robot that costs under $200. For it to work perfectly, it also needs the perfect dust and humidity conditions. If you meet all of these conditions, you should be fine.
In the event of a power outage, the backup battery has an autonomy of 20 minutes.
 It creates precise cleaning patterns and knows how to return to the starting point when finished.
 The app provides better control over cleaning cycles, time spent, and what remains to be completed. It does not allow you to create cleaning zones.
 The suction power of up to 3000 Pa ensures optimal grip.
 Dimensions of 25 x 25 x 10 cm and weight of 1.45 kg.
Pros
Control via app
 Cleans marble and tiles
 Value for money
 5m power cable
Cons
If the window has no frame, it falls.
 Backup battery duration (20 min)
7- Window Cleaning Robot, AlfaBot X6 Automatic Smart Glass Cleaner
AlfaBot X6: A window and tile cleaning robot so powerful that it can work on slightly inclined surfaces
Its size and light weight are two positive points. This robotic glass cleaner weighs only a kilo and works well on all smooth surfaces. It worked smoothly on the bathroom tiles, which is not very common with this type of robot.
It has up to 5 movement modes that will help you achieve better cleaning success, and it performs the glass treatment in two stages: a first pass to remove dirt dry and a second wet cycle.
Although it has 80 watts of power, it takes its time. It takes 25 minutes to clean an area of ​​just over one m². But it cleans it thoroughly, and the result is significantly better than robots costing between 150 and 200 euros.
It is an automated circular unit. This means that no matter how powerful and cleaning it is, you always have to give the corners a wipe at the end of the cycle if you want them to be perfect.
Regarding movement and performance, it's one of the most versatile window cleaners I've come across. The test showed such a good grip that I could use it on slightly inclined surfaces.
It works on framed and frameless surfaces, which is also a big plus. You don't have to worry about how it moves if it falls or gets lost. The rope and backup battery provide additional security in this respect.
As complete as this robot is, it cannot control it via an app. You can only use it with the device's buttons or via a remote control with basic controls.
But it doesn't take much more. The AMIBOT works on glass, screens, mirrors, tiles, or windows, both vertically and horizontally. Once installed, you can forget about it.
The ActiV Clean cleaning system gently removes dirt.
 Microfiber mops can be put in the washing machine and reused.
 Includes 30-minute battery backup.
 Dimensions 30 x 15 x 12 cm and weight 0.95 kg.
Pros
30-minute battery backup
 Power cable + extension cable = 5.5m
 Five cleaning modes
 Good suction power
Cons
Slow cleaning
 Unintuitive scrolling
 Noisy
 Doesn't reach corners
Guide to knowing everything about window cleaning robots.
Cleaning the house's windows is a household task requiring a little skill. Sometimes, you can't comfortably reach the entire surface, and the dirt is too embedded. It is pretty difficult to achieve perfection in this task.
Buying a window cleaning machine can be an excellent way to avoid doing it yourself.
If you're considering getting one of these devices for home cleaning, pay attention to these shopping tips.
Security aspects
We are often obsessed with the quality and speed of cleaning without considering that we are talking about a device that works vertically. No matter how powerful the device is, there is always the possibility of an accident.
If you don't want your new window cleaning machine to end up on the floor (with the $200 you invested in it), check that it has quality safety features.
The safety of a window cleaning robot has two essential aspects:
The rope must be strong enough to withstand the weight and traction of the machine in the event of a fall.
 Backup battery. It is recommended that it lasts at least 30 minutes so that you have time to react.
Window cleaning machines are self-contained, but they need a little help.
The term "automatic window cleaning" has some nuances. It is true that these robots are able to move smoothly over the surfaces they are supposed to clean, but they will not climb windows on their own!
All cleaning requires a preparation process. Activate the safety functions, attach the ropes, cables, and suction cups, switch on the device, and secure it to the work surface.
This may seem quick and easy (most of the time, it is), but on some models, this task could be more intuitive and a significant time investment. If you want to optimize cleaning, look for devices that are easy to set up and use, with comfortable handles, so that you can move the robot without problems.
Check the quality of mops and their prices.
In addition to the type of movement and the suction power, the texture of the mop is a determining factor in the effectiveness of the cleaning. These are usually microfiber fabrics that work both wet and dry.
They are generally washable and reusable. Just make sure they are. Either way, while you can reuse mops after they've been through the washing machine, you'll need to replace them at some point.
Depending on the model and brand of robot you choose, you may find that genuine spare parts are expensive. Other brands are usually compatible, but it's good to keep that in mind.
Where will you use your robot to clean windows?
The ideal surface for these automatic cleaners is window glass, which should normally be at least 3 mm thick to withstand the pressure exerted by the machine's suction.
Only the more expensive machines have suction detection, and most models are only suitable for cleaning surfaces with frames. Choose according to the type of glass you have at home, as the price difference can be considerable.
With power from 2000 Pa, the robot can do a good job on windows. Things are different on other surfaces, such as tiles, marble, or shower screens.
Some manufacturers claim that their window cleaning robot vacuums can perform multi-surface cleaning, but they are often overly optimistic about this. It is better to invest in a device that cleans the windows well and only covers so much material if it is less effective.
The differences in versatility aren't just in the surfaces the robot can work on but also in the same options the device offers by default.
The cleaning programs included in a robot are closely related to the price and efficiency of the device. Even if it means spending a little more money, you should choose models with pre-programmed cleaning schedules.
Why? These programs are configured to adapt to each circumstance: traces of water, dust, and encrusted dirt. They know what to do at all times, whether it is a question of repeating the passages, insisting on the movement of the mop, applying more pressure, or moving in a certain way. All of this saves you time!
I will not say that the window cleaning robot is a magic recipe. All of them, including the most advanced ones, have their limits.
What is the LIDL window cleaning robot?
LIDL doesn't have a window cleaner robot at the moment. What it does have is a rechargeable window cleaner. It does not work autonomously like a window cleaning robot but allows you to apply a spray of window cleaning liquid and collect the residue in a tank simultaneously.
How does the window cleaning robot work?
Window cleaning robots base their operation on a powerful pump that allows them to suck air from the base and thus cause a "suction effect" to adhere to the surface, even in a vertical position. They move over the surface using rollers and rotating mops to clean it. More advanced models detect obstacles and edges and can even be controlled by remote control or smartphone. They usually also include a safety anchor to prevent them from falling to the ground.
Read More