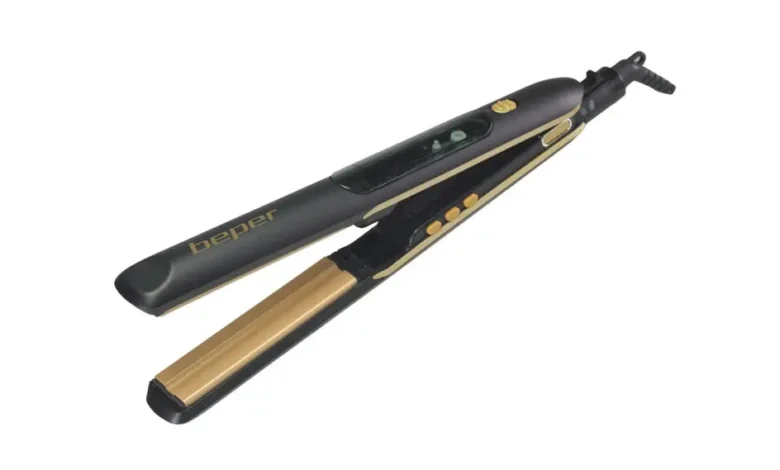 In this article, we offer a comparison of the five best steam hair straightener models on the market.
It is a technology gaining ground because although the (good) traditional straighteners already incorporate technologies that allow respecting the hair, the truth is that the application of heat always produces damage, which is why some users are looking for products that protect them even more.
see our comparison: The best hair straighteners for men in 2023: Comparison
How to choose your steam straightener ( A Buying Guide)?
Before analyzing the five models we have selected, you must know which are the most important characteristics to consider in a steam hair straightener.
Here are the three key points that we believe are the most important:
Ceramic or titanium plates: You have smooth sliding and good heat distribution. And the plates should be made of 100% of these materials, not just a coating.
 Temperature regulation system: Although some brands, such as GHD straighteners, achieve a constant optimal temperature without the need for a regulator, in general, the steam straightener you choose should include different temperature levels to adapt to your hair needs.
 Rocking or floating plates: And with rounded edges (if you want to be able to curl your hair). This will facilitate styling and avoid tugging.
On the other hand, steam hair straighteners have their characteristics, which are summarized below in the form of advantages and disadvantages:
BENEFITS OF STEAM STRAIGHTENER
Damages your hair much less: The steam facilitates the use of the straightener at a lower temperature; therefore, the heat exposure time is shorter.
 Faster: The moisture from the steam makes the hair easier to comb and reduces styling time.
 Moisturizing: During styling, the steam hydrates the hair, leaving the finish silky and shiny.
DISADVANTAGES OF STEAM STRAIGHTENER
Few brands: This is a relatively new product, so there are few options among well-known and established brands.
 Less practical: Steam is generated in these straighteners by a water tank that must be filled before and during styling. Therefore, they can be bulkier and less convenient than traditional flat irons.
The five best steam straighteners of the moment: Comparison
Although it is a relatively new product, the variety of models available on the market may lead you to wonder which one suits your needs or if it is worth paying the price difference.
To help you, below, we analyze the main features and differences between the five best steam straighteners.
L'Oreal Professionnel Steampod | Steam Powered Flat Iron,
L'Oréal Professionnel Steampod 3.0: The best steam straightener on the market
It is a well-known brand for a whole range of products, but not so much for hairdressing tools. L'Oréal Professionnel has been crowned the market leader with this Steampod 3.0 steam straightener model, thanks to several features that make it unique: it includes an integrated water tank and a swivel cord, and it is much lighter and more comfortable to use.
It incorporates a homogeneous and constant steam release system, which evenly protects the hair (especially colored hair) and allows perfect straightening and an extraordinary finish.
In addition, the plates are made of ceramic, with a floating system to hold the hair more evenly and an integrated comb to separate and position the hair with each pass.
It also has three levels of temperature regulation and incorporates an automatic thermal control system that activates two times per second, guaranteeing a constant temperature throughout the styling process.
An ideal straightener is not very expensive, so we recommend it, especially if you plan to use it intensively or if you have very damaged hair or are particularly concerned about its protection.
You can also like: Short hair Straightener Comparison and Opinion Mini straightener 2023
Pros
Quality of materials.
 Temperature sensor.
 Ideal for hard-to-tame hair
 Extras: activating cream and serum, heat-resistant
Cons
High price
Remington S9500PP Pearl Pro Ceramic Flat Iron, 1-inch,
Remington S9500PP: An ideal steam straightener for short hair
The Remington also includes its version of steam straighteners among its wide range of hair care products.
The Remington S9500PP  is a high-quality, ceramic-coated floating plate straightener featuring Hydracare spray technology, which sprays cool water (rather than steam), which is more easily absorbed by the hair and allows a perfect smoothing at only 170º, thus reducing excess heat.
It has five levels of temperature regulation and built-in sensors that ensure an even temperature and adapt to the needs of all hair types.
The small width of the plates for a steam straightener makes it particularly useful for short hair.
It has an ultra-fast heating system (15 sec), an automatic shutdown after 60 minutes of inactivity, and an extra-long swivel cord (3 m), which allows you to use it even away from a power outlet.
Without a doubt, a model designed for professional use and demanding users of a leading brand in the sector.
Pros
Better hydration.
 Ideal for short hair
 Long cord.
Cons
Price
BaBylissPRO BABNTBK3070TN Nano Titanium Ultra
BaBylissPRO BABNTBK3070TN: An inexpensive Babyliss steam straightener
With the BaBylissPRO BABNTBK3070TN model, we find the Babyliss brand renowned for its wide range of models of straighteners, hair dryers, etc. There is another slightly cheaper BABYLISS steam straightener model ( BaBylissPRO BABNTBK3070TN). Still, we chose the professional version because this option is much more interesting if you use it often.
The quality of the materials ( ceramic plates with diamond powder combined with ionic technology ) guarantees good hair care, reducing frizz and ensuring greater durability.
So much so that the brand offers an additional year of warranty: 3 years for peace of mind. The width of the plates is particularly useful for long and thick hair but less for short hair.
On the other hand, the curved and heat-regulated finish of the edges is very useful for wavy hair. It also comes with removable combs to ensure the hair is positioned correctly between the plates.
In contrast, the steam extracted from the water reservoir is somewhat limited.
People also ask: Test and Reviews: Dyson Airwrap Volume, Shape styler for flat hair
Pros
Famous brand: high quality.
 Curved and thermoregulated outer plate.
 Ultra-fast heating (15 sec.).
Cons
Limited water tank (20 min.).
 Not very useful for short hair.
Flat Iron for Hair, DORISILK Professional Ceramic Tourmaline 2 Inch Wide Infrared Hair Straightener
DORISILK Professional: A good straightener for straightening and curling
The DORISILK Professional model is emitted each time the plates are closed on the hair.
This system allows you to release the right amount of steam with each pass, which allows you to hydrate the hair and smooth it durably without frizz or split ends. The plates are coated with ceramic and have three temperature regulation levels, allowing a setting suitable for almost all hair types.
In addition, the rounded shape of the edges allows you to use them to straighten and wave your hair.
It also features a swivel cord for easy handling and a rapid heating system that heats up in 60 seconds.
On the other hand, it is not the most suitable model for short hair due to the width of the plates. 
Pros
Good value for money.
 Smoothing and curling.
Cons
Little known brand.
 Not very useful for short hair.
MKBOO Hair Straightener with Steam, Salon Professional Nano Titanium Ceramic Steam Flat Iron
MKBOO Hair Straightener: The cheapest straightener
The MKBOO Hair Straightener deserves a place in our TOP 5, thanks above all to its low price.
Although it is the cheapest of our selection and the materials are not top of the range, this straightener will allow you to enjoy the advantages of steam technology, nourishing your hair and protecting it from excess heat.
It has a ceramic coating (not 100% ceramic) and a large width of 5.5 cm, which is very useful for straightening long hair, although more limited for making curls.
This straightener can also be used as a normal straightener without the steam function.
It has a temperature regulator and incorporates a comb that facilitates the separation and correct positioning of the hair between the plates.
The straightener heats up in one minute and includes an automatic shutdown system after 60 minutes of inactivity, a 360º swivel cord, and an LCD screen.
What we don't like is that it's a not very reputable brand and in case of any issues or mishaps, they hardly offer any guarantees.
Pros
Cons
Ceramic coating only (not 100%).
 Little known brand.
 Not very versatile for curls and waves.
 Quite heavy.
Learn more about a steam straightener.
Let's first clarify a few concepts related to straighteners and your hair:
Frizz: This undesirable effect is caused by the absorption of moisture from the environment that leaves hair looking lumpy and unkempt.
 Ceramic or Tourmaline Plates: Ceramic distributes heat evenly, allowing for smoothing in fewer passes and less hair damage. Tourmaline is used in combination with ceramic which exerts a protective role for the hair against heat, as well as the emission of negative ions to reduce frizz.
 Floating plates: The floating plates tilt freely to adapt to the hair during ironing, making straightening faster and more efficient.
What are the advantages of a steam straightener over traditional straighteners?
Steam straighteners are growing in popularity because they're faster and less damaging to hair, and new, better models are always popping up. The steam applied during straightening puts the hair in contact with the heat more gradually, thus avoiding sudden temperature changes.
It also prevents the hair from drying out, thus avoiding frizz, because the hair is more hydrated, which prevents it from absorbing humidity during the day.
Keeping the hair hydrated avoids burning it, dries out much less, and avoids split ends.
Can I use oils or other infusions with the steam straightener?
Do not add oils or infusions, only water in the tank. Distilled water should be used if the water has a high lime content.
What you can do is apply recommended hair products before straightening.
What are the best professional steam hair straighteners?
Professional steam hair straighteners are made with the highest quality materials, which allows them to be used intensively. This quality is, of course, also reflected in the price, but the investment is much more profitable in the long term.
If you're looking for a professional model, the L'Oréal Steampod is one of the best you'll find.
Read More