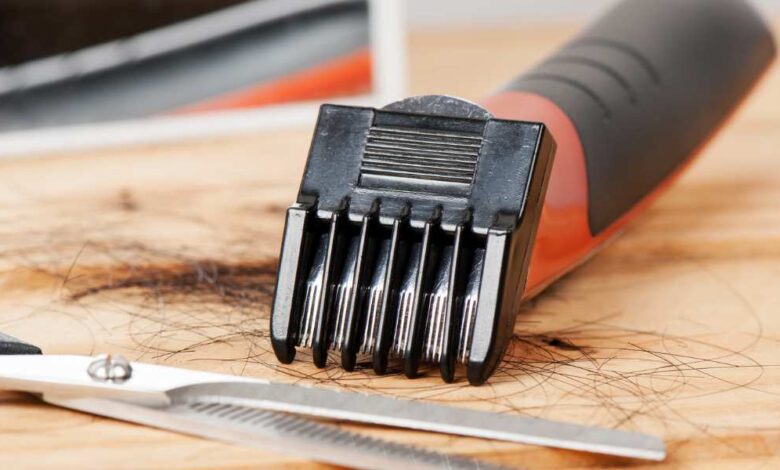 If you are looking for the best hair clippers, you have come to the right place. We present to you our ranking where we analyze the 6 best hair clippers so that you can find the one that best suits your needs.
Check our different comparisons on the best epilator for men.
Hair clippers: The best sellers of the moment on the internet
Hair clipper: Comparison of the best models
1- Panasonic ER-GP82 Professional Cord/Cordless Hair Clipper Model 2019,
Panasonic ER-DGP82K801: The best hair clipper (but quite expensive)
The Panasonic ER-GP80-K has been one of the best professional hair clippers in the market for a long time and has been loved by users. This new version, the Panasonic ER-DGP82K801, is an improved version.
Its two main improvements? Sharper, stronger blades and a more powerful motor means the durability of this hair clipper will last even longer!
The central wheel, which is integrated into the handle to change size from 0.8 mm to 22 mm, seemed very practical. The disadvantage is that it does not cut at zero but at 0.8 mm.
It also incorporates 3 combs of 3-4 mm, 6-9 mm, and 12-15 mm, which have their base to store them, which is very significant.
This machine is precise and fast thanks to its high revolutions, so you don't need to make as many passes as with other mowers.
Very comfortable and easy to handle thanks to its shape.
We also liked that this mower has its respective charging base. Also, you can use it while charging, and the cord is quite long.
The bad point of this mower is its short autonomy (only 50 minutes) and the fact that it is not waterproof. It's a shame because it's one of the few things missing.
Pros
Powerful, precise, and fast.
 Only requires a few passes.
 Charging base.
 Cordless (allows charging while in use).
Cons
50 minutes of battery life (although it charges while you use it)
 0.8mm minimum cut
 Price, but worth it
2- Philips Norelco Multigroomer All-in-One Trimmer Series 7000
Philips MG7750/49: The best hair clipper with accessories for the whole body
The Philips MG7750/49 hair clipper is one of the multifunctional devices of this brand that we liked the most among all those we reviewed. It is surprisingly good at a close shave compared to other models, which makes it a good hair clipper.
She comes with a total of 18 accessories, including heads and hooves. Ideal for, in addition to shaving and haircutting, body shaving, including sensitive areas (such as genitals and armpits), beard trimming, nose trimming, ear trimming, etc.
The downside of this trimmer is that it excels more in other body-shaving functions than in its ability to cut hair. Indeed, minor clogs are used primarily for beards and cutting or shaving body hair.
We also liked the quality of the materials, as well as the high-quality travel case. However, it doesn't have a base to organize all the accessories, although it stands perfectly.
The battery life is much longer than other hair clippers, up to 300 minutes after fully charged, which takes about 2 hours. Another downside is that it's not as quiet as other Philips models we've tested.
Compared to its little sister, the Philips MG7730/15, the evolution of this new model is materialized by 3 hours of additional autonomy, 2 new heads, and a much better quality travel case.
Pros
Wireless. Special autonomy of 300 min and quick charge in 2 h.
 High-quality case.
 Raincoat.
 Multifunctional, up to 18 accessories.
 High-quality materials.
Cons
Price (high end).
 No base to organize hooves and heads.
 Not particularly quiet.
3- Hatteker clipper: An inexpensive 3-in-1 hair clipper
This multifunctional hair clipper offers a lot for a very affordable price. However, the Hatteker mower is more of a mid-range machine.
The previous version was a success and one of the best-selling products in this category. The manufacturer listened to user suggestions and incorporated the improvements they suggested.
It is a machine that can cut wet hair, with an autonomy of 90 minutes. In addition, as a differentiating element, it incorporates a USB port that allows it to be recharged even from a computer. Another great advantage is that it can be used while charging.
The plastic materials seem fragile, but the finishes are good
As far as hooves and heads go, she comes with everything you need. That is to say. It can be used for almost all parts of the body: beard, hair (no more than 1.5 cm), nose, ears, body, and even genitals.
This hair clipper has a wheel on the handle to adjust the cut from 0.5 to 2.5 mm. Ideal for layers and more modern cuts.
It comes with a charging base, which is very useful, but without being able to store all the heads, it incorporates.
Check our different comparisons on the best body trimmers models.
Pros
Inexpensive.
 Multifunction (many accessories).
 USB charger.
 Cordless (allows charging while in use).
 Good power.
Cons
The plastic gives it a low-quality look.
 Too many utensils and clogs without a storage case.
 Mid-range (but at a low-end price, which is a good thing).
 Not the quietest
4- Philips QC5580 Do-it-Yourself Hair Clippers with Head Shaver Attachment
Philips QC5580/32: A hair clipper with a pivoting head
The main difference between the Philips QC5580/32 and other hair clippers is that it allows you to make 180° cuts thanks to its multi-directional head.
This innovation makes it very easy to trim areas of the head that are difficult to reach if you cut your hair, such as the back of the neck or the sides of the head.
It has a travel case and two 14-position precision combs that allow you to cut hair from 0mm to 14mm. On the other hand, the hooves are not very robust. Plus, like all mid- to high-end machines, it requires multiple passes to get the most out of it.
Although it is a powerful machine intended for cutting hair, it is equipped with a specific head for a smooth shave to avoid irritation. Thanks to this head, it can even be used for body shaving in sensitive areas, such as the genitals or armpits. However, this is not its primary function.
This Philips hair clipper is waterproof and can be cleaned under running water. Warning: do not use it in the shower!
Another big plus is that although it's cordless with 60 minutes of battery life, it can be used while you charge it. She is also very powerful.
Pros
180° swivel head: very comfortable.
 Ideal for cutting hair or shaving.
 Wireless (can be recharged while in use).
 Storage case.
 Powerful.
Cons
Max cutting size of 14 mm.
 Without a stand or base.
 The hooves are not particularly strong.
5- Remington HC5810 Hair and Beard Trimmer 43133560710
Remington HC5810 Genius: The best-selling hair clipper
The Remington HC5810 Genius comes with an aluminum case, inside which you will find: 10 combs (3, 6, 9, 12, 16, 20, 25, 30, 35, and 40 mm), a pair of scissors, a neck brush and a small bottle of oil to lubricate the mechanism.
We have to warn you that this isn't the best professional clipper on the market for gradations: the size difference between the combs is too big, although you can play with the millimeters on the head wheel.
It can also trim beards and shave non-sensitive parts of the body (arms, chest, and legs but not genitals or armpits). It also does not allow you to get the ball to zero.
Among the advantages, it is wireless and can be used as a charge. On the other hand, the cable is short if you need to reach more inaccessible or remote areas from the socket. The battery life is 50 minutes, and it has an LED display showing the battery charge level.
It is a hair clipper made with resistant materials, which affects its greater weight and, obviously, its quality. Its outstanding durability is one of the advantages most highlighted by its loyal users.
Pros
Wide range of clogs and aluminum case.
 Wireless (can be used when plugged in).
 Robust and durable.
Cons
Not particularly useful for gradients.
 Short cable.
 Not waterproof.
 Too large gaps between tiny hooves.
6- Wahl Professional 5-Star Balding Clipper with V5000+ Electromagnetic Motor
Wahl 08110-316H: An efficient professional hair clipper.
If you do not know this brand, we will tell you that it is a famous American brand whose devices are among the best professional hair clippers on the market. You will see it at your local hairdresser!
The Wahl 08110 can cut hair at 1.5 mm and 4.5 mm thanks to its two combs. It is also compatible with the combs of other Wahl machines.
Be careful if you're going to shave your body hair, as this is a mighty machine, and we recommend keeping it away from sensitive areas.
It is a machine with a vintage design, very resistant, and with great power. It also comes with a sample of lubricant, which you put in the corresponding compartment of the machine so that it gradually reaches the blades, allowing them to glide smoothly.
The biggest drawback is that it has a thread. However, this is what many users are looking for, not to be dependent on battery life. In addition, the cable has a length of 3 meters, which is sufficient for any use.
Pros
Price.
 Prestigious and reliable brand.
 Powerful.
 Ideal for shaving the head.
Cons
It is pretty heavy.
 Wired (but you're not dependent on battery life).
How to choose a suitable hair clipper?
It turns out that many hair clippers can also be used as all-purpose machines for shaving, trimming your beard, or shaving your body.
So there may be machines that incorporate some heads, in addition to the usual haircutting heads, that can help you with those other uses, like combs for short beards or body shaving heads for sensitive areas like the genitals and armpits.
Finally, in ​​​​haircuts, you also have combs of different sizes, special clippers for shaved hair, etc. For example, some even have rotating heads that make it easier to shave hard-to-reach areas, like the back of your neck.
You can also check how to shave with a hair clipper.
Wireless or wired?
Intuitively, we think the best professional clippers on the market are cordless, and rightly so because they're so much more convenient. However, it is true that after a few years, the battery's performance deteriorates sharply and its autonomy decreases significantly.
Many users prefer a corded hair clipper to ensure they won't have any issues with the battery. It's not just a question of battery life; power is also reduced on many machines when the battery is at a minimum. If you opt for a corded trimmer, ensure the cord is at least 2.5m long.
We prefer cordless mowers, but we know that many mowers can "die" after a few years due to the battery. Another option is to opt for a wireless device but to be able to use it while charging it with the cord plugged in, which would allow us to benefit from the advantages of a wireless device during the first years of the life of the product and to continue to use it with a cord if the battery deteriorates.
Waterproof?
Many versatile hair clippers, which can also be used for body shaving, are designed for use in the shower. It may also be helpful if the buds can be cleaned under running water.
Important: check if the manufacturer indicates if it is a hair clipper for wet or dry use if you can use it in the shower, etc. Nobody can guarantee it will work after getting wet except the manufacturer.
What autonomy?
This question only applies to cordless mowers. Unless you're doing a highly complex cut, 30-50 minutes is enough.
However, if you want to use it more professionally, you will need a longer operating time. The best professional clippers typically have a runtime of over 120 minutes.
What length for the hooves?
Smaller hairs are usually cut with self-adjusting heads ranging from 1 to 10mm. But you can also buy clippers with specific combs for shorter lengths.
These combs can also be helpful for layers (cuts requiring more complexity) or even trim beards.
For longer haircuts, you will need specific combs of a larger size ranging from 10 to 30 mm. Some machines include 50mm broad hooves, but this is not the most common.
Read More