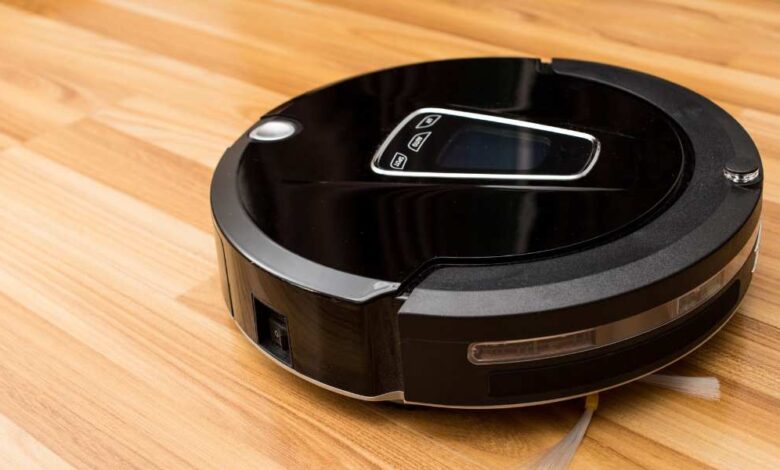 Need more time to sweep, mop and vacuum? Do you have pets at home?
The robot vacuum cleaner is made for you!
It is one of the first cleaning products with built-in intelligence. In addition to vacuuming, some models sweep and mop.
There are so many models, brands, and types of robot vacuum cleaners that it is often difficult to know which one to choose. In this article, you will find which one best suits your needs in terms of price and features.
See our different comparison: window cleaning robots
What to consider before buying a robot vacuum cleaner
Obstacles of the robot vacuum cleaner
The most advanced navigation technology is the 360° laser system, which can detect and avoid obstacles.
Robot vacuum charging time.
The average charging time is 2-2.5 hours and should be compensated by the battery life. Acceptable models must operate within the range of 90 to 120 minutes minimum.
Suction power
The optimal suction power is around 2000-2500 Pa. A value below 1500 Pa is only helpful for very light cleaning.
Tank capacity
A medium-sized tank should not be less than 0.3 L. If it's a solids-only tank, it's best if it's 0.5 liters.
house size
Analyze the features of the house. Type of floor, presence of carpet, dimensions, stairs, and obstacles This will help you determine the size of the tank needed, the autonomy, and the cleaning needs.
iRobot Roomba i7 Robotic Vacuum Bundle- Alexa Connected,
Roomba i7: A robot vacuum with artificial intelligence, extensive configuration options, and the possibility of an autonomous discharge base
While not a laser, the navigation system does a reasonably good job of mapping. It also stores collected information, saves maps, and reuses them. Very practical in multi-story houses.
The Roomba I7 doesn't need to fully charge the battery to pick up where it left off. Since he knows how much time he has left to finish his job, he will charge the energy he needs to finish the job.
The two rubber rollers synchronize well during cleaning and prove effective even on intricate carpets, which surprised me the most. Although it sucks powerfully, it doesn't have specific options for particular floor types or dirt like pet hair, which Cecotec models do. These generic and versatile rollers allow you to fill the 0.4-liter tank efficiently.
It uses artificial intelligence to get to know your home. You can program a personalized cleaning by zone or by room from the application (and with a bit of patience). You can thus optimize your time, which is particularly important for this model of Roomba.
It's hard to believe that with its high price and the cool features it offers, the battery barely lasted 75 minutes. This limitation will put many of you off, especially if you have a large house.
Not only is the battery life lacking, but it also doesn't offer any cleaning options other than vacuuming. If you want to mop the floor, you must buy a separate device, the Braava, that you can sync.
Important points:
iAdapt 3.0 smart navigation to know every corner of the house.
 Compatible with voice assistants.
 Mapping with vSlam camera technology.
 The i7 series is 10 times more potent than the previous one (600).
 Floor recognition and turbo cleaning application.
 Dimensions of 34.2 x 34 x 9.3 cm and but 3.38 kg.
Pros
Three-stage cleaning system
 Application Control
 Mapping and object recognition (non-laser)
 Memorize cards and reuse them
Cons
Autonomy of 75 minutes
 Single side brush
 No special rollers/accessories
 No remote control
 Very high price
Dreametech D9 Robot Vacuum and Mop Cleaner,
Dreametech D9 Robot: Cheap robot vacuum cleaner and floor cleaner, laser-like navigation and excellent suction power
With the Dreametech D9 Robot, we go from the most straightforward robot vacuum cleaners to those that can map rooms, so we know a little better where they are moving.
It includes a cleaning roller to remove dirt, has a suction of 2,500 Pa, and does not deviate from its trajectory.
It is not for nothing that he uses a double navigation system with gyroscopes and a 160° camera to acquire a complete knowledge of the house's rooms. In practice, not everything is spectacular: on more than one occasion, the device had difficulty returning to the charging base.
At least he negotiates obstacles well and can even climb on carpets with a height of 2 cm. It works effectively on carpets and hard floors or parquet floors because its central roller combines bristles and silicone parts, allowing better dirt cleaning. So its a better vacuum cleaner for dust.
Filter:
It has a high-efficiency filter and a 0.6 liter (dry) capacity tank. Still, it's not one of my favorite options in a household with pets, as the heaviest lint gets stuck in the center roller a bit. But it can work if you do routine maintenance and keep the dirt from building up.
The mop is another matter. For the price, you can't ask for better. The tank is 0.2 liters, and the water filtering system leaves much to be desired. You will always get different results than cleaning with a mop. In my experience, with its 90 minutes of battery life, it can be a bit short in an 80m² apartment if you need to do some wet mopping.
Thanks to the application, you can create your cleaning plans and define zones. You also can include magnetic barriers, but this version from Xiaomi is entry-level, and you have to buy the strips separately.
Important points:
Navigation through a 160º wide-angle camera for a plan of the house.
 Double gyroscope for better orientation.
 Water pump technology for liquid dosing.
 The 4-core processor makes decisions in real time.
 Dimensions of 35 x 35 x 8.2 cm and weight of 3.6 kg.
Pros
High suction power
 Sweep, vacuum, mop and wipe
 Application Control
 Smart navigation
 Load and continue option
 Magnetic barrier option (not included)
Cons
Noisy
 Single side brush
 90-minute run time
 No accessories included
 No remote control
OKP Life K2 Robot Vacuum Cleaner 1800 mAh, Blue
OKP: A robot vacuum cleaner with low height and strong suction power
The OKP K is an entry-level robot vacuum that does not use a roller for cleaning.
This detail and its double filter (foam and HEPA) make it a rather practical solution if you have pets at home (because they can wrap themselves around the roller).
Its 0.5-liter tank can hold a lot of things. However, without a roller and with a single side brush, it is a device that has some limitations if you are looking for impeccable cleaning on rugs or carpets. It's supposed to overcome obstacles of up to 1.5cm, but more than once, it's snagged on the fluffiest of medium-pile carpets.
On hard floors and parquet, it's a different matter. The device moves around with relative ease and, as it's a little smaller than average at just 7.6cm high, it's a little easier to slip into where others won't.
Navigation technology
It uses a navigation technology called Free Move 3.0, which I found messy. Although you can choose between three cleaning modes (S, spiral, or random), it always moves around as it pleases.
This also affects the positioning of the charging base. For the robot to locate and maneuver it well, you must place it in a relatively open area. Otherwise, it will end up doing damage.
However, you can schedule cleaning days and times via a very simple app, give it commands via the voice assistants or tell it what you want to do using the remote control. In that sense, it is versatile.
Anti-fall and anti-shock system based on 13 infrared sensors.
 Control by app or remote control.
 Compatible with voice assistants.
 The battery has an average duration of 100 minutes, suitable for floors up to 100 m².
 Dimensions of 28 x 28 x 7.6 cm and weight of 1.99 kg.
Pros
High suction power
 App or remote control
 Double-sided brushes
 HEPA filter
 Quiet (58dB)
Cons
Difficult to find spare parts
 No cleaning brush (it is a nozzle)
 No fees and continuation function
 No room mapping
Lefant M210B Robot Vacuum Cleaner, 2000Pa Strong Suction,
Lefant M210B: Robot vacuum cleaner with suction nozzle and brushless, suitable for apartments with pets
The Lefant M210B is a simple and cheap robot vacuum, but you must push it hard to get a more or less proper cleaning.
In terms of weight and size, it is a much more practical option than other models in the higher categories. This detail allows it to pass under certain pieces of furniture or move between them more easily.
However, this robot is clumsy. It uses the Free Move 2.0 navigation technology, allowing you to move around the house with unsystematic movements. In other words, whenever he cleans, he does it "his way." This means he may go through the same spot three or four times.
He also has some trouble getting back to the charging base. Although its battery lasts 90 minutes, as it lingers in the same spot multiple times, it doesn't clean an apartment more significantly than 80m². At least it has sensors to avoid collisions with objects or avoid sneaking into too few places from which it will not be able to get out.
Strength:
Its strengths are that it has a suction power of 1800 Pa, which for the price is very good. It also has a HEPA filter and its suction nozzle is comprehensive (it does not use a rotating brush) just like its tank (0.5 L).
I wouldn't use it on floors with carpets or many rugs because it needs to be more significant. But it is true that between one thing and the other is ultimately a valuable option for catching pet hair in tiny houses and on surfaces that are not too demanding. Be careful. Animals with very long hair can get tangled in the wheels.
Control via app to schedule cleaning days and times.
 Compatible with voice assistants.
 Dimensions 28 x 28 x 8 cm and weight 2.68 kg.
Pros
Compact. It fits into tight places
 Large dirt container
 HEPA filter
 Cheap
Cons
90-minute battery
 Return-to-base issues
 Low suction power
 Single side brush
 No mapping
 No remote control
iRobot Roomba s9+ (9550) Robot Vacuum 
iRobot Roomba S9 Plus: A luxury robot vacuum cleaner
The manufacturer iRobot was one of the first to develop and produce excellent robot vacuum cleaners that are up to the task. Since then, their models have continued to evolve, and today they have some of the best and most luxurious models on the market, such as the iRobot Roomba S9 Plus.
The iRobot Roomba S9 Plus was iRobot's plushest robot vacuum in 2022. The Plus model has a giant charging station where the robot vacuum empties dirt. This way, the container is more significant and does not require frequent maintenance. This feature can be appreciated if you have pets or pick up a lot of dirt.
Comparison with Romba models:
Compared to older Roomba models, the Roomba S9 has extreme suction power and cleans around and under furniture, provided the space is large enough. It also has sensors that detect the degree of dirt and is effective in cleaning corners.
Battery life is good, providing around 2 hours of cleaning before it needs to be recharged. Like other intelligent robot vacuums, it kicks back in to recharge and pick up cleaning where it left off if the battery runs out. In this way, it also works well in slightly larger houses.
The Roomba S9 Plus is an intelligent robot vacuum with good AI, and you have good options to mark off areas it shouldn't clean or pass. Thanks to the stair sensor, it avoids falling and negotiates thresholds with a height of 2 cm.
It connects to your WiFi and can be controlled by the app on your phone, Google Assistant, and Alexa. Of course, you can also schedule the cleaning when it suits you so that you can come home after a day's work and find a freshly cleaned floor, for example.
One downside to this model is that it doesn't have a wet mop. While robotic vacuums with a wet-dry feature don't do as good a job as manual floor drying, it's a feature that some competitors appreciate. Another downside is of course the price.
The iRobot Roomba S9 Plus is a robot vacuum for those who want one of the most advanced models on the market.
Pros
Highly advanced and intelligent robot vacuum cleaner
 Charging station with automatic dust emptying
 An anti-allergic system with the excellent suction power
 Up to 120 minutes of battery life
 Stair sensor, WiFi, etc.
Cons
Neato Botvac D3 Connected Laser Guided Robot Vacuum, 
Neato Robotics Botvac D3 Connected: An excellent value-for-money robot vacuum cleaner
The Neato Robotics Botvac D3 Connected is the most affordable model of Neato's high-performance robot vacuums.
In the tests, it is clear that, although the D4 is the cheapest version, its performance is equivalent to that of the more expensive models. It cleans very well, goes almost anywhere, has good battery life, and is easy to set up.
The Botvac D3 Connected from Neato Robotics is equipped with a combination brush to clean all surfaces. In other words, it can be used on both hard surfaces and carpets.
The laser vision used in the Botvac D3 Connected from Neato Robotics is also perfect, and it is noticeable that the company has had many generations of robot vacuums. In another test, the more expensive Botvac D7 Connected model performed very well and received full marks for accuracy and intelligence in behavior.
The design and layout of the robot vacuum also contribute to its effectiveness. The D-shaped design makes it easier to reach corners and pick up dirt. Corners, in particular, are areas where self-propelled vacuums can struggle to penetrate.
Battery timing:
The battery life of 75 minutes is also perfect and will be sufficient for most average-sized households. It also recharges in 1 hour and 40 minutes, which is faster than those with larger batteries.
The app with which you control the robot vacuum cleaner is also perfect. Here you can schedule when it cleans but also set boundary lines for what it can't pass. This can be an excellent way to prevent it from cleaning in a sensitive area.
No product is perfect, which is probably the case with the Botvac D3 Connected from Neato Robotics. Unlike the more expensive D6 and D7, the D4 does not have a brush to best deal with pet hair. Thus, it is not optimal for those with a cat or dog (see also: robot vacuum cleaners for animals ).
Pros
It can be connected to WiFi and controlled with an app on your phone
 Laser mapping of the room for more optimal cleaning
 Good accessibility
 Good value for money
Cons
Roborock S7: The best robot vacuum cleaner (and cleaner) in the comparison, with high-precision laser mapping
The Roborock S7 is a vacuum cleaner with high-precision laser mapping.
Particular attention should be paid to parquet floors. The central rubber brush could be better designed for this type of surface. Due to its shape and pressure, if it hits a small stone, it could end up scratching the floor while cleaning.
On the other hand, I found that the distinction between hard floors and carpets is superior to that of the other models. You can set it specifically to ignore, avoid, or vacuum them up. However, I got the best results on hard floors, including tile floors.
It can vacuum and mop simultaneously because it has two separate tanks. One is 0.47 liters (dry) and the other is 0.3 liters (water), which is slightly above average.
I wouldn't place too much importance on cleaning, which is more of an ancillary function to suction and doesn't offer excellent results. Although it vibrates when cleaning and removes dirt better than other models, the results could be better even if you can adjust the water use.
All of these settings can be made from the app. It's pretty simple, but there are too many options. It lacks a remote control and a few buttons to use the basic programs. You can also give him instructions by voice via the assistant you have installed in your home.
I'm more convinced by dry cleaning. It has a good suction power of 2500Pa and a high-efficiency filter.
Important Points:
App control lets you select rooms in the house, manage and edit created maps, set cleaning orders, and customize spaces.
 The mop plate vibrates 3,000 times per minute to extract dirt better.
 In normal mode and open spaces, the 180 minutes of battery life could clean up to 180 m².
 Synchronization with voice assistants.
 Dimensions 35 x 35 x 9.65 cm and weight 7.52 kg.
Pros
Voice or app control
 Versatile: vacuum, mop, and clean
 300ml water tank
 Highly configurable
 4 power levels
Cons
Too heavy and too big
 Only one side brush
 No accessories included
 No remote control
Guide to choosing the right robot vacuum cleaner
Here are the elements to take into account to choose the right robot vacuum cleaner :
The battery is not everything (but almost)
Knowing that what you are looking for is a cleaning system capable of working alone, it is essential to know its degree of autonomy to know what you can require. If it lasts less than 90 minutes, things start to get complicated. And if it lasts less than 60 minutes, you'd better throw the device away.
Lower to mid-range models are in the 90 to 120-minute range. Starting at 120 minutes, these are efficient units from a battery life standpoint. From 200 minutes, it is an excellent device, but this is an advantage that also translates into a high price.
Important Note: Battery life is an indication of Surface performance. The battery life increases/decreases depending on the efficiency of the navigation system. The brighter the robot, the less time it needs to finish cleaning. On the other hand, cordless vacuum cleaners are lightweight and consume less electricity.
Filters, brushes, and spare parts
You will want to choose models that offer a very efficient filtration system. Even if you don't have pets or allergy sufferers at home (see our comparison of the best vacuum cleaners for allergy sufferers ), it's still best if the air is 99% free of dust particles, mites, and other pathogens.
The brushes also influence the type of cleaning. The side brushes are used for sweeping; although not essential, two are always better than one. The central brush is the one at the bottom of the device. It can be made of hair, rubber, or both.
Consider the type of surface you will be vacuuming. If your home has a lot of rugs, rugs, or pet hair, rubber models will pick up dirt better and prevent tangles. But bristle brushes are a good option if you work more on hard floors or parquet.
The decision should be made in more than the short term. It would help if you also thought about how long these items will last and how easy or difficult it will be to find replacement parts when you need to replace them.
Mapping and navigation system
We opt for the latest technology, but that's not always necessary. If you want to clean your house to the millimeter, you will have to invest in robots with laser mapping or a combination of laser and camera.
This is useful in larger homes with lots of furniture or multiple floors. Advanced mapping and navigation systems collect a lot of information about the dimensions and characteristics of spaces, store it and reuse it to make decisions, work faster or allow you to customize cleanings in a much more precise way.
When there is no mapping function, robot vacuum cleaners go haywire a bit more. But they also work! They use much simpler moving systems, S-shaped, U-shaped, and spiral. In a modest apartment without many rugs or annoying objects, they are an effective and certainly much cheaper option.
Functions
I recommend prioritizing suction and interpreting the sweeping and mopping options as a bonus accessory. Currently, no floor cleaning robot meets these needs with 100% efficiency.
The most interesting functions often have nothing to do with actual cleaning. It is more practical, for example, that the robot knows to pick up cleaning where it left off before returning to the charging base or identifies exclusion zones it cannot enter to clean.
In terms of control, most models (even the cheapest ones) are programmed via an app. It is essential to know if the synchronization with mobile devices is good and if the application is intuitive and includes valuable options. The remote is not essential, but if the app sucks, I prefer the traditional remote.
How much does a robot vacuum cost?
There is a big difference in price between the models, you can find very basic robot vacuum cleaners from 100 euros (or even less) up to high-end models that exceed 1000 euros.
Where to buy a robot vacuum?
The range of robot vacuum cleaners offered today is so vast that you can find a wide variety of robot vacuum cleaner models in all kinds of electronics, department, and appliance stores. However, the easiest way is to buy from online stores such as Amazon, where you will find the best offers and conditions of sale.
Read More