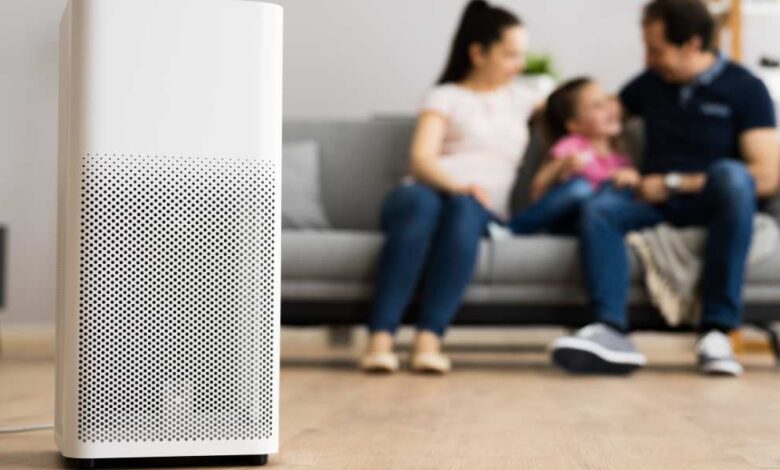 HEPA filter air purifier: On the streets, we are exposed to pollution from cars and factories. Still, at home, we breathe air that can contain a multitude of toxic compounds such as POPs (persistent organic pollutants), BPA (bisphenol-A), VOCs (volatile organic compounds), PFCs (perfluorinated compounds), phthalates, fluoropolymers, heavy metals, viruses, bacteria, insect waste, animal hair, dust mites…and all that much more concentrated and with less ventilation than on the street.
Air purifiers use different filters and technologies to trap the vast majority of particles and pollutants in the air you breathe at home, thus preventing health problems and allergies.
In this article, we present a comparison of the best air purifiers, according to your budget, and a buying guide to help you choose your model.
Check our different comparisons on the best humidifiers for bedrooms.
What to know before choosing an air purifier
The filtering capacity mainly depends on the air emission power and the efficiency of the filtering system (a high-efficiency or HEPA filter is recommended).
The Clean Air Emission Ratio determines the air purifier's efficiency and is a parameter provided by independent laboratories. Monitor the noise level of the device. You don't want to trade air pollution for noise pollution.
1- Rowenta Pure Connect Air Purifier, Medium, White
Pollen, animal hair, dust, and the dreaded dust mites, many of the causative agents of allergies, circulate freely in your home.
If you are looking for an anti-allergy air purifier, few models are as effective as the Rowenta PU4020, which combines Allergy and Nanocaptur filters in an effective 4-stage system.
It has 3 operating modes, a timer, a night mode, and sensors that detect pollution and adapt the speed automatically.
Rowenta is a robust and quality air purifier and is a safe bet, even if it must be recognized that it is pretty expensive. It should also be noted that it is a bulky model and does not have wheels (although it is not heavy, around 5.7 kg), so it is uncomfortable to move it between rooms.
Rowenta PU4020 has 24.1 x 26.2 x 49 cm dimensions and weighs around 5.7 kilos. The timer can be set for 1 hour, 2 hours, 4 hours, and 8 hours.
The filtration system consists of 4 layers:
Pre-filter (animal hair, dust, etc.).
 Activated carbon filter: removes smoke odors and volatile organic compounds.
 High-efficiency filter: fine dust, allergens, and dust mites.
 Nano Captur filter: destroys formaldehyde.
An intelligent pollution detection system modifies the color of the indicator lights on 3 levels:
Blue light: clean air
 Violet light: polluted air
 Red light: very polluted air
The power consumption of the cleaner at full power is around 80 watts, so you can forget about it because you will hardly notice any difference in your electricity bill.
2- Winix Air Cleaner C555 Features Smart Sensors, 5-Stage Filtration System, and PlasmaWave Technology
The Winix Zero is one of the air purifiers with the most advanced and efficient filtering system on the market since it incorporates 4 stages to capture particles (PM2.5) of 0.3 microns, smoke, odors, and a patented system that produces hydroxyls to neutralize certain bacteria and viruses.
Hydroxyl radicals have the property of destroying the protective membrane of viruses, bacteria, and molds through a lipid reaction, then decomposing into water and oxygen without producing ozone, so they are entirely harmless to us.
It has a contamination sensor that allows it to be set to automatic mode, and it can also be set to silent mode, which turns off the lights and keeps noise to a minimum.
It is also certified by ECARF and Allergy UK, two prestigious independent bodies, for its effectiveness in reducing allergens.
There's no denying that this is a powerful and very efficient air purifier. Although I find it a bit bulky and heavy, it doesn't have a handle or wheels, so keep that in mind. Mind if your idea is to carry it from room to room.
The Winix Zero measures 38 x 20.8 x 60 centimeters and weighs around 9 kilos.
 Includes 6 carbon filter replacements and a HEPA filter.
The integrated air quality sensor indicates the status of the situation using a color-changing LED:
Blue: good air quality
 Orange: moderate pollution
 Red: poor air quality
3-MI HEPA Air Purifier 3H with 3-Layer Integrated 360° Cylindrical Air Filters 
Tech giant Xiaomi has also hit the mark in the world of air purifiers with the Air Purifier 3.
This air purifier incorporates a HEPA H13 filter in combination with an activated carbon filter to eliminate odors and harmful substances and a pre-filter that traps large particles.
This 3-stage filtration system, combined with a more than remarkable power, allows it to reach the significant figure of 400m³/h in air purification.
Thanks to its OLED touchscreen, you can choose between manual mode, night mode, or automatic mode (thanks to its laser dirt sensor). Screen brightness is adjustable and can be turned off.
It also connects via Wi-Fi, and you can control and monitor everything via an app on your smartphone or control it with smart speakers like Alexa.
Xiaomi Air Purifier 3 weighs about 5 kg and has dimensions of 24 x 24 x 52 cm. The power cord measures 1.8 meters and has a power of 38w.
The display changes color depending on the level of dirt in the air, going from 3 states:
Green: good air quality (0-75ug/m3).
 Orange: poor air quality (76-150ug/m3)
 Red: Inferior air quality (150ug/m3)
In manual mode, you can choose between 3 intensities or select the approximate size of the room to regulate itself.
pros
Efficient 3-stage filter
 High clean air production capacity
 Wi-Fi connectivity
cons
At full power, it is not too quiet.
4- LEVOIT Air Purifier for Home Allergies Pets Hair in Bedroom, H13 True HEPA Filter
If you have little space but want an efficient and quality air purifier, few models can beat the LEVOIT with its neat and timeless design. Despite its small size, it produces a clean airflow of no less than 190m³/h.
It has 3 speeds: an "auto" mode that regulates the speed to match the dirt in the air and a "Turbo" mode that blows air at maximum speed. It does this by using a dirt sensor, which also changes the color of the light ring around the gear knob.
This also incorporates an additional "sleep" mode that adjusts the power and sound level for use while you sleep.
The filtering system is effective but is not the most advanced since it includes a single HEPA H12 filter. Therefore, since it does not have activated carbon, it does not filter odors.
The LEVOIT is a powerful air purifier capable of filtering a room of 49 m² in just 38 minutes.
It weighs 2.4 kg, measures 25 x 36.7 x 25 cm, and has an output power of 22 watts.
pros
A neat and timeless design
 Compact
 Powerful
 dirt sensor
cons
The filtration system consists only of a HEPA filter.
5- Sans HEPA 13 Air Purifier – 1560ft² ultra-quiet home air purifier with pre-filter, activated carbon
The most important thing when looking for an air purifier for the baby's room is that it is efficient, has a HEPA filter, and above all, is quiet. This is the case with the DIKI, which also displays relative humidity and temperature on the screen so that you can check that the environment is suitable for the baby in all aspects.
This air purifier has 3 speeds and an automatic mode with a pollution sensor that adjusts the speed automatically. It also was interesting that it informs you when to change the filter through a warning on the panel.
It measures 18 x 18 x 28.2 centimeters and weighs approximately 2.32 kg, with a power consumption of just 16 watts, one of the lowest in its class.
The air quality detection system reports with the following color scale:
Green: the air is clean.
 yellow: medium pollution
 red: high pollution
pros
Quiet and compact
 Measures temperature and relative humidity
 pollution sensor
cons
No timer
6- Pro Breeze Air Purifier for Home – 5-in-1 HEPA Air Purifier with HEPA Filter – 500 Sq Ft Coverage for Home Office
The ProBreeze is an air purifier with a high filtering capacity, thanks to its 5-stage system, consisting of a pre-filter, a HEPA H13 filter, an activated carbon filter, a cold catalyst, and the negative ion generator.
It is effortless to use, incorporating a timer that can be set to switch off after 1, 2, or 4 hours and an independent button to activate or deactivate the ionizer.
You can choose between 3 speeds and a night mode, which operates virtually silently.
The ProBreeze is a powerful cleaner, with a capacity for a room of up to 45m², but with an elongated vertical shape that makes it a little shaky, it is not advisable to place it in places of passage.
The control panel consists of backlit touch buttons, which are very useful for night talk, but without the possibility of deactivating this lighting.
The power is about 45w, has dimensions of 54.32x17cm, and weighs about 4.5 kg.
pros
Good value for money
 High clean air emission capacity
 timer
cons
somewhat unstable vertical positioning
 Button illumination cannot be turned off.
7- LEVOIT Air Purifiers for Home, H13 True HEPA Filter for Smoke, Dust, Mold, and Pollen in Bedroom
The Levoit is an air purifier of contained dimensions but with an excellent filtering capacity, thanks to its system composed of a fine pre-filter, an activated carbon filter, and a HEPA H13 filter.
You can choose between 3 air speeds to adapt it to the size of the room and a night light with two intensity settings, which you can also deactivate if you wish.
It's not one of the most powerful cleaners but one of the quietest on the market. It is an excellent choice to purify the air while you sleep.
The dimensions of this air purifier are 19 x 19 x 32 cm, which allows it to be installed almost anywhere.
It is powered by a USB cable and has a power of 25W.
According to the manufacturer, the filter should be changed every 6 months, although this can vary greatly depending on usage.
pros
cons
Not the most powerful
Buying guide to know everything about air purifiers
Air purifiers are gaining more and more popularity because we live in a time of significant progress but, unfortunately, also very polluted.
Air purifiers are paradoxically part of this progress, but they can repair some of the damage and help us clean the air we breathe in the house, making it much healthier.
What is an air purifier, and how does it work?
An air purifier is an electrical device designed to filter the air in a room or house, removing impurities, toxins, dust, viruses, bacteria, odors, and everything that is not pure air.
This device passes the air through a series of elements and filters and rejects it without impurities and odors.
How does an air purifier work?
The operation of an air purifier is simple. The air is collected by a grid and passes through one or more filters to be finally expelled into the room. To circulate the air, one or more built-in fans are used.
Each manufacturer uses its technology to increase the cleaner's efficiency, but there are common elements in all these devices.
Pre-filter
It is usually the first barrier the air passes through, a filter capable of retaining large particles such as lint, human or animal hair, dust, etc.
The function of this filter is to prevent larger particles from reaching the HEPA filter and preventing it from clogging prematurely.
HEPA filters
It is short for High-Efficiency Particulate Air, a filter used to retain particles in an air purifier.
HEPA filters clean the air as it passes from fungal spores, dust mites, bacteria, viruses, molds, and all particles between 0.12 and 0.3 microns.
What are the best HEPA filters?
When looking at the specifications of an air purifier, make sure it uses an approved HEPA filter and check its classification (H11, H12, H13…), as there are cheap air purifiers that include a filter they call "HEPA type" with lower quality and efficiency.
These filters can have different filtering categories and are classified according to the size of the particles they can retain. Below you can see this classification based on European standard 1822:2009. Recommended HEPA filters should be rated H13 or higher.
H10 >85% 0.3 micron
 H11 >95% 0.3 microns
 H12 >99.5% 0.3 microns
 H13 >99.95% 0.3 microns
 H14 >99.995% 0.12 microns
 H15 >99.9995% 0.12 microns
 H16 >99.99995% 0.12 microns
 H17 >99.999995% 0.12 microns
Activated carbon filters
Activated carbon filters are made of a porous carbon layer and work by separating water molecules from the air, allowing only the purest particles to pass.
It is a material widely used in medicine and industry to filter harmful molecules from gases and liquids.
They are durable filters used in an air purifier to remove odors, impurities, formaldehyde, and harmful organic compounds (VOCs) as an additional layer to the HEPA filter.
cold catalyst
Some models of purifiers have an additional filter layer called a "cold catalyst or low-temperature catalyst" and are specially designed to prevent the passage of formaldehyde. This volatile and flammable chemical compound is released from certain plastics and tobacco smoke.
The cold catalyst is often used as a final layer to trap residue other filters have failed to trap.
Ionizer
The ionizer helps purify the air by emitting negative ions that bind to dirt particles in the air, making them heavier and more prominent.
This increase in size allows them to be more easily trapped by the filtration system.
What should you consider when choosing the best air purifier?
Clean Air Production Rate (CADR)
The first thing to check when choosing an air purifier is the CADR (Clean Air Delivery Rate), a measurement provided by independent laboratories that determine the purifier's ability to deliver clean air.
The CADR is the average of three parameters corresponding to the filtering capacity of three different particles: dust, pollen, and smoke.
The CADR gives a figure in cubic meters per hour and fairly accurately determines the overall efficiency of the air purifier.
The higher this value, the faster it cleans the air in a room.
Let's take a look at the other features to look out for:
Room size: Buying a small, low-powered air purifier is optional if you need to purify the air in a large room. All models usually specify the maximum room size.
 Noise level: air purifiers make noise, but not all at the same level. Consider this, especially if you plan to put it in the living room or bedroom. As it can disturb you when watching TV or sleeping.
 Speeds: More advanced models have a speed selector, which helps adapt the air purifier to small rooms. Some models have a "night mode," which reduces the speed and, therefore, also the noise level.
 Connectivity: If the air purifier has connectivity, you can operate it from your smartphone. You can also access scheduling and other nifty features. It's like voice control with smart speakers.
 Dirt Sensor: The air dirt sensor includes an automatic mode in the air purifier. Which increases or decreases the speed as needed.
 Timer: Some models have a timer that allows you to set an off time. Which is especially useful if you turn it on overnight.
When should the filters of an air purifier be changed?
Each manufacturer indicates the filter change instructions for each model. It depends on the type of filter used and its quality.
Of course, it is also very variable depending on the hours of use that one gives to the air purifier. So there is no universal rule.
Some models have a timer that reminds you when to change the filter. As a rule, filter replacement is simple, quick, and can be done by anyone.
Differences between air purifiers, dehumidifiers, and air conditioners
These devices are designed to improve our homes' air quality and comfort, but their operation and effect are entirely different.
Dehumidifiers retain moisture in the environment and lower relative humidity when needed. And air conditioners raise or lower the temperature, and air purifiers rid the air of impurities and toxins.
If you want to increase the ambient humidity, you use a humidifier. There are also 2-in-1 dehumidifiers and air purifiers.
How does breathing polluted air affect our health?
We live in a society that is increasingly conscious and concerned about well-being and health care. However, we should pay more attention to the quality of the air we breathe.
We think that inside our homes, we breathe clean air, but recent studies have shown that the air we breathe inside our homes can be 5 to 100 times more polluted than outside.
It is pervasive to think that by opening windows and airing daily. We renew and purify the air in our homes.
This may be true if you are lucky enough to live in a rural environment or surrounded by lush greenery.
But what if the air from outside is polluted and the air in your home is contaminated with humidity, dust mites, cooking fumes, detergents, pollen, or tobacco??
The result is that we do not breathe healthy air, which carries the risk that our health will be irreparably affected.
Breathing poor air quality can lead to respiratory diseases such as asthma, emphysema, and lung cancer.
While these illnesses are indeed most common when exposed to high levels of air pollution. But the truth is that breathing in unclean air can affect concentration and skin and even lead to sleep-related issues.
How can we achieve better air quality in our homes?
There are some steps we can take to ensure the air inside our homes is healthier and less polluted. These include in particular:
Daily ventilation
 Use environmentally friendly or natural cleaning and personal care products.
 Use dehumidifiers to prevent moisture buildup.
 No smoking inside
 Keep the house clean.
These actions contribute to making the air cleaner, but the most effective solution is using mechanical ventilation systems: air purifiers.
These mechanical systems not only renew and eliminate polluted air. But they also incorporate filters that prevent polluting particles from outside from entering our homes.
What are the benefits of air purifiers?
Breathing clean air brings about a series of benefits which, if they are not immediately perceptible, as in the case of a healthy and balanced diet or physical exercise, are perceptible in our organism and our environment:
Breathing clean air makes it easier to rest.
 This reduces stress problems and increases concentration and productivity.
 It makes us feel more active, and our body works better.
 It reduces cough and the possibility of contracting allergic and respiratory diseases.
 Eliminate unpleasant odors and create a cleaner environment.
Where and how to use air purifiers?
A home air purifier is usually designed to infiltrate between 200 and 300 cubic meters of air per hour in a room. They do not require any installation and come with different functions, speeds, and extras able to adapt to each household's specific needs.
The place in the house where this type of device is placed can influence its proper functioning, which is why it is imperative to know where it should be placed and where it is not recommended to use it :
 It is advisable to place the device as close as possible to the pollutant present in the home.
 It is not recommended to place it near other electronic devices, such as televisions, microwave ovens, and stereos, to avoid interference.
 Unless the cleaner is bright, keeping doors and windows closed is advisable for the device to work efficiently.
 To avoid tripping hazards, optimize space, and ensure more even cleaning of the air. It is advisable to place it at a height of 1.5 meters above the floor.
 Using it in humid places such as the bathroom or kitchen is not recommended. This will affect the carbon filters and reduce their lifespan.
Types of air purifiers
Recent WHO reports on household air quality and the COVID-19 crisis highlight air purifiers, but not all models are created equal, and you need to be clear about what you're using them for. You want to make to choose the right type of cleaner.
HEPA Filter Air Purifiers
They are the most common air purifiers, and their effectiveness is based on a high-efficiency filter capable of retaining particles from 0.3 microns to 0.12 microns. In some models of cleaners, the filtering system includes additional layers, such as pre-filters, activated carbon filters, ionizers, cold catalysts, or other systems to eliminate odors and different toxic substances.
Ozone air purifiers
Ozonators are very effective against viruses, bacteria, mites, and fungi. But the amount of ozone must be carefully controlled, as high concentrations can harm health.
This is why it is not recommended to use it in inhabited places but rather for shock treatments in places without animals or people.
Ozone as a treatment to eliminate COVID-19 is still under investigation, although its effectiveness has been demonstrated for other coronaviruses. Nevertheless, due to the difficulty in predicting ozone concentration in ambient air, it should only be used in occupied houses
Is an air ionizer the same as an air purifier?
Both devices are designed to purify the air. Still, the ionizer refers to a particular technology, which consists of emitting ions or harmful particles. Which bind to the positive particles of the dust suspended in the air and drop to the ground.
Usually, the air purification system includes an air ionizer inside the air purifier, together with the HEPA and the rest of the filters, which makes the dust particles more prominent and more accessible to be trapped by the filtering system.
Frequently Asked Questions about HEPA filter air purifier
What is an air purifier?
An air purifier passes the air in a room through a filtration system that removes dirt, toxins, viruses, bacteria, and odors.
Why buy an air purifier?
Despite what we often think, the air inside our home can contain many more toxins and dirt than outside, which causes allergy problems and harms our health.
What is the best air purifier?
The quality of an air purifier depends on several factors, including the quality of the filtering system, the power, and the technology it incorporates. A relatively reliable quality measure is the CADR or clean air production rate, a parameter measured in cubic meters per hour that determines the ability to emit clean air.
As with any purchase, it is essential to consult an air purifier comparator, read buyer reviews and check prices at different retailers. In this article, you will find the most recommended models this year.
Where to buy an air purifier?
You can find air purifiers at retail outlets and physical stores, or you can shop online on platforms such as Amazon.
Where to buy a HEPA filter?
Replacement HEPA filters are a little more complex to find than the air purifiers themselves, and in many cases, you have to look for them on the manufacturer's official website. For this ranking, we have considered the ease of finding these replacements as an additional factor in evaluating the models.
Read More