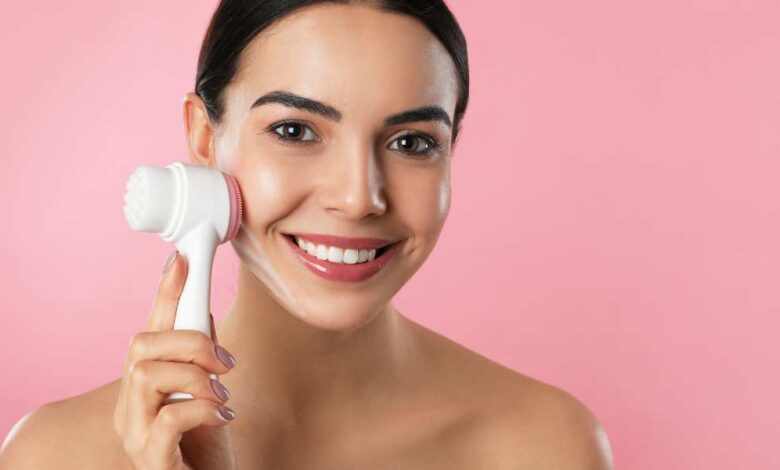 What are electric facial cleansing brushes? Do you need one of those? Let me explain to you. Young skin or skin damaged by time, tanned or pale, dry or oily they all have their particularities, and all have one thing in common: they all get dirty in the same way!
Today, I'm going to give you a trick to restore a healthy and glowing expression to your face: facial Cleansing with electric cleansing brush models.
The electric facial cleansing brushes have three features that are of major interest: I don't have to go to a beauty salon, they are super easy to use, and they allow me to give my skin excellent maintenance.
They cleanse, exfoliate, massage, and help regenerate collagen in the skin to fight those dreaded wrinkles – an electric facial brush is a complete beauty treatment!
In this article, I will present the best facial cleansing brushes of the moment and offer you a buying guide that presents this type of device in more detail.
See as well: GHD guild straightener reviews and opinion
Amazon's 3 Best-Selling Facial Cleansing Brushes of the Week
What to consider before making your choice
Choose between rotary, vibrating, or sonic facial Cleansing. The first is the most versatile but also the most aggressive. The vibrator is the softest, and the sonic is the most effective and suitable for sensitive skin.
Investing in a variable-speed brush is advantageous because you can better adapt it to your skin type. The speed options allow you to choose between 150 and 300 reps on the rotating and vibrating models and up to 7,000 reps on the sonic models.
Choose the bristle material according to your skin type. A silicone electric facial cleanser with blunt tips protects sensitive skin better, and a cleanser with natural bristles is more effective for deep Cleansing.
The Best Facial Cleansing Brushes: Comparison
1- FOREO LUNA mini 2 Sonic Facial Cleansing Brush for Every Skin Type
Foreo Luna Mini 2: the best electric facial cleanser
These electric facial cleansing brushes have had a real boom. Since the original Foreo Luna model appeared on the market, this Swedish brand has launched countless proposals, and imitators have sprouted like mushrooms.
But only some brands can match the features offered by this item. Specifically, the Luna Mini 2 version is a rechargeable model with 300 uses per charge, includes eight intensities, and operates at a power of up to 8000 pulsations.
It has a more compact size, therefore more manageable. In addition, you have integrated everything into a single head: more or less thick silicone filaments depending on the part of the face and the type of skin.
If you use it with particularly foaming (oil-free) products and avoid getting it near the lower part of the eyes, even the most sensitive skin will benefit from its advanced ultrasonic technology.
Besides the Mini 2 version, the Foreo Luna series has several other offerings. Luna 2 is specially designed for men; Luna 3 includes an anti-aging mode; Play Plus is the most compact and lightest; Luna Go is the smallest version of the family and Luna Fofo, which offers the largest cleaning surface. The model I have analyzed in this comparison, the Luna Mini 2, would be the intermediate point between the most basic and the most advanced proposals.
See our comparison on straightening brushes.
2- Facial Brush Face Scrubber: CLSEVXY Waterproof Face Spin Cleanser Brushes with 5 Brush Heads
Facial cleansing brush: The only electric facial cleansing brush in the comparison that offers circular and oscillating movements
This facial brush costs around 70 euros and stands out for its performance.
What struck me the most about this model is that this brush offers two types of movement: a circular one in one direction that allows for gentler cleaning and an oscillating one (¼ turn to the right and ¼ turn to the left ), which makes it possible to work in greater depth.
This is an advantage because it will be just as useful on days when you feel your skin is more sensitive than when you plan to remove blackheads and comedones. Also, you can combine them with three-speed settings. It, therefore, passes the test of adaptability with flying colors.
The movements and speeds are adapted so that you do not turn your bathroom upside down in front of the mirror. Even if you use gels, this is one of the less splashy brushes. However, it is waterproof: if you have trouble controlling it, use it in the shower!
Its good performance is complemented by a selection of 4 brush heads, each with a protective cap. With the silicone model, you get the same results without it being awkward, and you also get a nice facial massage. It is noisy, and the rechargeable battery could be improved (it only lasts 30 minutes ), considering its price. But overall, it's a brush with a lot of potential, and the improvements over the FC45 and FC65 are more than noticeable.
3- 3 in 1 Face Brushes Set, facial cleansing brush chargeable for Deep Cleansing
Facial cleansing brush: Two-way rotating cleansing brush for more effective pore opening
This is a basic facial cleansing brush in terms of features. That's why, while it works well with either of its two brush heads, I found its price steep.
The set consists of a brush with soft bristles for combination or oily skin and silicone bristles for dry or sensitive skin. They could have put more thought into the design, but at least everyone's role is clear.
With the soft-bristled brush, you get some exfoliation and a good makeup clean-up. Silicone is more superficial. It cleans typical environmental dirt but does not remove blackheads and other impurities.
Both have good texture but are limited by only two speeds. There is at least one interesting feature: each brush has two circles that spin in opposite directions. This opens pores and removes dirt in less time.
4- EZBASICS Facial Cleansing Brushes are Made with Ultra Hygienic Soft Silicone, Waterproof Sonic Vibrating Face Brush
EZBASICS Facial Cleansing: Silicone cleansing brush with sonic technology and medium intensity
The differences are more than noticeable compared to the Foreo Luna. Still, the concept is more or less the same: a soap-sized sonic facial cleanser with a wide surface covered in non-porous silicone bristles.
There are three different areas on the surface with different tooth thicknesses depending on the type of skin. It's great for the forehead and cheekbones, but it's a bit tricky on the chin, and I don't even want to tell you about the nose! She is too square.
While you're supposed to be able to treat combination, normal, and dry/oily skin with these three zones, in practice, the device needs to be ergonomic enough for you to make that distinction without some fiddling.
In terms of performance, it is better to avoid comparing with the Foreo. The Xiaomi interface is still a cheap cleansing brush, but it has some limitations. What limits its use is that it only has three-speed levels, compared to the 8 to 12 of a Foreo.
These three intensities are insufficient for deep Cleansing and may be too aggressive for sensitive skin. To get the most out of the performance of this device, I recommend it for combination and undemanding skin types.
You can also see our reviews on the Corioliss straighteners brand
5- Facial Cleansing Brushes Heated, Waterproof Vibrating Face Scrubber for Deep Cleanser
VINMEN; Sonic cleansing brush that reaches the least accessible areas of the face with 15 levels of vibration
As a sonic facial cleanser, it meets its main requirement: it is suitable for the most sensitive skin. In addition to the fact that the silicone tips are very flexible and of variable thickness depending on the area to be treated, you can choose from 15 levels of intensity to adapt the cleaning to the condition of your skin.
Its great advantage is, at the same time, a disadvantage. There are better choices than this if you are looking for an electric cleansing brush for deep cleaning. Although it removes blackheads and other impurities, it stays on the surface more.
However, SUNMAY has other advantages. Its blade shape will allow you to work in a targeted way on certain areas, such as the sebum that accumulates on the sides of the nose, which I find difficult to treat. And since it's waterproof, you can use it in the shower.
The silicone bristles are of high quality and pleasant to the touch. If you use the right speed, you can be sure there will be no irritation. The problem is that there's only one way to tell which speed you're using except to try them all: there's no intensity indicator.
Besides Cleansing and exfoliation, this sonic brush massages the face with up to 7,000 pulses per minute. This type of massage is very suitable for promoting collagen production and keeping your skin firmer and more elastic. A good anti-aging thing.
6- VOYOR Facial Brushes Waterproof Spin Face Brush 5-IN-1 Body Cleansing Brush Set
VOYOR 5 in 1: The cheapest cleansing brush in this comparison
If you've never owned an electric facial cleansing brush and want to see what it's all about, this is a great model to start with. It is an inexpensive model, and with its five interchangeable heads, it has all the basic characteristics of a cleaner.
The Cleansing and exfoliating heads are harsh for my taste, although I don't have particularly sensitive skin. I wouldn't recommend it for dry or irritated skin.
On the other hand, I found the cleansing head with the makeup remover pad to be quite good. It cleans your face in a flash, which is especially nice at the end of the day when you want to get it done before you go to bed.
A notable drawback is that it only has one speed.
It also needs to catch up technologically, as it runs on batteries. And my God! I had trouble opening the compartment where they were placed.
Everything you need to know about electric facial cleansing brushes
Facial skin is not only exposed to age-related changes. Other external factors, such as sweat or environmental pollution, and internal ones, such as sebum production or germs and bacteria, can pose a threat.
What is an electric facial cleanser used for?
An electric facial cleanser is a great tool to remove all the impurities on the skin, especially in difficult areas!
You may have noticed that oil and dirt concentrate in areas such as the cheeks, nose, chin, and forehead. Thanks to the movements of the electric facial brush, you can insist on these areas to decongest pores, eliminate dead cells and keep skin clean.
I also use it to apply retinol cream or concealer cream so that it spreads and penetrates better.
Types of Electric Facial Cleansing Brush
The challenge of removing impurities from the skin to make it radiant can be approached in different ways. Depending on the method used, there are several types of electric facial cleansing brushes :
Rotary facial brush: usually has a circular head made of natural or synthetic bristles. It removes dirt with rotating movements. The variable intensity of the rotation sweeps away the impurities in its path. Removes more makeup and oils.
 Vibrating face brush: removes dirt from the face with vibrating movements. The head is usually made of soft silicone bristles under which the vibrating plate is hidden. It is recommended for routine cleaning.
 Sonic face brush: this is the one that offers the deepest cleaning (provided it is the right size). It uses high-frequency (sonic) movements that deliver results up to 10 times better than conventional models. If you have sensitive skin, this is the best solution.
Benefits of electric facial cleansing brush
The benefits of including facial Cleansing using a power cleaner in your routine are noticeable on several levels:
By eliminating dead cells, you encourage the skin to regenerate faster, so it always looks its best.
 The facial massage provided by these brushes improves the blood circulation of the face and rejuvenates it.
 Any cosmetics you use, from gels to moisturizers, will absorb into the skin better.
 Deep Cleansing of facial impurities promotes the creation of collagen, which delays the appearance of wrinkles.
 The shine provided by an electric facial cleansing brush is not provided by traditional manual Cleansing.
 Electric cleaners can more effectively remove unsightly blackheads and prevent them from reappearing.
 You only need a few minutes to perform a good facial cleansing and keep it looking healthy and pleasant.
How to use an electric facial cleansing brush?
Not all facial cleansing brushes have the same features, but they are very similar in the most basic ways. They share the same goal: to rid your face of impurities and give it a more youthful appearance.
The standard process for using a facial brush, regardless of any extras that may be incorporated into the device you choose, is as follows:
Important points:
Wash your face, preferably with lukewarm water, so the pore opens up. The skin on your face must be damp before starting the process.
 Apply a facial cleanser that respects your skin type. They usually have a gel texture, so they foam slightly. Never use chemical exfoliators or pearls with an electric facial brush, as you may damage the skin.
 Please turn on your electric facial brush to distribute the gel evenly over your face without pressing it down. Pay attention to problem areas: chin, nose, cheeks, and forehead. Cleaning is done from the center outwards and from the bottom up.
 After 1-2 minutes of using the brush (10 seconds on sensitive areas and 20 seconds on the forehead), rinse the face with lukewarm water until all gel is removed. Do not rub dry, but lightly pat dry with a towel.
 Apply your usual nourishing/moisturizing treatment.
 If your electric facial brush has an anti-aging mode, use it for this last point. Focus on massaging the temples, the space between the eyebrows, the folds of the nose, and the corners of the lips.
 For sensitive or dry skin, it is recommended that you use the electric facial brush no more than once or twice a week. For oily skin, you can use the brush once a day if you find it useful.
But don't be obsessed! Remember that the skin produces its protective oils and fats. When everything is rebalanced, these elements are essential to protect the skin and keep it looking healthy.
People also ask for our opinion on the Dyson airwarp.
The keys to choosing an electric facial brush
Although price and design can make one brush more attractive than another, I recommend that you take a closer look at these aspects to make your choice:
Important Points:
Type of Technology: We've already pointed out that rotary Cleansing provides easier access to problem areas, vibrating Cleansing is gentler, and sonic Cleansing is suitable for all skin types, including sensitive ones.
 Heads: each skin type is different, and needs can vary greatly from face to face. The ideal head would combine these three characteristics: natural bristles, rounded finish, and easy cleaning. In general, something always falls outside this pattern of perfection, so you will have to assess what interests you most.
 Accessories: Do you want to eliminate blackheads and comedones, massage your face or treat very sensitive areas? Keep an eye out for the accessories that come with the basic device. If nothing special is included or there is no possibility of buying them separately, their use can be quite limited.
 Speeds: The higher the speed level, the more cleaning control you have. It's as simple as that. Buying an electric facial brush with a single speed means taking a risk on what the manufacturer considers the optimal intensity for cleansing your skin. On the other hand, if you use a device with a minimum of 2 speeds (gentle and intense), you will have more possibilities of adapting its operation to your skin type.
 Battery and autonomy: although they are less and less popular, there are still brushes that work with batteries. However, rechargeable brushes are much more practical, ecological, and efficient. The price varies depending on the battery they are equipped with. Brushes offer 125 uses on a single charge, and others offer up to 1,000 uses.
 Waterproof: A waterproof face brush will always be more versatile than a brush you can't get wet. It is not an ancillary function. A good place to cleanse your face is in the shower, as you can use the steam to help open your pores, and you don't have to worry about splattering with this type of device. This small detail can distinguish between good and professional cleaning.
Do electric facial brushes work?
Electric facial cleansers work with vibrating, rotating, or sonic movements and are very effective in removing impurities and traces of makeup from the face. But this efficiency depends a lot on the model chosen (not all of them keep their promises). In this article, we analyzed the best models on the market and those I recommend.
Read More