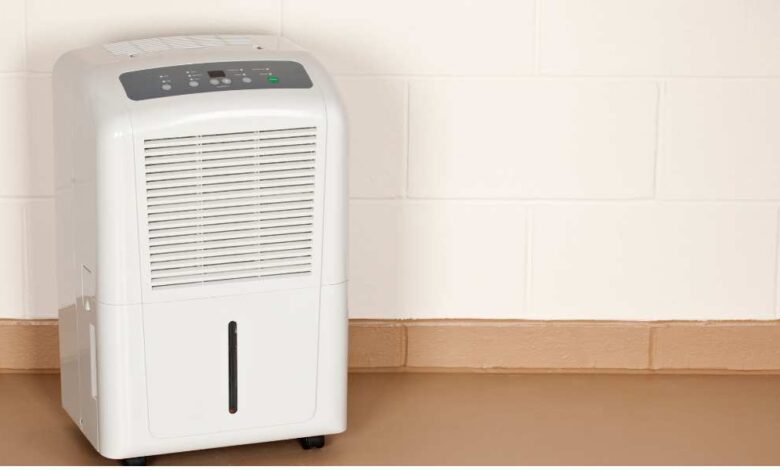 Nowadays, we can solve humidity problems in homes very effectively with a dehumidifier, which, in a few minutes, considerably reduces the humidity in the air.
In this article, we will present the best dehumidifiers of the moment and a buying guide to choosing your model.
Essential aspects to consider before buying a dehumidifier
Keep an eye on the extraction capacity. The higher it is, the faster and more efficient the dehumidifier will be. There are two main types: conventional or compressor dehumidifiers are the most powerful and efficient, while compact dehumidifiers have lower extraction capacity but are quieter and more energy efficient.
Also, comparing the size of the tank, a larger tank allows more autonomy without emptying it but also increases the size of the dehumidifier.
There are models with a drying function, which is very useful for drying laundry in winter. Keep this in mind if you think it might be helpful.
Pay attention to the sound level. Some models could be quieter.
1- De'Longhi 45 Pint Dehumidifier 24-Hour On/Off Timer, Energy Star 2.0, DDX45E, White
The De'Longhi DDX45E dehumidifier is a multifunctional dehumidifier with which you can reduce humidity while purifying the air and drying your clothes.
The De'Longhi combines an anti-dust filter with an anti-allergen filter certified by Allergy Standards as "anti-asthma and anti-allergy," a very successful model if you suffer from one of these conditions.
This model does not have wheels and the truth is that it is a bit heavy, especially with a full tank, but at least they have put a handle to carry it.
It has 4 operating modes and incorporates a continuous drainage tube and an antifreeze function. It is environmentally friendly, uses R290 gas, and is one of the quietest in its class.
An excellent dehumidifier, reliable, complete, and efficient, the only thing I miss is the hygrostat to set a target humidity percentage.
The De'Longui AriaDry measures 22 x 33.4 x 50.8 cm and weighs approximately 9 kg.
 The double filter system is removable and easily washable.
 The optimum working temperature is between 3 and 30°C.
pros
Efficient and quiet
 Design
 Dust filter
 Anti-allergen filter
cons
No hygrometer
 No timer
 no wheels
2- Pro Breeze 50 Pint Dehumidifier – 3250 Sq Ft Dehumidifiers for Home Large Room Basements with Humidity Sensor
The Pro Breeze 20L is one of the best options for removing humidity from homes and large rooms, as it can absorb up to 20 liters per day.
This model has a humidistat, a clothes-drying mode, a 24-hour timer, and a continuous drainage tube.
I have to admit I found it big and heavy, especially when filled with water, as the tank is 5.5 liters, although it has wheels and is easy to move around.
On the top, it has a panel of touch buttons and a screen where you can see the current relative humidity and the options selected. You can choose between 2 fan speeds, 4 operating modes (Normal, Low Power, High power, Clothes drying), a timer, and child safety.
The high wattage of this dehumidifier means it's not one of the quietest, and in auto mode, there's a rather annoying clicking sound when it starts and stops. Also, the drain tube is very short and requires you to place it close to a drain or buy a tube to extend it.
The Pro Breeze 20L is a very complete but easy-to-use dehumidifier. It incorporates a system of colored lights that indicate the degree of humidity in the air (red: +70%, green: 50-70%, and blue: 30-50%).
 The lights can be turned off at the push of a button, which is a nice feature if you're using it at night.
 Its dimensions are 66 x 39 x 26 cm, weighing about 14.7 kg.
 The extraction capacity is 20L per day at 30°C and 80%RH, below which the capacity decreases.
 The ambient temperature must be between 5 and 32°C to work correctly.
pros
Large water extraction capacity
 5.5-liter water tank
 With humidistat
cons
Short drain tube
 No filter to purify the air
3- BRITSOU Dehumidifier 3500 Sq. Ft 50 Pint Quiet Dehumidifiers for Home
Everything is increasingly connected and at your fingertips, and the dehumidifier is no exception.
The BRITSOU Dehumidifier is a model that stands out for its Wi-Fi connectivity and the possibility of controlling it conveniently from your smartphone, as well as the possibility of accessing much more complete and exciting information and programming than a classic model.
It has 3 speeds (quiet, medium, and turbo), a 24-hour timer, an exhaust tube, a laundry drying mode, and a refill sensor, although this sensor stops operation when the tank is complete, and some water may fall on the floor.
In addition, thanks to the hygrostat, this intelligent model can be regulated to maintain the relative humidity level at the correct values.
The BRITSOU Dehumidifier is available in two versions, the regular version with a 16-liter tank and the PRO version with a 20-liter tank.
An efficient model with a large tank and, therefore, also bulky, although it is easy to move thanks to the integrated wheels.
The Inventor BRITSOU Dehumidifier measures 35×24.5×51cm and weighs 15kg.
 You can manually select the relative humidity percentage between 35% and 85%RH or in SMART mode, keeping it around 45-55%.
 To control it, you need to install the INVmate app, which is compatible with IOS and Android.
 The refrigerant is R290, which is green and environmentally friendly.
 It incorporates a self-diagnosis which indicates on the screen any error, including a refrigerant leak.
pros
Controllable from a smartphone
 Hygrometer
 Environmentally friendly refrigerant
 Laundry drying function
cons
No filter to purify the air
 When the tank is filled to the brim, some waterfalls fall to the ground.
4- Pro Breeze Dehumidifiers for Home, 225 sq ft Mini Dehumidifier
Suppose you have no problem with space and want maximum efficiency. In that case, the best option is a model with a compressor like the Pro Breeze, a dehumidifier capable of extracting 12 liters of water per day, a tank of 1 .8 liter with a fill sensor, and a drain tube (so you don't have to worry about emptying the tank).
In addition, this model incorporates an automatic humidity sensor (humidistat), so you are sure to keep the humidity level high enough, and you can program the level of relative humidity you want to achieve.
A powerful dehumidifier with 3 power levels and a "dry clothes" function, a 24-hour timer, a lock mode that prevents children from handling it, and a night mode that reduces power and noise levels.
The Pro Breeze is a dehumidifier for medium-sized rooms, measuring 30 x 22 x 44cm and weighing 9.5kg.
 The operating range of this unit is 5-32°, be careful if you live in scorching climates, as this will decrease performance.
 To give you an idea, the extraction capacity varies from 12L/day at 30°C and 80% relative humidity to 6L/day at 27°C at 60% relative humidity.
pros
Good value for money
 Humidistat
 Laundry drying function
cons
No filter to purify the air
 Performance halves above 32º.
5- TECCPO 3500 Sq.Ft Dehumidifier, 35 Pint Dehumidifier for Home and Basements
The TECCPO BigDry is a compact but efficient dehumidifier with an extraction capacity of 750 ml/day, an easily removable 1-liter tank, 2 speeds, a filling warning, and a modern and elegant design.
In addition, this model has a double function since it includes a high-efficiency HEPA filter to purify and clean the air, eliminating dust, pollen, and smoke and avoiding the allergy problems associated with them.
The Cecotec is an excellent option if you're looking for a dehumidifier that purifies the air and is quiet, as it works with a Peltier plate. However, it could be more efficient at removing water than the compressor type.
If you like the idea of ​​a dehumidifier that also purifies the air, check out our article on the best 2-in-1 dehumidifiers and air purifiers.
The Cecotec is very easy to use. Everything is controlled on a touch panel, where you can select the dehumidifier, purify, or both functions simultaneously. The tank has a fill sensor that disables operation during water spillage.
This model does not have ambient light, although the buttons are backlit.
It is a compact model whose dimensions are 37.3x22x20cm, with a weight of approximately 3.16 kg. There are two colors to choose from black and white.
pros
Dehumidifiers and purifies the air
 Quiet
 2 speeds
 Modern and elegant design
cons
1-liter tank
6- COSVII Dehumidifier for Bedroom, Up to 680 Sq.ft Small Dehumidifier Ultra Quiet Dehumidifiers
If you only want to dehumidify a small room or closet and your humidity problem is manageable, you don't need a super powerful and expensive dehumidifier.
The Aiodo is a straightforward model to use, with a single mode of operation that is activated by pressing a button and with a removable tank and a filling sensor that stops it when there is no more water. Inside.
Indeed, it is not one of the fastest to eliminate humidity, but on the other hand, it consumes very little. It is also practical, compact, and silent. It is an excellent option for small rooms.
The Aiodo is a very easy-to-carry model, made of ABS plastic and measuring 14.5 x 14.5 x 21.7 cm. The weight is about 1.2 kg. This model uses a Peltier thermal cooling plate and a silent brushless fan to move the air.
For it to work correctly, the room temperature must be above 15ºC and have a relative humidity of 40% or more.
Although the manufacturer states that it is designed for a maximum of 20 m², this dehumidifier is intended for small rooms of around 7-8 m², wardrobes, or storage rooms.
pros
Cheap
 Small footprint
 Low power consumption
 Low noise level
cons
Only for small parts
 The blue night light cannot be turned off
 900ml tank
Guide to everything you need to know about dehumidifiers.
Make no mistake about it, if the humidity in your home is high, problems will appear sooner or later, stains, swollen doors, rust in metal areas, and even health problems.
The first thing to know is whether you need a dehumidifier; for that, you need to check the relative humidity with a digital hygrometer like this one. They are straightforward to use and quite affordable. Another solution is to get an air quality meter, which, in addition to humidity, measures CO2 and other potentially dangerous compounds.
If the relative humidity exceeds 60-70%, you may need a dehumidifier. On the other hand, if you are under it, you need a humidifier.
What is a dehumidifier?
A dehumidifier is a device that removes moisture from the air in a room and stores it in a reservoir.
To do this, manufacturers use different methods to cool the air as water condenses and rushes into the tank.
The most commonly used cooling methods are thermoelectric methods (such as Peltier plates ), which produce cold from an electric current, or those using a compressor, which compresses air to extract heat from it, such as air conditioners.
What should I choose, Peltier or a compressor?
Peltier plates produce cold with a small electric current. They have a meager electricity consumption. Still, they are also much less potent than compressors, so they take much longer to extract humidity from the air.
To match the extraction capacity of a Peltier dehumidifier to that of a compressor dehumidifier, it would need to be equipped with many Peltier plates in parallel, which would significantly increase its power consumption and size.
Therefore, Peltier units are not suitable for dehumidifying large rooms, but they are the best choice for pantries, storage rooms, small bathrooms, or where noise reduction is essential. Minimum.
But you need to reduce humidity in rooms more prominent than 8 meters. In that case, it is better to forget the compact models and opt for a compressor model with sufficient extraction capacity to dehumidify the complete room.
What should you consider when choosing the best dehumidifier?
As you will have seen, a dehumidifier is a device that needs to be plugged in for a long time before it can do its job, and there are significant differences between models, so it is good to do your research before making your choice.
Let's see what to pay attention to:
The consumption
No matter how powerful a dehumidifier is, you should know that you won't be running it for 5 minutes daily to keep humidity at bay.
Dehumidifiers need time to do their job, and the humidity doesn't go away forever, so you'll need to use it almost every day or every few days and for a few minutes or even, depending on the degree of humidity, for hours.
The good news is that dehumidifiers are generally energy-efficient, although there are differences between different models, which is another point to consider.
As mentioned above, those based on the Peltier effect consume much less, but their extraction capacity is much lower than those with a compressor.
Choose a dehumidifier with enough power for the room. The higher the extraction capacity, the less it will have to be plugged in and therefore consume less energy.
The sound level
Dehumidifiers need to blow air inside the device to do this. They use a fan. That's why they will always make noise.
As we have already mentioned, models that incorporate a compressor are noisier, but this also depends on the design and the quality of the manufacturing materials since manufacturers use different ways of isolating the compressor so that there is less noise kind of device.
If you are going to use a dehumidifier in a room that can be disturbing, you should pay attention to the noise level and make sure that the model you choose does not exceed 40-45 dB.
However, this is usually the device's maximum sound level of the device and if the dehumidifier has multiple modes or speeds, you can lower the sound level when needed.
Some dehumidifiers also feature a night or silent mode, decreasing performance and fan speed and significantly reducing noise levels.
House or room size
The larger the room with humidity problems, the greater the extraction capacity of the dehumidifier should be.
The maximum room size in square meters is usually indicated in the device's specifications.
Compact models without a compressor work well in rooms with a maximum size of 7-8 m². In the case of models with compressors, these data vary according to their power, and we can find models for a maximum room size of 20m² and others that can dehumidify up to 120m².
In summary, choose a powerful dehumidifier, mainly if you use it in a large room.
Design, dehumidifier size, and tank capacity
The dehumidifier will be part of the decoration of the house, and a neat and modern design is preferable to something ugly and ugly.
The device's size is usually related to the power and the size of the water tank.
If you don't have space issues, a dehumidifier with a large tank that you won't have to constantly empty is always better.
If you opt for a large model, make sure it has wheels to move it around, as these devices can weigh 10 kg or more, depending on how full the tank is.
Drainage
Some models can connect a drain pipe to a domestic drain.
This allows you to leave it running unattended without having to worry about it shutting down because the tank is full.
This option is beneficial for eliminating humidity in basements or unoccupied dwellings. Still, it must be taken into account that the dehumidifier must be raised so that the exhaust pipe has a particular slope.
Air purifier function
Contrary to popular belief, the air inside our home or office is much more polluted than outside. Due to poor ventilation, viruses, bacteria, dust, and many health-damaging compounds and gases circulate freely.
That's why it's excellent if the dehumidifier includes a HEPA or high-efficiency filter.
This way, the air will come out dry and clean, improving air quality and preventing many health and allergy problems.
It must be taken into account that this filter must be changed when it gets dirty, so it is an additional operating cost, although it usually lasts several months.
There are also models with a washable filter, which are less efficient than HEPA filters, but more leisurely and cheaper to maintain. See also: Comparison of the best air purifiers with HEPA filters.
Laundry drying function
In winter, the air is loaded with humidity, and it takes a long time to dry laundry, not to mention the musty smell it leaves after hours on the clothesline.
The laundry drying function allows the dehumidifier to be placed in a laundry room. It dries the laundry much faster in winter or when the air is humid, and the laundry does not dry.
Not all dehumidifiers are suitable for this purpose, so if you need one, make sure it includes this feature.
This involves placing the appliance under or next to the laundry (taking care not to cover the grids) and activating "laundry mode," which sets the appliance to maximum power to maintain the humidity below 25% RH.
Suppose you need a secure place to hang the laundry. In that case, it is advisable to cover the drying rack and the dehumidifier with plastic or similar material because it will be tough to lower the humidity to this level in a large or open room. Care must be taken not to cover the grilles or vents of the dehumidifier.
Operating temperature
Regardless of the power and efficiency of a dehumidifier, external conditions influence the extraction capacity, which is why manufacturers provide efficiency values ​​for specific humidity and temperature conditions.
For example, suppose a model absorbs 12 liters per day at 30°C and 80% relative humidity. In that case, this quantity can be reduced by half (6 liters) if the temperature drops to 25°C and the humidity is reduced to 60%.
In other words, the lower the air humidity, the more difficult it is to extract water and the lower the extraction capacity.
The temperature also has a significant influence since the higher the temperature, the more water the environment admits and, therefore, the more the dehumidifier can extract. Conversely, the lower the temperature, the lower the extraction capacity. Considerably.
Suppose you plan to use it in a basement that reaches shallow temperatures. In that case, buying a dehumidifier with an antifreeze function is better because it will work better in lower temperatures.
Who should buy a dehumidifier?
Dehumidifiers have evolved a lot in recent years, and their price has also fallen, making them accessible to everyone.
However, not everyone needs a dehumidifier, and one should only be justified in certain circumstances, such as the following :
If you have measured the relative humidity using a hygrometer, it is higher than usual.
 If you notice water condensation on the windows in the morning.
 If you live near the sea.
 People with asthma or other respiratory problems.
 If you need a suitable place to dry your clothes.
 If you have a baby or are about to have one, excessive humidity is a common trigger for asthma in newborns.
 If you already have moisture issues, like mildew stains, peeling paint, swollen woodwork
Benefits of having a home dehumidifier
Avoid problems caused by excessive humidity in the house: Excessive humidity damages walls swells and deforms furniture and doors. It is even worse in coastal areas because it corrodes all metals, including faucets.
 Solve the problem of condensation: In dwellings with high humidity and with construction defects or old buildings, condensation can appear. It is more visible on doors and windows, where water appears inside, especially when the temperature contrast between outside and inside is more significant (in the morning). This temperature contrast causes the water to condense; therefore, you can see how it runs down the glass, even forming puddles.
 It solves the problem of humidity and fungi: Fungi reproduce from 70% relative humidity, and the spores can move throughout the house, colonizing new places and causing respiratory problems in the house's inhabitants. Home.
 They prevent the appearance of respiratory health problems and allergies: An environment that is too dry dries out the mucous membranes and can lead to the appearance of respiratory diseases, but if the humidity is excessive, it is also harmful, favoring the appearance of respiratory diseases such as asthma, sinusitis or bronchitis and adversely affecting muscles, bones, and joints.
Tips for getting the most out of your dehumidifier
Buy a dehumidifier with enough capacity for the size of the room you plan to place it in.
 Find a suitable location away from fireplaces, heaters, stoves, or other heat sources.
 Choose a model with a timer to keep humidity at bay without having to turn it on manually. Another option is to connect it to an external timer or home automation socket, but be aware that some models only turn on if you manually press the button.
 If moisture has already appeared, clean it with a specific product. The dehumidifier will keep it from reappearing, but it won't make the damp spots disappear. You won't fix anything with a dehumidifier if the dampness is due to a leak. Fix the leak first.
 Leave space at the front and back for the air inlet and outlet, never cover the grilles, and follow the manufacturer's cleaning and maintenance instructions.
What are the best dehumidifier brands?
Among the most recognized brands in the field of dehumidifiers are De'Longhi, Orbegozo, Daitsu, and Duronic, but some brands are coming into force, like Pro Breeze or Cecotec.
What is the best dehumidifier?
It depends a lot on the needs of each person. Dehumidifiers incorporate many functions, and each model excels in one area. For you, extraction capacity or consumption is a priority, but for others, it may be a laundry drying or air-purifying function.
In this article, you can see which are the most recommended models.
Where to buy a dehumidifier?
You can find dehumidifiers in department stores, air conditioning stores, or online platforms such as Amazon if you prefer to buy them from your home.
Read More