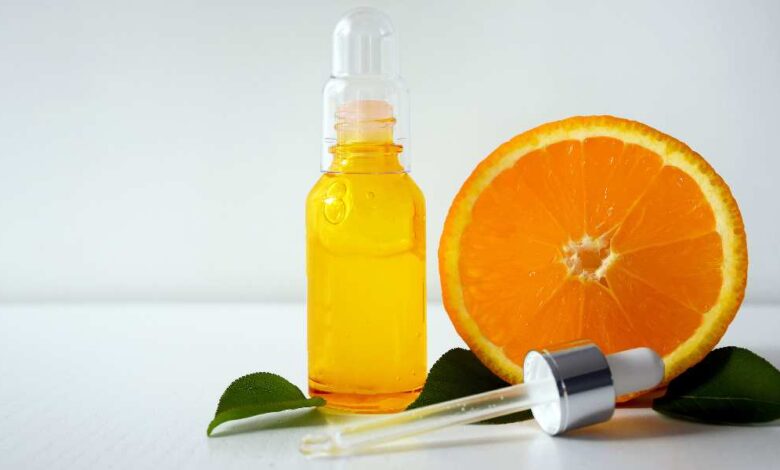 Did you know that vitamin C is a powerful ally in preserving the health of our skin?
Vitamin C is a powerful active that prevents cellular oxidation and contributes to collagen formation, making it one of the star vitamins in cosmetics.
So what are the main benefits of using topical vitamin C serums?
As incredible as it may seem, it brings radiance and elasticity and prevents premature skin aging!
What You Should Know Before Choosing Your Vitamin C Face Serum
Wrinkles appear due to the skin's loss of elasticity due to aging, and collagen is the main factor responsible for this elasticity. Vitamin C is essential for the synthesis of collagen.
Vitamin C is a powerful antioxidant that helps protect against free radical damage and clear blemishes by inhibiting melanin production in the skin.
Topical use of vitamin C on the face is safe as long as it is used responsibly and usually has the only rare side effect of irritation.
Vitamin C serums are often alternated with retinol creams, with many brands promoting the two products as complementary.
Amazon's Top 3 Bestselling Vitamin C Serums of the Week
The Best Vitamin C Face Serums: Comparison
La Roche-Posay Pure Vitamin C Face Serum with Hyaluronic Acid & Salicylic Acid. Anti-Aging Face Serum
Paula's Choice C15: The Best Premium Vitamin C for the Face
Paula's Choice C15 Face Serum is formulated with key ingredients that make it suitable for all skin types. It is highly effective in combating most skin concerns and leaving skin youthful and radiant.
Pure vitamin C concentrated at 15%: restores radiance and evens out the complexion.
 Vitamin E combines its antioxidant power with vitamin C to fight more effectively against the signs of aging.
 Ferulic acid: protects against environmental pollutants.
 Hyaluronic acid: restores the skin's moisture barrier and retains moisture.
Vitamin C Serum for Face 20% with Hyaluronic Acid and Ferulic Acid, Anti Aging Collagen Booster
All Natural Advice: Consumers' Top Rated Vitamin C for Face
This Canadian company stands out for a serum with a high concentration of vitamin C (20%) and for the quantity of product contained in its container (60 ml), which also includes a spray to facilitate its use.
All Natural Advice is formulated with organic ingredients, hyaluronic acid, stable vitamin C, and sodium ascorbic phosphate. This vitamin C derivative is very effective and absorbs more deeply in contact with your skin.
The results are visible in just a few weeks:
Fine lines are corrected.
Skin imperfections are reduced.
The skin is tightened.
Radiance is restored.
The skin is optimally hydrated.
Zone – 365 Vitamin C Topical Face Serum with Hyaluronic Acid, Vitamin E, and Retinol to Remove Dark Spot 
Thecoolskin Super Facial: The best organic and vegan vitamin C serum for the face
Thecoolskin Super C Facial combines the active ingredients of stabilized vitamin C, hyaluronic acid, vitamin E, aloe vera and witch hazel in its formula to offer a very effective product to fight against aging. Premature and bring hydration and radiance to all skin types.
Thecoolskin Super C Facial is a fresh, light, practical and easy-to-use serum. Skin becomes radiant and even-toned within weeks of use.
Hyaluronic Acid Serum for Face – Smoothing Peptide Complex Serum by 180 Cosmetics Beauty is Timeless – Skin Tightening Cream
Satin Naturel: The Best Vegan Vitamin C Serum for Smoothing Scars and Acne Marks
Le Satin Naturel offers an organic formulation with vitamin C and hyaluronic acid as the main active ingredients. The result is a vitamin C serum that, in addition to helping to reduce wrinkles and expression lines and smoothing marks and minor scars caused by acne, also manages to hydrate deeply.
Its double formulation of vitamin C is recommended for combination skin, and its effects translate into younger, smoother, brighter skin. But if you have dark circle then concealer cream best for you.
Lyfetrition Hyaluronic Acid Serum for Skin, Moisturizing and Hydrating Serum for All Types of Skin, 100% Natural Face Serum with Vitamin C &
Florence: Another good option
Florence serum is formulated with organic ingredients, which make it a unisex product suitable for vegans and all skin types (combination, dry, oily, mature, sensitive.
Its use effectively reduces expression lines, wrinkles and acne marks.
The active ingredient in Florence Vitamin C Serum is Sodium Ascorbyl Phosphate, a potent stabilized derivative of Vitamin C that contributes to radiant, youthful-looking skin. It is also enriched with vitamin E to accelerate cell regeneration, as well as jojoba oil and aloe vera to provide instant hydration in the deep layers of the skin.
Everything you need to know about vitamin C serums.
Vitamin C (ascorbic acid) is essential for our body's proper functioning, especially during growth and development.
Here's everything you need to know about this vital vitamin.
Use in cosmetics, vitamin C for the face.
The cosmetics industry uses vitamin C as a powerful active ingredient to improve facial skin's texture, luminosity and firmness.
But since this nutrient is unstable to light, heat, and air, it degrades quickly. Therefore, not all cosmetic products containing vitamin C are of the same quality and do not have the same beneficial effects on the skin.
It's also worth remembering that skincare shouldn't just be a cosmetic issue; treating the skin properly to protect it is a unanimous recommendation from dermatology professionals.
Topical use of vitamin C for the face
We've already seen the importance of vitamin C and its benefits for the skin, and now we'll focus on everything you need to know about using this nutrient topically. Thus, you can choose the most effective and suitable product for your skin type.
For whom is vitamin C recommended for topical use?
Except for people with very sensitive or allergic skin, vitamin C cosmetic treatments can be used to improve the health of all skin types and are especially recommended for:
People whose skin has been damaged by radiation: People who are continuously exposed to the sun's rays or those who are used to tanning with UVA rays have a high risk of skin damage. For this sector of the population, vitamin C is an essential ally because, in addition to helping vitamin E in its photoprotective function, it regulates the synthesis of melanin, acting as a powerful depigmenting agent of dark spots due to exposure to the sun.
 People over 30: Generally, it is after 30 that the skin begins to suffer from a lack of hydration, the appearance of spots, crow's feet, and small expression lines. Therefore, starting with a vitamin C cure is essential to combat the deficiencies that cause these skin problems in mature skin.
 People with dull skin: poorly oxygenated skin is soft skin with a greyish complexion. This type of skin is prevalent among smokers or people who spend many hours a day indoors and under artificial light. In these cases, the topical use of vitamin C brings the oxygenation the skin needs to regain its luminous appearance.
Container type of vitamin C cosmetics
Cosmetic products that contain vitamin C come in different formats. Some manufacturers market a full line of products containing this nutrient.
6 Ampoules: They have a liquid texture and generally contain high concentrations of vitamin C in their formulation. They are applied directly to the skin but once opened, to avoid their degradation, they must be used within a maximum of 24 hours.
 Serum: They have a very light and easily absorbed texture, making them particularly suitable for people with oily skin. They offer an intensive treatment that nourishes and illuminates the skin of the face and neck.
 Face cream: As a primary treatment for skin care, face creams that include vitamin C in their formulation can provide the benefits of this nutrient long term.
 Vitamin C powder: This format allows vitamin C to be mixed with face cream or serum.
 Exfoliants: Exfoliants containing vitamin C, besides removing dead cells, help oxygenate the skin and give it more luminosity.
 Facial cleansers: More and more facial cleansers include vitamin C in their formulation. A vitamin C cleanser as part of your daily skincare ritual helps keep your face and neck looking brighter and fresher.
See also: Comparison of the best facial cleansing brushes
In all these formats, vitamin C can be found as the only active ingredient or with other ingredients that also improve the excellent condition of our dermis: photo protectors, antioxidants, vitamin E, hyaluronic acid, moisturizers
Specific Benefits of Topical Use of Vitamin C
We already know the benefits that vitamin C brings to our body, but we want to mention explicitly how this vitamin used topically influences the skin of the face:
Its high protective power against free radicals prevents premature aging of the skin.
 Topical use of vitamin C forms a second protective barrier against the harmful effects of UV rays. In the daily routine, it is recommended to use it in the morning before applying SPF sunscreen.
 It evens out the complexion and, with continued use and brightening the skin, it helps gradually reduce dark spots.
 It reduces skin redness and helps fight acne, rosacea and blackheads.
 Its firming effect and role in the production and synthesis of collagen help eliminate expression lines and small wrinkles in the skin.
 It promotes optimal hydration of all layers of the dermis.
back to menu ↑
How to choose a good vitamin C serum for the face?
We have already mentioned that one of the main problems with vitamin C is its high breakdown rate. Therefore, an excellent dermo-aesthetic product containing vitamin C as an active ingredient must meet specific requirements in its formulation to be effective.
Formulation
Not all products claiming to contain vitamin C are valid, as it is a volatile compound, and to be effective, it must be formulated under particular conditions. Here are the factors to consider when choosing the right product
Types of Vitamin C
Two different types of vitamin C are used for topical use:
L-ascorbic acid is the pure and most effective form of vitamin C, but it is also the most unstable and irritating. Its primary disadvantage is that it oxidizes very quickly and can lose a large part of its properties in contact with air, light or heat.
 Stabilized vitamin C: This pure vitamin has been processed through biotechnological processes and is, therefore, more resistant to oxidation. Products formulated with stabilized vitamin C are generally better tolerated and less expensive but less effective than pure vitamin C.
Concentration
Although the effectiveness of a cosmetic depends directly on the vitamin C concentration, it is wrong to think that the higher the concentration, the more beneficial it is because high concentrations can be irritating.
However, the type of skin and its reaction can determine each person's optimal concentration of vitamin C.
Only from a minimum concentration of 5% vitamin C begins to have an antioxidant effect and act on collagen synthesis.
A 10% concentration potentially increases effectiveness and does not irritate, making it a good solution for people with sensitive skin. While 15-20% is the most effective concentration, it can be problematic due to the irritation it can cause.
pH
PH is another factor that determines the effectiveness of the product. Ideally, the chosen cosmetic should have a pH of 3.5 or less. It will lose effectiveness if it is higher because it will not penetrate the skin. If it is below 2.5, the product in question will be too acidic and cause irritation.
Packaging
Although it may seem trivial, the type of packaging has a decisive influence on the protection of the product and, therefore, on its effectiveness. Vitamin C facial cosmetics should be packaged in opaque containers that protect them from light and prevent oxidation. Avoid products packaged in clear glass jars as they will not be effective.
On the other hand, you must remember that the most effective products are formulated in an aqueous base and in contact with air, they begin to oxidize and lose their effects. Ideally, the packaging should be airless, i.e. it should not contain air or allow air to enter.
Which vitamin C or vitamin C derivatives should I use according to my skin type?
We have already mentioned that the dermo-aesthetic industry uses stabilized vitamin C in most of its products because it is easier to formulate and more resistant to degradation than pure vitamin C.
There are different vitamin C derivatives, and while they all offer expected benefits, the choice should be made based on the type of skin and the skin problem being addressed. Here are the most common derivatives.
L-ascorbic acid (LAA)
It is one of the most widely used active ingredients in cosmetics and the most prone to oxidation.
This ingredient is ideal for you if your skin is between regular and oily. You need to check that its concentration is 15-20% and its pH is between 2.5 and 3 to ensure the antioxidant properties that allow you to prevent the appearance of expression lines or small wrinkles and help stimulate collagen production.
Magnesium Ascorbyl Phosphate (MAP)
This derivative is characterized by more excellent resistance to oxidation than L-ascorbic acid.
It is particularly suitable for treating pigmentation problems and helping increase collagen production. It is ideal for all skin types, but it must be effective in a concentration between 5 and 15%.
Sodium Ascorbyl Phosphate (SAP)
Sodium ascorbyl phosphate is much more stable than the two derivatives mentioned above and is more resistant to oxidation.
Its antimicrobial properties allow it to fight oily skin, acne and inflammation, but for you to benefit from its properties, the concentration must be between 5 and 15%.
Ascorbyl tetraisopalmitate
This oil-soluble derivative penetrates the skin faster than other types of vitamin C. It visibly reduces inflammation and protects DNA cells from damage caused by UV exposure.
It is suitable for all skin types at 10-15% concentrations.
Ascorbyl glucoside
This derivative is very mild so it can be a good choice for sensitive skin. It is water soluble and significantly affects sunspots and age spots.
Does the use of vitamin C face serum have any side effects?
Daily topical use of vitamin C over prolonged periods poses no risk to the health of our skin. It can be safely used with other everyday topical anti-aging actives such as sunscreens, tretinoin, antioxidants, and glycolic acid.
The only side effects that may occur are mild and mainly manifest in orange discoloration of the skin and lightly pigmented hair.
Vitamin C can cause very high concentrations of stinging, rashes, and dryness. With moisturizer, you can treat these symptoms easily.
How to apply vitamin C on the face?
If you haven't used topical vitamin C before, starting with a low-strength cosmetic is a good idea so your skin can get used to this nutrient. It is also advisable to test the product on the temples or the inner wrist area to ensure that it does not irritate your skin.
Another factor to consider so that the product retains its effectiveness is to keep it away from humidity and direct exposure to light.
You can apply pure vitamin c treatment in the morning or the evening. But to enjoy all its benefits, it is best to apply it in the morning because you will also protect your skin from oxidation and environmental pollutants. If you are using a derivative, you should apply it twice daily (morning and evening), following the exact directions.
To avoid irritation or redness, use your serum sparingly (2-3 times a week), and once your skin gets used to it, you can use it daily. You must apply it after cleansing your face and before any other facial treatment.
Amount of product to use:
As for the amount of product to use, know that a few drops are more than enough to cover the entire face. If you apply too much, your skin will not assimilate the product, and small balls will appear, which you will have to remove.
For correct application, start in the center of the face and spread the product outwards using light circular movements. Please pay attention to the eye contour; given its fragility, it is advisable to use specific cosmetics such as concealer creams for this facial area.
When your skin has completely absorbed the serum (about 15 minutes), you can continue with the moisturizer, which will help seal in and lock in the active ingredients. Then, if necessary, you can apply sunscreen and, finally, your foundation.
It is essential to discard the serum if you notice any color change, as it has oxidized and will not be of any use to you. Exfoliating your skin at least once a week (maximum every 15 days) is essential because vitamin C tends to dirty the pores.
What are the functions of vitamin C in our body?
In the Human body, many chemical processes involve vitamin c as a nutrient, and a deficiency in it can lead to poor overall health. But let's proceed step by step. First, let's define the internal processes in which it is involved:
It acts as a powerful antioxidant that prevents the damage that free radicals can cause when they accumulate in the body: cancer, arthritis, or cardiovascular disease.
 Collagen formation involves vitamin c.
 It helps skin wounds to heal.
 It helps combat occasional fatigue.
 Improves physical performance.
 It helps strengthen the immune system.
 Helps in the absorption of iron, calcium, and folic acid.
 Promotes Cognitive Activity: Helps maintain attention and reduces mental stress.
 It promotes hair growth and prevents dryness and split ends.
 It strengthens the nails and promotes their growth.
 It acts as a defense against ultraviolet rays.
 It helps remove spots and sun damage by inhibiting melanin production in the skin.
 The skin appears more radiant and firmer.
 Alleviates wounds caused by acne, cuts, or bruises by reducing inflammation and redness.
 Prevents wrinkles and signs of aging.
Now you can understand why vitamin C has become the star ingredient in cosmetics. However, taking it orally is enough to reap all its incredible benefits for your skin.
Although it is essential for the proper functioning of the organs to consume the daily recommended amount of vitamin C, its systemic absorption by mouth does not guarantee optimal levels for the skin to benefit fully from its benefits.
Topical use is, therefore, a much more direct and effective way to benefit from all the properties this nutrient brings to our dermis.
What is the recommended daily amount of vitamin C?
The amount of vitamin C our body needs daily depends on our age. The recommended amounts by age group and gender are as follows:
Infants between 0 and 12 months: 40-50 mg
 Children 1 to 8 years old: 15-25 mg
 Children 9 to 13 years old: 45 mg
 Teenagers 14 to 18 years old: 75 mg for men and 65 mg for women.
 Adults: 90 mg for men and 75 mg for women.
 Teenagers and pregnant women: 80 mg and 85 mg, respectively.
 Adolescents and breastfeeding women: 115 and 120 mg, respectively.
Although excess ascorbic acid is excreted from the body in the urine, it is recommended not to exceed 2000 mg daily. In the case of smokers, 35 mg should increase the daily amount of vitamin C.
Symptoms of Vitamin C Deficiency
Eating raw fruits and vegetables easily satisfies daily vitamin C requirements, so a deficiency is rare.
Severe vitamin C deficiency leads to scurvy, a disease that manifests with symptoms of generalized weakness, gingivitis, anemia, and skin hemorrhages.
Besides diet, certain infections or prolonged diarrhea can lead to a deficiency. In this case, the most common symptoms are:
Irritability
 Exhaustion
 Joint pain and swelling
 nosebleeds and bleeding gums
 Gingivitis and weakening of tooth enamel
 Poor wound healing
 bruises
 Dry skin and hair
 Osteoporosis and bone fragility
 Weak immune response to infections
 Loss of appetite
Symptoms of Too Much Vitamin C
As our body cannot store this vitamin, an excess in the diet will not likely harm our health.
In the case of vitamin C supplementation, high doses can lead to various disorders:
Nausea, vomiting, and diarrhea.
 Stomach pains
 Abdominal cramps
 headache
 Insomnia
Where to find vitamin C?
Vitamin C is a nutrient we cannot synthesize or store because it is excreted in the urine.
Since our cardiovascular, skin, bone, and immune health depend to a large extent on the amount of vitamin C the body receives, it is crucial to know where the primary sources of this essential nutrient are:
The food.
 Supplements
 Cosmetic products
Food, a natural source of vitamin C
Maintaining a balanced diet and a healthy lifestyle guarantees the minimum recommended amount of vitamin C that our body needs.
The natural source of this nutrient is found in the foods we eat, especially fruits and vegetables: citrus fruits (oranges and grapefruits), guava, papaya, kiwi, strawberries, tomatoes, broccoli, Brussels sprouts, and peppers.
An interesting fact is that light, heat, and oxygen destroy this vitamin, so it is advisable to consume these foods raw.
Supplements, a synthetic source of vitamin C
Vitamin C supplementation is commonly used as a remedy for cold symptoms or to relieve occasional fatigue.
There are also situations where supplementation is necessary to compensate for a deficiency or because nutritional needs are more significant. For instance :
The elderly
 Pregnant and breastfeeding women.
 People are suffering from pathologies such as fractures, infections, cancer treatment
 People who smoke or drink alcohol.
 People who engage in physical activity at a high level of intensity.
Regardless, recent studies have supported the fact that vitamin C supplementation can help increase the concentration of this nutrient inside skin cells.
This means that synthetic vitamin C supplements enhance the oxidative protection of natural vitamin C.
It should also note that the supplements and the natural form of vitamin C have the same chemical structure, so there is no difference in bioavailability between the two states.
Read More