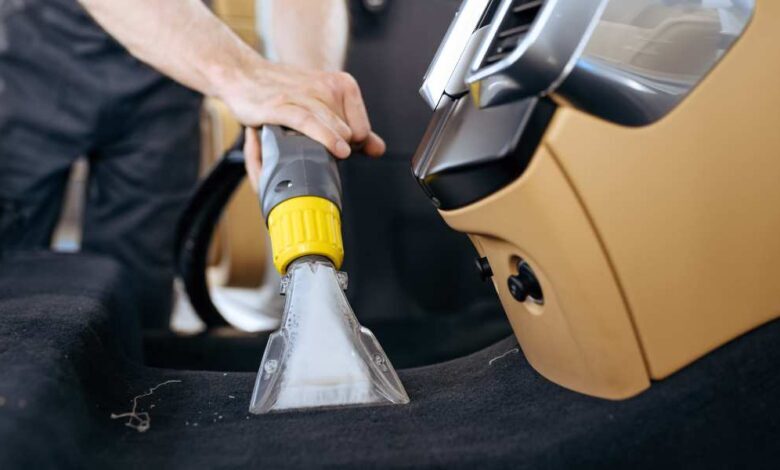 Which vacuum cleaners to choose to clean your car effectively? Are there specific vacuum cleaner models for cleaning your car?
In this article, I will introduce you to the best car vacuum cleaners to make this task more accessible and less tedious. These models are less potent than stick vacuums but more portable.
Comparison of the best car vacuum cleaners
1- Shark WV201 WANDVAC Handheld Vacuum, 
Shark Handheld: Car vacuum cleaner with two batteries (30 min), lightweight and high power.
This powerful car vacuum will allow you to reach every corner of your car thanks to its compact size and lightweight (640 gr).
Its power of 115 W makes it one of the most powerful vacuum cleaners with its weight. Its main advantages include a conical nozzle that collects large debris and fine dust, a crevice nozzle (for hard-to-reach places), and a special nozzle for pet hair.
The running time of the Shark portable car vacuum is 15 minutes, but thanks to the two included batteries, this time is doubled. Finally, it has a relatively quick charge time of 2 hours and 30 minutes.
Pros
Light and compact
 Powerful
 Incorporates two batteries
Cons
High price
 Small reservoir (75ml)
Black & Decker PV 1820 L
Black & Decker PV1820L: A Powerful Car Vacuum
It is a powerful car vacuum cleaner (35 W) equipped with a high-performance motor which, together with its 18 V lithium battery, allows you to clean any dirt. We want to highlight its swivel head that rotates up to 200º and its eight positions that enable you to easily access every corner.
Another point in its favor is the ECO intelligent charging technology which charges four times faster than other car vacuum cleaners. On the other hand, its tank has a capacity of 440 ml and is translucent. It lets you know when to empty it.
The battery life is 10 minutes, more than acceptable autonomy for quick cleanings. It also has a built-in LED indicator that lets you know the battery charge status at all times and alerts you when it's low by flashing for 30 seconds.
As for the emptying is very easy thanks to its side valve by which you eject the waste directly into the bin without getting your hands dirty.
Pros
Swivel head and eight positions
 "Fast" charging
 Very powerful
Cons
Battery life (10 mins)
 Loud (85dB)
Bissell, 1782 Pet Hair Eraser Cordless Hand and Car Vacuum
Bissell: A car vacuum cleaner with a motorized roller to suck up your pet's hair
This model is one of the most recommended for pets because it has a motorized roller brush that loosens and removes hair and dirt quickly, allowing a thorough cleaning.
Battery life is low: 12 minutes, typical for car vacuums of this size, and the estimated charging time is 5 hours. Thanks to its two-stage filtration system, the filter will last much longer and be easier to clean.
The tank capacity is high (600 ml), which is very useful if you store a lot of dirt in your vehicle, but we have the disadvantage of its low autonomy.
In addition to the brush above, it has an attachment for upholstery and another to reach the most difficult corners, such as the gaps between car seats.
Pros
Large tank
 Perfect if you have a pet (special brush).
Cons
BLACK+DECKER dustbuster QuickClean Cordless Wet/Dry Handheld Vacuum, 
BLACK+DECKER: A car vacuum cleaner for sucking up solids and liquids
It is a compact and light vacuum cleaner with which you can clean solid and liquid dirt. Its lithium battery (7.2 V) reaches an autonomy of 8 minutes, maintaining a constant suction power (220 mm) throughout the operation, which makes it perfect for quick cleaning.
It incorporates a large nozzle that, combined with its power (15.5 W) and airflow of 540 liters/minute, will allow you to vacuum large particles such as animal hair.
The reservoir has a capacity of 370ml, and thanks to its translucent design, you can tell when it is complete. On the other hand, the charging time is 10 hours.
Pros
Cheap
 Light
 Cleans both solids and liquids
 wide nozzle
Cons
Charging time (10 hours)
 Battery life (8 mins)
BOSCH 18V Handheld Vacuum Cleaner (Bare Tool) GAS18V-02N
Bosch Move Lithium: Great autonomy of 45 minutes and the ability to clean large vehicles.
A handheld vacuum cleaner with long autonomy (45 min) allows you to clean your vehicle thoroughly. It is perfect for transporting in the motorhome thanks to its small dimensions (38 cm long) and its weight of 1.3 kg.
It's a heavier car vacuum than other models but has plenty of power to clean up the toughest messes. On the other hand, a full charge of the battery takes between 4 and 5 hours.
Other notable features are its large capacity (330ml) in line with autonomy, being easy to empty, and having a removable filter that is easy to clean.
Finally, it includes a junction nozzle that allows easy access to small spaces, such as the gaps between the vehicle's seats.
Pros
Significant autonomy (45 min)
 Big capacity
Cons
Some accessories
 Charges in 4-5 hours
Which car vacuum cleaner to buy? The buying guide
We will now see the most relevant aspects to consider when buying car vacuum cleaners.
Weight
One of the main points to consider when buying a car vacuum cleaner is its weight.
When cleaning your car, you must bend over and reach hard-to-reach places. So it will be more comfortable if the vacuum cleaner weighs little and allows you to maneuver easily.
Suction power
The suction capacity of a vacuum cleaner is measured in kilopascals or watts of suction; therefore, the greater it is, the more influential the cleaning will be.
Autonomy
Another point to take into account is the autonomy of the vacuum cleaner. Being necessary to consider what needs you have to cover. If you only need to vacuum the car, a few minutes of battery life will be more than enough.
If, on the other hand, you want to be able to use it not only in your car but also to clean your house, you will need a powerful handheld vacuum cleaner with greater autonomy.
Tank capacity
The larger the capacity of the tank, the more comfortable it will be to use since you will waste less time than if it is small and you have to empty it constantly. It will also depend on whether you want a quick or more thorough cleaning.
Accessories
Finally, you must also look at the accessories supplied with the vacuum cleaner. This does not necessarily mean that the more accessories, the better because sometimes there are extra accessories. It's essential to make sure it has the accessories you know you'll need in the long run.
It is crucial because depending on the accessories included in our vacuum cleaner, we can use it for one thing or another, and we will be able to reach more space.
That is why if we have pets, for example, we will have to make sure that it has an accessory capable of picking up their hair, or if we want it for narrow spaces, we will be interested if it features a narrower nozzle to be able to access difficult areas.
Read More